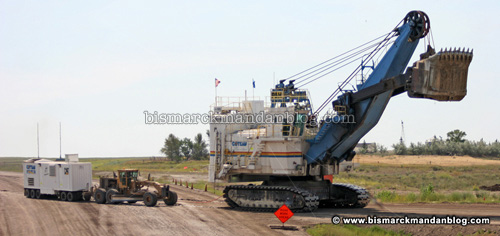 I got to see something you don't find everyday while traveling north of Beulah the other day. A very large piece of equipment was making a slow, steady journey from one part of the Coteau mine to the other...what made it interesting was that it had to cross the highway. How does something so big, with enormous metal tracks, pull that off?

The first neat thing you should know is that this baby's electric. Yes, that's right...no engine. See that trailer being pulled behind it by the road grader? That's a generator, a very large one at that...it's kicking out enough DC current to drive that behemoth.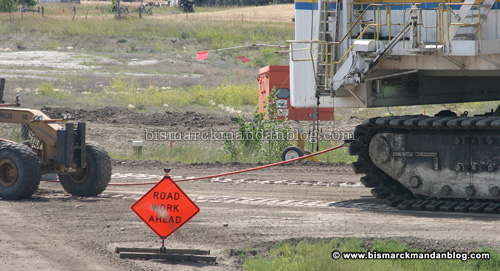 Now that's a big extension cord! The operator of the grader gets to pull the generator just fast enough to keep up with the guy in front of him and maintain slack in the cable. Once they reach their destination at the other part of the mine, they'll plug into a cable running back to the power plant. In the case of a "mine mouth" power plant such as this one, where the mine is located adjacent to the mine from which its coal is supplied, the power plant itself drives the diggers. That goes for those big draglines that you see from the highway as well as a smaller (yet still huge) digger like this one.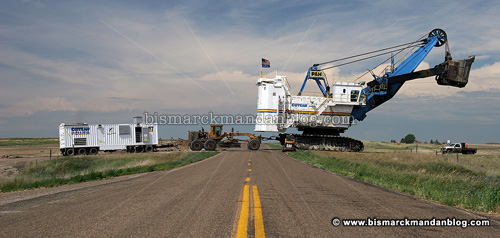 The section of road they cross is made of concrete, not asphalt; otherwise it wouldn't survive something like this. Even so, they have big rubber mats that they pull across the road using a little skidsteer loader. I call it little because it isn't even as tall as the track on that thing. See it down there in the foreground?
Anyway, they have a couple of trucks hold highway traffic from either direction, inch this thing across the road, and pull the mats back over to the side until they're needed again. The whole process takes several minutes...a machine that large still moves very slowly.
I would have loved to have seen them take the big dragline crane across Highway 83 when they did that a while back...those don't have tracks, they have giant feet that "walk" from one place to the next. Oh, and the cord is a lot bigger, too :-) They have a tractor dedicated just to tugging that cord around behind the dragline as it moves. Someday I'll get pictures of that, too.
[ add comment ]
( 16 views ) |
permalink
|
Click a dot to rate this entry:





( 2.9 / 756 )
---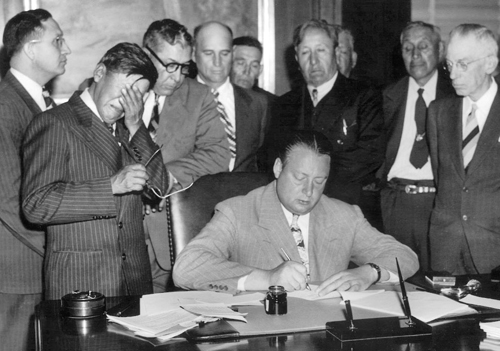 This is a picture from 1948, when tribal chairman George Gillette wept after signing away the best of the reservation lands to the Corps of Engineers. They were paid a paltry sum for the land, denied mineral and shoreline rights, and promised a health care center that never materialized. Sounds consistent with our track record of keeping promises made with indigenous peoples, doesn't it?
This picture has always stuck in my mind because it illustrates an important point: when we think of treaties broken before the ink was dry, or other consistent mistreatment of the Native American people, we tend to think of the US Cavalry dealing with people still living in tipis or earth lodges. As you can see, that isn't so. My parents were alive when this last one happened...maybe some of you were as well.
I got the opportunity to work with Tex Hall again this week, who's the chairman of the Three Affiliated Tribes. I asked him about this health care center that was supposed to be built, and he indicated that Senator Dorgan actually pulled some appropriations strings to get the ball rolling. Like Chairman Hall told Senator Dorgan, this isn't an appopriations priority...this is a promise. A promise made almost sixty years ago.
I can only think of a few ways in which I'm not proud of my country, and its broken promises are one of them. This is one that hopefully will be rectified in the near future. A promise should be kept.
[ add comment ]
( 9 views ) |
permalink
|
Click a dot to rate this entry:





( 3 / 719 )
---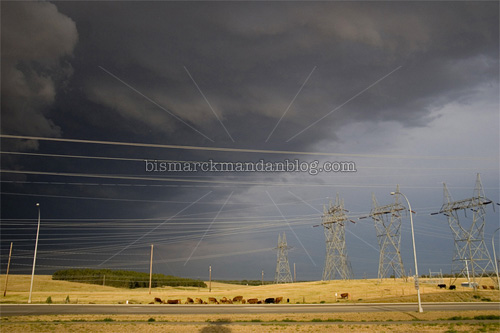 So there I was, encoding a DVD for a client well after hours. I heard a rumble outside and had to check it out. It was already time to get out of the chair to prevent my posterior becoming one with the upholstery, so I poked my head out the front of the building to find this menacing scene.
Of course, this storm seems to have skipped Bismarck just as the one a few days ago. At that time I was south of town in my truck getting hailed on in rain so heavy that traffic was stopping...yet the roads north of the Bismarck Airport were bone dry. Crazy, huh?
What I like most about this photo is that the power line towers look as if they're lining up to brace against the assault of the storm.
[ add comment ]
( 10 views ) |
permalink
|
Click a dot to rate this entry:





( 3.2 / 651 )
---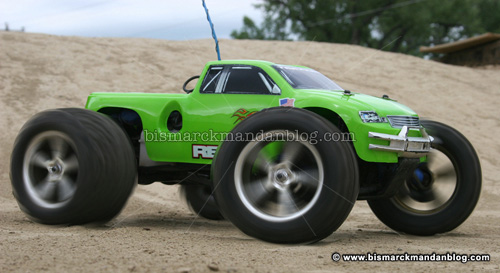 Stacy left me this weekend...no, not for good, of course! She had family business out of state. It was very difficult to give her that last hug and kiss and watch her go thru those gates at the airport. So what did I do to cope? Everything!
While I missed my wife, I also saw an opportunity to "get it out of my system" and spend my every waking moment on bachelor-style activities. After all, I lived alone, except for the bird, for over ten years...marriage is quite an adjustment, no matter how happy we are.
So I rode a lot of mountain bike. I rode a lot of motorcycle. I played a lot of Xbox. I played some tennis, drove my little nitro RC trucks (see above), went stargazing until early Saturday morning, the whole works. Ah, to be a kid again.
One realization I had this week was that, although I really love doing all those things, there's something I choose to do before all of them: be a husband. Marriage is when it's time to make good on all that stuff you promised your girlfriend you'd do. And not begrudgingly so, either. Now that we're married, my wife and I share some of those things that were so fun to do on my own. Some we don't. But what it all comes down to is that a guy has to be a husband first...soon I'll add "father" to that description as well. And when I get a few days to play around like this, it'll be a nice vacation. And it'll help keep my mind off missing my wife for a few minutes!
[ add comment ]
( 5 views ) |
permalink
|
Click a dot to rate this entry:





( 3 / 645 )
---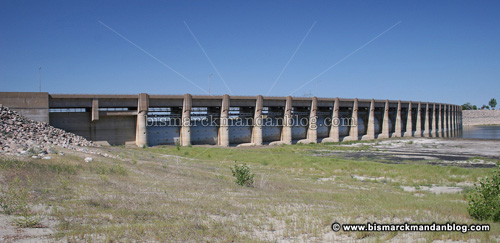 ...or treading it, at least. This picture was taken while I was standing in what used to be Lake Sakakawea. I actually walked over and touched those dry spillway gates...I remember water lapping over the top of them in the not-so-distant past. If memory serves me correctly, that's over a forty foot difference.
Note the absence of Conrad, Dorgan, or Pomeroy. Note also the absence of any results of their hard fought battle (I mean, they ARE fighting for us...aren't they?) for equity in Missouri River management between the northern states, who rely on its lakes for tourism, and the southern states, who rely on it for floating casinos and barges.
Yes, I know there's a lot of talk about the barge industry...but that barge industry doesn't account for a fraction of the combined financial interest of the northern states' tourism and hospitality industries. But the riverboat casinos? They've got a little more dollars attached. I have a friend who, while he worked in the gaming industry, clued me in to that little tidbit when this debate first started raging a few years ago. I haven't seen one mention of it in the newspapers.
The next time our congressional delegation start tooting their collective or individual horns about what they've done for the state, please invite them to come to Riverdale and play in the state's largest sandbox.
[ add comment ]
( 4 views ) |
permalink
|
Click a dot to rate this entry:





( 3 / 605 )
---
<<First
<Back
| 297 | 298 | 299 | 300 | 301 | 302 | 303 | 304 | 305 | 306 |
Next>
Last>>