OWLS site east of Bismarck
in search of some insects. They're often quite difficult to capture on film, as they don't sit still for long. Also, it's VERY easy to get a blurry shot with a macro lens when focusing closely. Here are a few of the critters that I caught: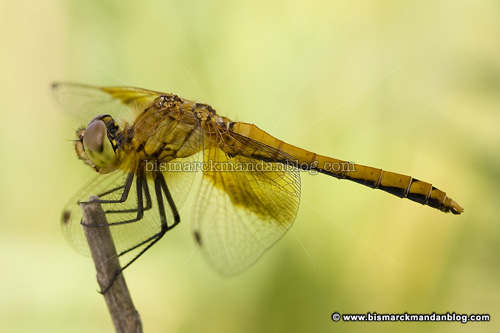 Golden Dragon - this guy was actually panting in the heat! That was a weird sight.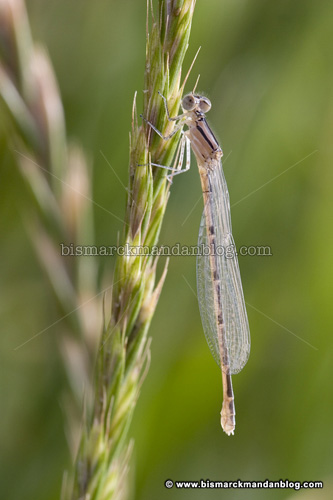 This little guy was a translucent white color with black stripes.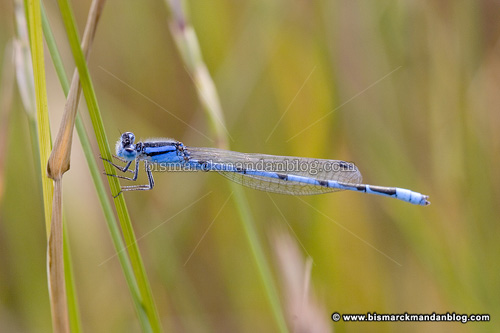 The blue ones are my favorite, of course!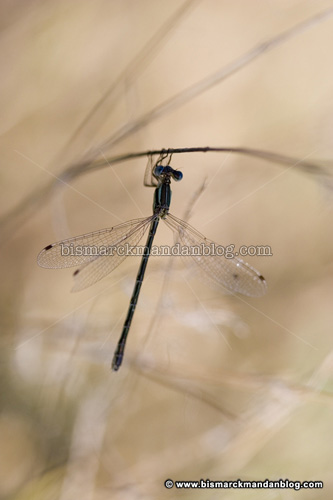 This little black and green fly was hanging upside-down with his wings spread. Here you can really see how my macro lens focuses on a very narrow range. That's called
Depth of Field
and this lens has a very shallow DoF. Sometimes part of the bug will be in focus and part out of focus, which is artistic, yet frustrating!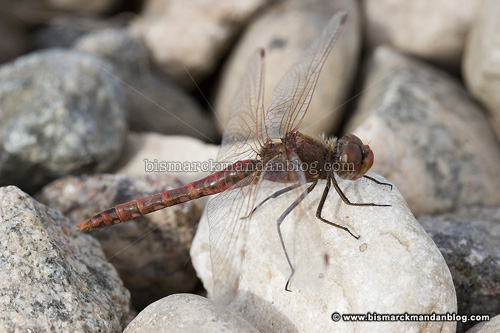 Red Dragon - just like the title of a Thomas Harris book I read in high school, the one that introduced a certain Doctor Hannibal Lecter.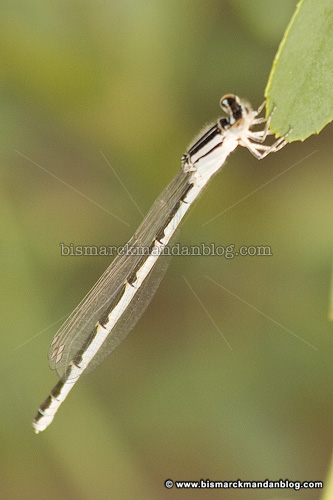 Another white and black damselfly, hanging on in a precarious position.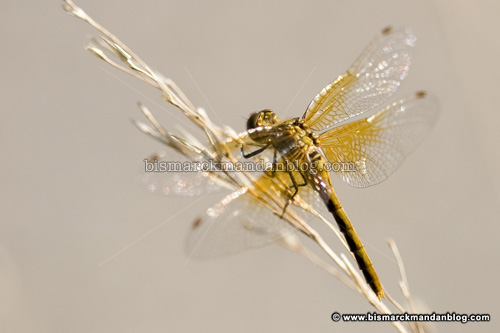 This gold dragonfly exhibits some shiny gold to his wings as well as the rest of his body.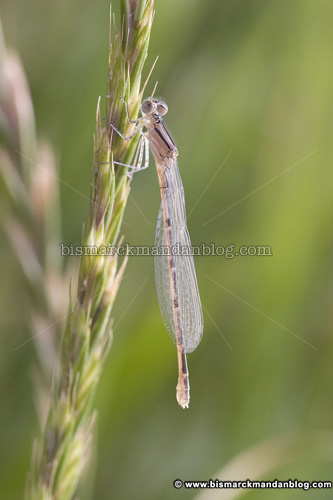 These guys were hoving around the stalks of the plant life, occasionally darting in and pecking at them. I can only guess that they were eating little aphids off the leaves or something. This fella decided to stop for a rest, and that's when I got him.
Wherever there's a good supply of little bugs for them to eat, they'll be darting around. If you're around water, you're likely to spot little flies like this one. In years past, the state capitol grounds has been full of dragonflies, too! Keep your eyes peeled...they're out there.
[ add comment ]
( 3 views ) |
permalink
|
Click a dot to rate this entry:





( 3 / 459 )
---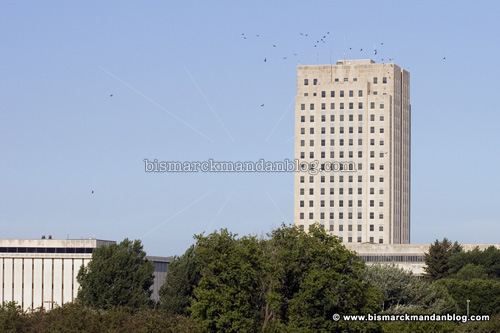 In a scene reminiscent of the flying monkeys in the Wizard of Oz, the tower of the capitol building was circled by a flock of turkey vultures this week. I'm certain there was no wicked witch on the observation floor commanding them to do their bidding, because that's closed until later this year for renovations. Nevertheless, the vultures circled the area lazily as if waiting for something. Hopefully they don't know something we don't!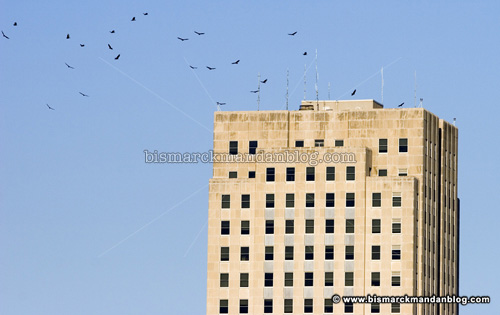 I bet they had an interesting view from the capitol's upper floors! In this photo, the birds actually look like they're departing from the top of the building on a sinister mission. If I had to wager on a political implication, I suppose I'd point toward the way the last legislature spent like drunken sailors, turning a tax surplus into an excuse for a budget so bloated it would certainly attract airborne scavengers!
[ 1 comment ]
( 17 views ) |
permalink
|
Click a dot to rate this entry:





( 3 / 368 )
---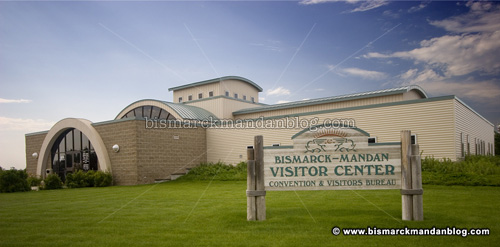 If you've lived in Bismarck-Mandan for any length of time, you must have seen the riverboat-shaped building at the intersection of Tyler Parkway and Burnt Boat Road. Built several years ago, it serves as an information center for central North Dakota. It occurred to me yesterday that I'd never been inside, so I decided to rectify the situation. I came out with a free Bismarck-Mandan poster, a trail map for the area's Park & Rec trails, and a couple of other informative items.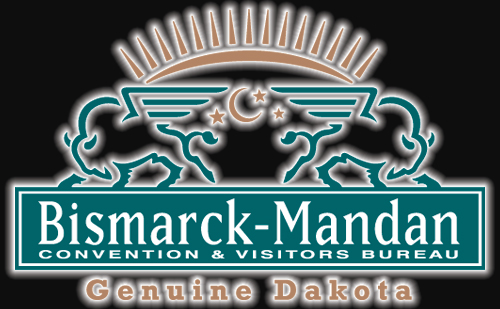 As for the title of this post, I just have to tease the CVB folks for a minute. The logo of the CVB is nice, but I couldn't help but analyze two features of it.
First is the buffalo with wings; I always wondered where Applebee's got my favorite appetizer, and apparently they're indigenous! Perhaps we could tailor our own version of Home on the Range, "where the geese and the buffalo fly."
Second is the crescent/stars thing. Initially it looks like a symbol commonly associated with the cult of Islam. Looking up the crescent online shows that it's not necessarily a religious symbol, but
one used by lots of Arab nations
. While there were literally hundreds of pagan gods in Mecca, the moon and stars being symbols of some of them, I doubt there's a giant black cube hiding in Bismarck-Mandan anywhere.
If you, like me, haven't stopped in at the CVB for a visit, I invite you to do so. There's always more a person can learn about their hometown(s), and this is the place that's gathered much of the information. Don't forget to ask them about the flying buffalo!
[ 1 comment ]
( 12 views ) |
permalink
|
Click a dot to rate this entry:





( 3.3 / 1098 )
---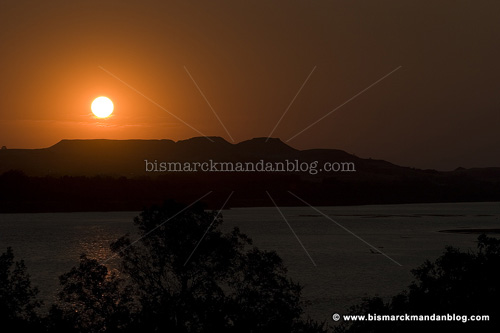 I don't care for extreme heat. For some reason I seem poorly equipped (from a physiological standpoint) to handle it, so I tend to stay out of it. But since I was already handling an outdoor task with a friend, and we had finished said task, I decided to do some photo fetching. Once again the sun was a giant orb in an otherwise hazy sky, so I bolted to one of my Secret Spots to aim for an unusual perspective.
I used to live in Big Sky, Montana and work for the ski patrol there. I basically got paid to snowboard all day at a time when few resorts actually allowed snowboards; the sport was pretty new in the late 80's. My best friend Corey was from Detroit Lakes, and referred to North Dakotans as "Flatlanders." One would have thought the drive through the Badlands would have enlightened him, but he still held the view of many Minnesotans whose only experience with North Dakota is the Red River Valley. Well, the land surrounding Bismarck-Mandan is anything but flat.
This sunset is taking place just north of the Square Buttes. If you go out to Double Ditch Indian Village and park in the little parking lot on the north end, you'll see some educational signage describing the Square Buttes. They're a little hard to see from there, as they reside a few miles north on the Mandan side...but they're there, they're enormous, they're real, and they're spectacular. Beside the two large, flat-topped buttes sits this rugged set of features, overlooking the mighty Missouri.
I've had some neat Square Butte photos before, even at sunset, but this time I left out the wide, flat buttes to just concentrate on the jagged lines of the hills to the north. Once the sun had receded past the horizon, however...that's a different story. With a different lighting situation and the sun out of the picture: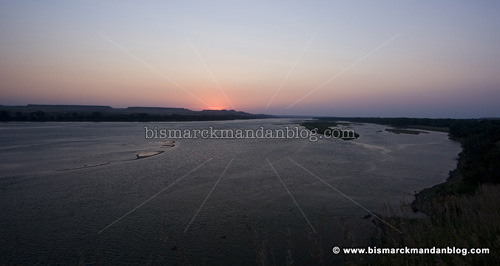 This allowed me to capture the last remaining bit of color in the sky and highlight the wide open area of the river without having the distraction of the sun on the horizon. I'm the kind of guy who, if shown a photo like this with the sun still poking up, would try to get a closer look at the sun. So in this case I decided to accomplish the task of capturing the moment with two photos. This area looks completely different within the span of five or ten minutes.
If you get out of Bismarck-Mandan even a very short distance and look around, you'll see some really dramatic landscapes. We have lots of hills, buttes, mesas, and valleys that tend to blend into the scenery unless one is looking for them. For example, the next time you're stopped in the southbound lane of State Street at the intersection with Divide Avenue, look straight ahead toward the southwest horizon. There are some pretty cool hills out there! When the sun is right, it looks like what we'd imagine as a Southwestern USA horizon. Just because ours have grass on them doesn't make those rugged hills any less beautiful...and they're right in our own backyard.
[ add comment ]
( 16 views ) |
permalink
|
Click a dot to rate this entry:





( 2.9 / 31 )
---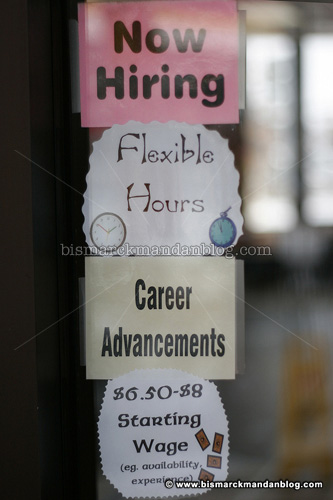 So the minimum wage hike, which was stuffed into a war appropriations bill and not debated on its own, has taken effect. The hike goes from $5.15 to $5.85, with an additional 70 cents each year for the next two years. The minimum wage will then me $7.25/hour. This hike, however, hurts more people than it supposedly helps.
First off,
according to the US Department of Labor's own statistics,
"about 1 percent of workers age 25 and over earned the minimum wage or less." These are typically entry level jobs, folks.
Rather than rehash this whole argument though, as I'm sure there are plenty of political blogs doing it, I'm going to bring up another point: everybody else is getting a 70 cent per hour pay cut. That might not matter quite as much if you're making $20/hr. What if you're making $5.85? You just got slammed back to ground zero. What if you had worked a retail job for two years to work your way up to $6/hour or so? Now some 16 year old kid can get hired for just about the same salary you've strived for two years to attain. Feels great, doesn't it?
You can't give the entire working population of the United States a mandatory pay raise without the cost of goods and services following. It may not be overnight, like the wage hike...in fact, businesses may have been ramping up in order to compensate for the day the wage hike goes into effect. They'll likely continue to do so for the next two years, since the minimum wage will continue to climb until it has made a 41% jump in two years! How much do you think your Big Mac is going to cost in 2009?
If you don't make the minimum wage, guess what: your wages didn't change a bit today. Well, that's not entirely true...technically, they went down. When the cost of the things you buy goes up but your salary does not, then you just got a pay cut. All that so
2.2% of the 76.5 million hourly wage earners in the US
(that's 1.7 million out of 300 million) can get a pay raise that will be offset by rising costs.
[ 2 comments ]
( 51 views ) |
permalink
|
Click a dot to rate this entry:





( 3.1 / 415 )
---
<<First
<Back
| 229 | 230 | 231 | 232 | 233 | 234 | 235 | 236 | 237 | 238 |
Next>
Last>>