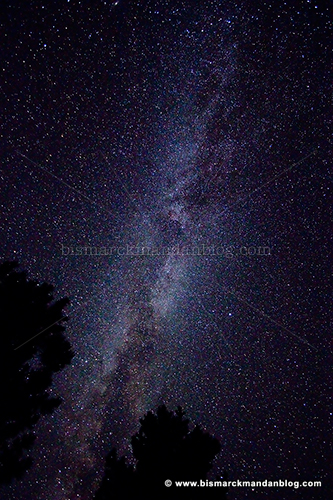 I thought I'd borrow an 80's song title from The Church for this post. I spent last night with one of my best friends (of which I am blessed to have three) out at Sweet Briar to catch the Delta Aquarids meteor shower. We were not disappointed.
While I did not catch any of the faint meteors on camera, we did see some spectacular ones and plenty of satellites. Of course, when the really amazing ones with glittery trails came by, I wasn't in the process of taking a photo...so I came back empty-handed in that regard.
Taking photos of the starry sky requires a lot of things to go right. We need a clear sky, no wind, and decent temperatures for the long exposures. One other thing we need is for the camera to NOT fog up. Sadly, it did just that as a wave of fog rolled in just before we decided to call an end to the evening.
The heavens declare the glory of God; and the firmament sheweth his handywork. -Psalm 19:1
[ add comment ]
( 17 views ) |
permalink
|
Click a dot to rate this entry:





( 3.1 / 198 )
---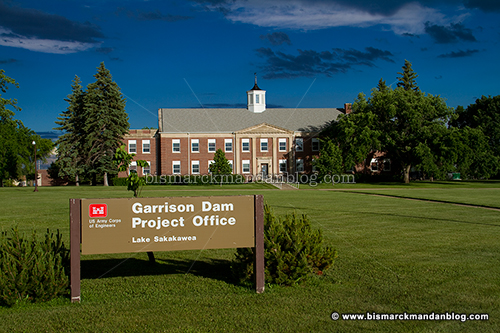 The Army Corps of Engineers has some tough questions to answer. I don't envy them.
A recent investigation
is turning up some very interesting emails regarding the Missouri River flood situation.
The most notable passage I've read so far is where
Todd Lindquist writes, "I'm headed home. I no longer look people in the eye and tell them the forecast is 85,000 cfs from Garrison."
As it turns out, releases would eventually exceed that number by another 70,000 cfs... a fact North Dakota would be told only gradually.
There have been plenty of people
making the case that the river was horribly mismanaged prior to the flood event
. I wouldn't argue with that. Now it's time to figure out where everything went sideways and to prevent it from happening again.
In a way, I have a lot of sympathy for the Corps of Engineers; after all,
they have strict guidelines to which they must adhere, guidelines which result in quite a juggling act
as they struggle to make many competing interests happy. That's quite an unenviable position.
Any investigation and resulting action that is taken in the aftermath of the Missouri River flood needs to be more than a simple headhunt. It also needs to take a long, hard look at the way the Missouri river system master management manual is written. Perhaps the dams should be returned to their original intended purpose: flood control. That way when barge traffic, recreation, and an endangered bird begin to cause mismanagement of the system, people's lives and property don't become casualties of the resulting mess.
[ 1 comment ]
( 41 views ) |
permalink
|
Click a dot to rate this entry:





( 3 / 158 )
---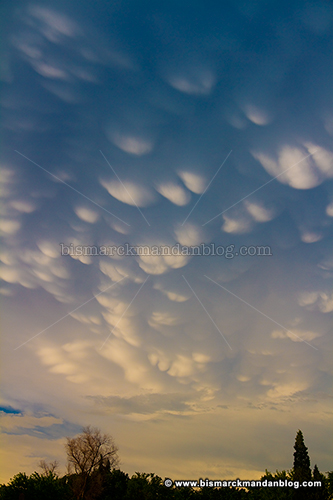 A few Fridays ago I spotted some pretty wild clouds overhead and had some time to pursue them. As it turns out, the sky provided a pretty good variety for me...it just took a little legwork.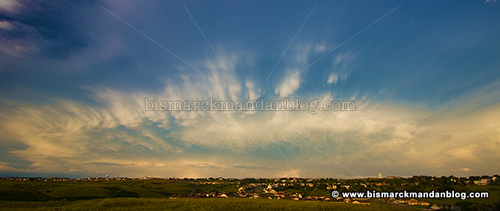 Although the previous photo was taken from the parking lot of Bismarck High School, I knew I needed a better vantage point in order to capture some of the more spectacular sights. I headed for Promontory Point to catch the tail end of this weather system. It had some pretty astonishing lift, making for some really visually appealing artifacts in the clouds.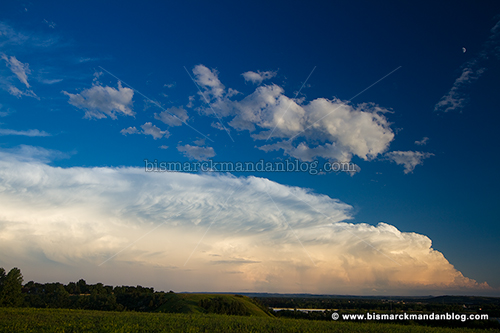 Here's the trailing edge of this weather cell. While it looks pretty cool on its own, it's what was taking place within the clouds that was most exciting.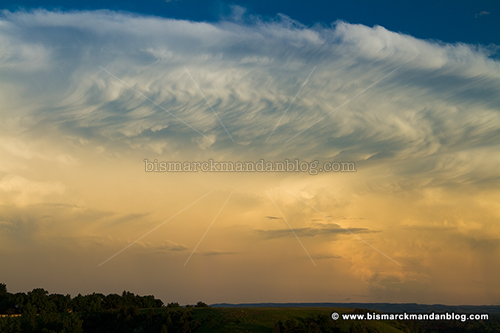 As you can see, the lines forming within this group of clouds are pretty neat all on their own, illustrating some very unique dynamics within the system. I decided I needed a better look, so I decided to head to Fort Lincoln.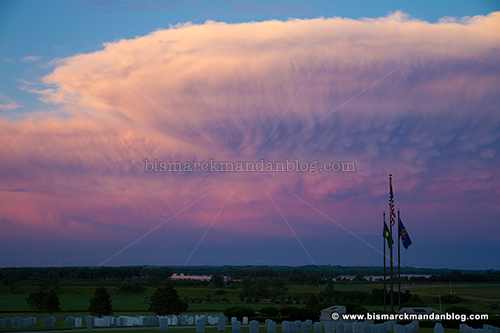 Sadly, I was told at the gate that the blockhouse hill had been closed because of these very clouds. I was extremely ticked; I mean, why do I pay for a state parks pass if they close whenever it's most useful? The blockhouse hill is closed until the sun has risen, it closes at sunset, it closes for weather... it's ridiculous. I retreated to the Veteran's Memorial Cemetery for a hasty shot before the sunlight went away for the evening.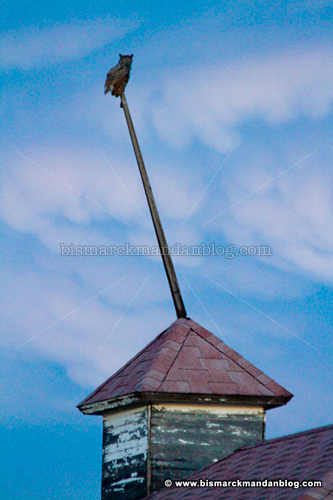 Out by Huff I noticed that I once again had feathery company in my observation of local weather patterns. On the way back I saw several more of his counterparts perched atop power line poles along the highway.
As always, I maintain that North Dakota has some of the most dramatic skies. Keep looking up, or you just might miss 'em!
[ add comment ]
( 19 views ) |
permalink
|
Click a dot to rate this entry:





( 3.1 / 147 )
---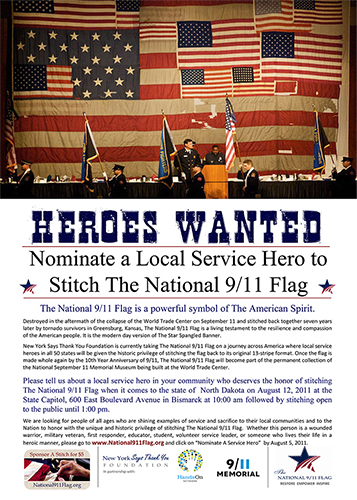 The New York Says Thank You Foundation is sending a National 9/11 Flag around the country to have it stitched back to its original format after being damaged during the terrorist attacks ten years ago. Commemorative patches are sewn on in each state. This flag will be in Bismarck on August 12th and they are looking for nominations of local service heroes to help stitch the flag.
Click here to visit the Nominate a Service Hero page on the national 911flag.org website
, and you can do what I did: nominate the Bismarck Police Department on behalf of Sergeant Kenner.
Fill out the form with your information and a description of what Sergeant Kenner's service and the Bismarck Police Department mean to you. Tell them that you wish to ask the Bismarck Police Department choose a representative to participate on Sergeant Kenner's behalf and in his memory.
For "Their email" you can enter "bismarckpd@nd.gov" and for "Their phone number" enter "701-223-1212". That will ensure that inquiries from the organization reach the Bismarck Police Department.
Here's a link to the poster for the event (PDF):
Click Here
Here's a link to the press release for the National 9/11 Flag (PDF):
Click Here
Spread the word, let our local law enforcement know that we stand with them, and help honor a local hero!
[ add comment ]
( 28 views ) |
permalink
|
Click a dot to rate this entry:





( 3 / 150 )
---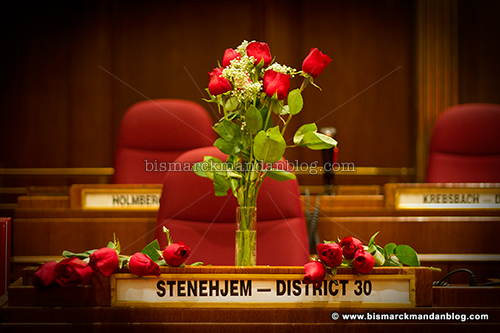 The city of Bismarck has lost another member, one who served not only in the Public Works department but also as a state senator and leader. Services are being held today for Senator Bob Stenehjem, the senator from my district. If you live in south Bismarck, chances are he was your senator too.
Condolences to the Stenehjem family and the many others...family, friends, coworkers, and fellow legislators who will feel his loss.
[ add comment ]
( 17 views ) |
permalink
|
Click a dot to rate this entry:





( 3 / 169 )
---
<<First
<Back
| 56 | 57 | 58 | 59 | 60 | 61 | 62 | 63 | 64 | 65 |
Next>
Last>>