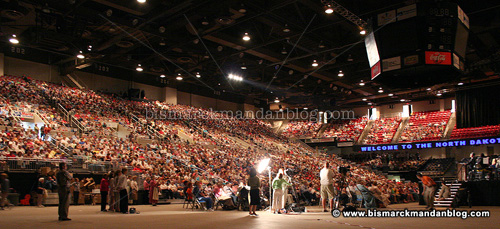 Would you pack the Bismarck Civic Center? These people did, and many of them received free North Dakota Quarters! Today was the big official sendoff including all the state muckety-mucks, the acting director of the National Mint, and lots and lots of enthusiastic North Dakotans.
I was there as a tech for the US Mint today so I got to watch the festivities. They included the Medora singers with "Teddy Roosevelt" and the Cannonball drummers. There were a LOT of school kids in attendance, and everyone under 18 was given a free state quarter at the end of the event!
It was interesting seeing all the security behind the scenes; an armored car from the mint was parked in the back garage with a LOT of North Dakota quarters in it. They're transported in heavy-duty cases by armed guards, and there were plenty of local and state law enforcement personnel on hand as well.
On a side note, I also saw "Gentleman Wade" Westin and his little girl today. He's not the host of the Medora Musical this year, but he is a dad for the second time as of last week - it's a boy! Congratulations to the Westins.
If you want state quarters, they're available now. For $5 you can get a little commemorative case with two quarters in it: one showing the front, one showing the back. First Lady Mikey Hoeven showed me hers, and I'm probably going to spring for a couple. What the heck, I love North Dakota!
[ add comment ]
( 5 views ) |
permalink
|
Click a dot to rate this entry:





( 3 / 665 )
---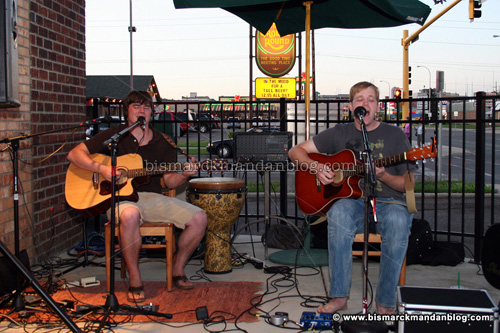 This was the last in a series of live music Tuesdays at the south Starbuck's on 3rd. I don't know when they'll be back...spring, maybe? I forgot to ask.
Tonight featured Luke Graner and Neal Peterson, both formerly of Curious Yello. I arrived a little late (of course) and couldn't find a place to sit for a while. The music was great, the evening was nice and cool, and yes...I *did* have one of those sissy strawberry cream fraps. I'm confident enough in my manhood to sit outside and enjoy a pink drink!
One thing that's noteworthy about these Tuesday night shows is that people stopped at the red light on 3rd are such gapers! Many people seem so surprised that someone would be performing live music on a patio somewhere. It's bizarre...and maybe a sign that we need more culture around here. It's also interesting to see people in the drive through line...both their response to the live music, and the number of them that hit the curb or building. Most come pretty darn close. Maybe they're paying too much attention to the music!
Keep an eye on
cozymusic.net
to find out when these are going to resume. There may also be another venue in the works, if things work out. You never know. In any case, it was good while it lasted. Thanks to Starbuck's for hosting! I can't wait till things start up again.
[ add comment ]
( 2 views ) |
permalink
|
Click a dot to rate this entry:





( 2.9 / 659 )
---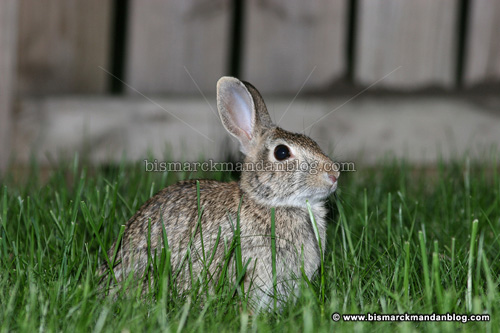 Hi! This is Greg. He's the bunny currently living in our yard. There were two bunnies on our property earlier this year, but only Greg has been showing up as of late. In this photo he's actually a little put out - it was pitch dark and I used a flash in this photo. He got a little rattled and didn't even want to take the piece of bread I'd brought out for him. No worry...he'll eat it soon enough.
I have had a number of bunnies in my yard since I bought this property several years ago. They're all named Greg. Why's that, you ask? Because they're all named after the lead character in the funniest TV show ever, "Greg the Bunny." Although he got his start on IFC, the Independent Film Channel, I prefer to remember him and his puppet pals (or "fabricated Americans") on FOX. They did two seasons of the show and then, in a move of colossal stupidity, cancelled the show. That happens a lot, to a lot of really great shows; only TV networks can be so ignorant. In any case, Greg the Bunny was released on DVD, so I can watch the episodes every once in a while. And as far as a "surrogate Greg," well...there's one in my yard every year...and he's not nearly as sarcastic!
[ add comment ]
( 2 views ) |
permalink
|
Click a dot to rate this entry:





( 3 / 645 )
---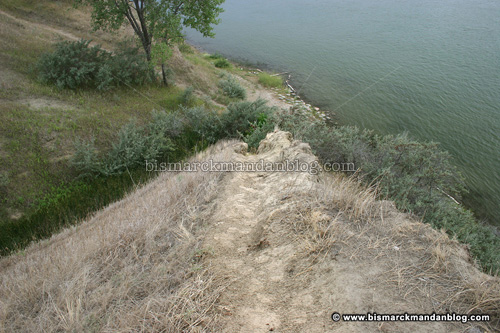 There was a tradition we had back in the 1980s, when I was in high school and college: about this time of year, before everyone left town for school, we would have a great big sendoff. This took place on the sandbar in the middle of the Missouri River, beneath the cliffs of the Double Ditch Indian Village. We'd walk down a crazy path like the one you see in this photo, be shuttled across the water to the sandbar by pontoon boat, and there the festivities would take place.
We'd have a generator and a sound system, volleyball nets and footballs and frisbees, bonfires, and would enjoy one last night of fun with everybody. Double Ditch Loop, which actually used to BE a loop through the park area, would be packed with cars. It was a really good time. I'd take a six-pack of Mountain Dew and go out there with my friends, most of whom live out of state now. I bet they all remember hot summer nights on the sandbar, though!
[ add comment ]
( 4 views ) |
permalink
|
Click a dot to rate this entry:





( 3 / 607 )
---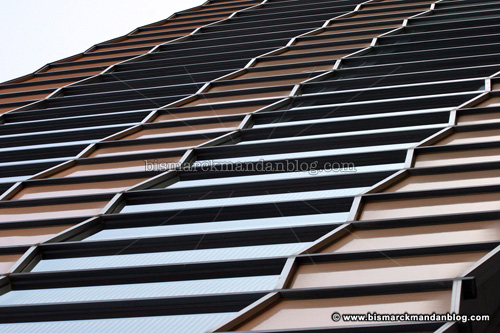 This is the favorite of my Photo Club mission from last night. Can you guess what this is, or where it was taken?
We have a fledgling photography club at work, meeting the last Monday of every month. We pick a theme, split up for an hour or so, then meet back at work. Then we eat wings or whatever in the conference room, watch the photos on a giant plasma TV, discuss them, then switch channels to Monday Night Football. Last night there were some really cool shots from all over Bismarck. We followed that with chicken and watching a little bit of the Packers get worked over. All in all, it was a perfect evening!
Maybe some of the other guys will let me post their photos in a monthly Photo Club thread in the future! I guarantee there will be some really great work...most of them have more photography experience than I do.
[ 2 comments ]
( 92 views ) |
permalink
|
Click a dot to rate this entry:





( 2.9 / 607 )
---
<<First
<Back
| 288 | 289 | 290 | 291 | 292 | 293 | 294 | 295 | 296 | 297 |
Next>
Last>>