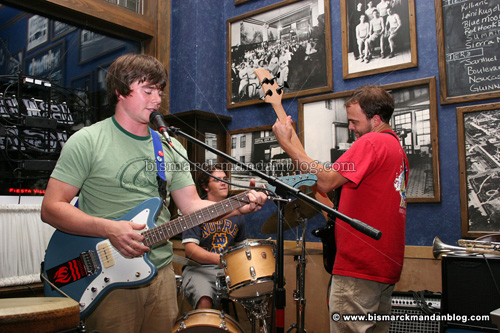 Early this afternoon the Urban Harvest was forced to retreat from the storms rolling through the area. I don't know if they got the idea to cut 'n' run from the North Dakota Peace Coalition, but I do know that a certain musician friend of mine didn't take the news sitting down.
Rather than cancel the show scheduled for 6pm tonight, the Luke Graner Band (assembled for the occasion) moved indoors. Tonight at 8ish PM, Luke and the McMahon brothers played at Peacock Alley instead. This impromptu gig was a nice combination of music and atmosphere, as the PA contains so much local history.
It takes a lot more than a severe thunderstorm to determine one man's enthusiasm!
[ 1 comment ]
( 18 views ) |
permalink
|
Click a dot to rate this entry:





( 3 / 511 )
---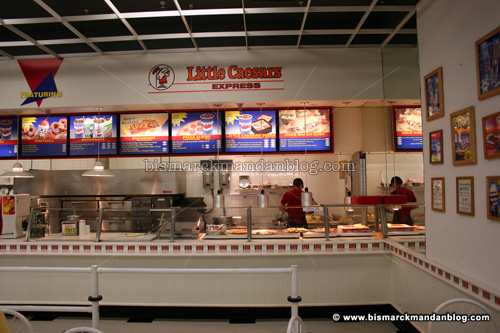 Little Caesar's! Not that it's easy to find, mind you...unless you know that it's located in the Kmart in the Prairie Hills Mall, you'll never find it. This Little C's is the snack bar of the store. They have a lunch buffet that we love to hit every time we're in Dickinson!
You never know what you've got till it's gone, right? Well, for those of us who DID know how good Little Caesar's pizza and breadsticks are, the loss of all the Little Caesar's stores in Bismarck-Mandan was a real letdown. I never got a formal confirmation of this, but I heard that the guy who owned them had folded up because he was tired of personnel issues. He then sold his restaurants to whoever opened the Papa John's pizza stores now (Please let me know if I was given incorrect details here). Having firsthand knowledge of how hard it is to hire someone with a work ethic these days, I'd believe that...but it IS hearsay.
So, until someone opens a Little Caesar's store here in Bismarck-Mandan again, we're about 98 miles away from Baby Pan Pan and all our other Little Caesar's favorites. If you find yourself in Dickinson, make sure you run up to the Kmart and get some pizza and breadsticks you can't get here.
[ add comment ]
( 2 views ) |
permalink
|
Click a dot to rate this entry:





( 3 / 512 )
---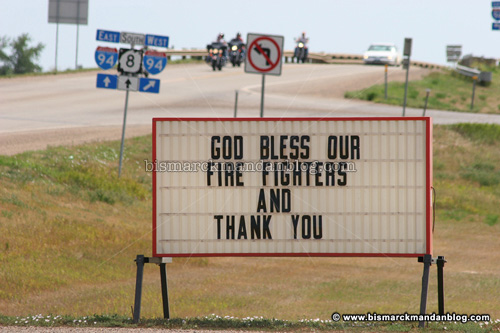 As every North Dakotan knows, this has been a horrible drought year and one wrought with fire danger. Rural fire crews have been stretched to the limit with all the demand. Prairie fires, lightning strikes...those things draw a lot of resources. It's not just fighting fires, it's also being vigilant and trying to prevent them as well. It's a big job, one often done by volunteers.
When I stopped at the Cenex in Richardton, I saw this sign in the parking lot. It's nice when people take the time to show appreciation for a tough job. We'd be in deep trouble if not for the people who look out for the rural areas so prone to fire this summer.
[ add comment ]
( 3 views ) |
permalink
|
Click a dot to rate this entry:





( 3 / 551 )
---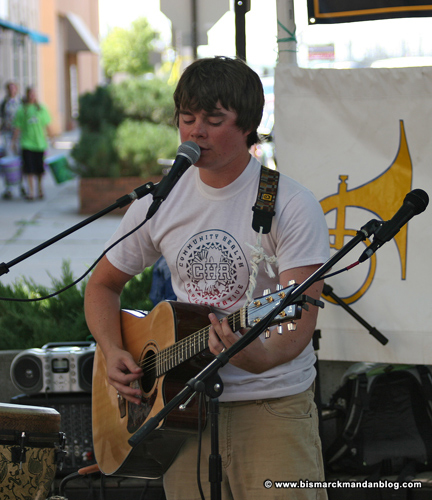 As you know, I'm a Luke Graner / Curious Yello fan. I encourage everyone to attend his shows and see for yourself, and you'll have a special opportunity this Thursday.
Despite his personal style, Luke also stands out in method. He uses a multichannel digital looping machine to record and accompany himself on the fly. That way he can have multiple instruments and vocalists. He's a 21st century one man band! Except for this Thursday.
At the Urban Harvest this week, at 6pm, Luke will have a star-studded lineup of local talent. He's put together a group including Tommy and Jimmy McMahon of "Fat Dad" on drums, bass and trumpet as well as Nick Erhardt of "Buffalo Alice" on guitar. I expect there will be plenty of impromptu and experimentation going on. Can anyone say freestyle jam?
Urban Harvest is almost done for the year. Even if you've attended every week, this Thursday night is not an evening to miss. If the readers of just this blog attended, we could pack that part of 4th Street!
[ add comment ]
( 3 views ) |
permalink
|
Click a dot to rate this entry:





( 3 / 514 )
---
I was able to present my case that signs should be used wherever this stuff is applied to the roadway. I was also able to emphasize that motorcyclists are doing double-duty on the roads: trying to look out for other drivers as well as trying to watch for road conditions. I also was able to show the scars I carry from my nasty injuries on this stuff a long time ago (last century, in fact!).
I received a call last week from Keith Hunke of the city's Public Works department. He's also easing into an Assistant City Administrator position, and had seen my request for a spot on today's agenda. He told me that they've rethought their policy on such gravel application. Tonight I mentioned my appreciation of that policy, but also hoped to see that policy written or placed in an ordinance.
Mr. Hunke (I'll call him Keith, not out of disrespect) also came up to answer some questions from the commissioners pertaining to this issue. He said that over the three weeks that they spread this stuff, they lay around 3,500 patches of it. Of course I don't expect them to place 7,000 signs, but he did acknowledge that they will put more thought into sign placement in the future.
Commissioner Sprynczynatyk, one of the few people with a last name harder to spell than mine, also asked that the Commission be notified if any perceived problems with the policy come up. If I remember correctly, she's got the Road portfolio for the city... each commissioner has a certain set of items they oversee.
It was cool to be a part of the process of city government. As a citizen, I had a concern about which I felt quite passionate. I was given an opportunity to voice my concerns, they were given some discussion, and I think everybody learned a little something. I didn't go in as an angry, ranting citizen demanding anything, just as a guy who wanted to raise awareness. Our city government exists for our benefit, so it's nice to be able to get in on the action a bit!
[ 1 comment ]
( 26 views ) |
permalink
|
Click a dot to rate this entry:





( 3 / 488 )
---
<<First
<Back
| 290 | 291 | 292 | 293 | 294 | 295 | 296 | 297 | 298 | 299 |
Next>
Last>>