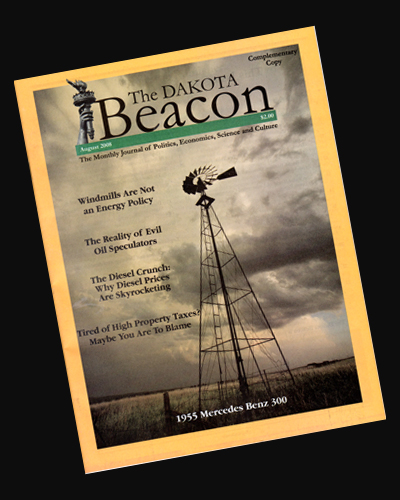 The latest issue of the Dakota Beacon is available now! The cover photo is one that I literally risked life and limb for, as a thunderstorm was bearing down on me and caught me offguard. The last place I wanted to be was atop a hill, next to a tall metal object! I snapped the photos and high-tailed it out of there.
I recommend subscribing to the Beacon despite ample available free copies. Just like I foot the bill for this website, publisher Steve Cates invests so much of his own time and money into making the Beacon available across North Dakota. It's well worth the $20, if you ask me. Subscription instructions are given inside the front cover.
To see and read more about the thunderstorm which gave me the opportunity to vie for this month's cover photo pick,
click here.
[ add comment ]
( 31 views ) |
permalink
|
Click a dot to rate this entry:





( 3 / 412 )
---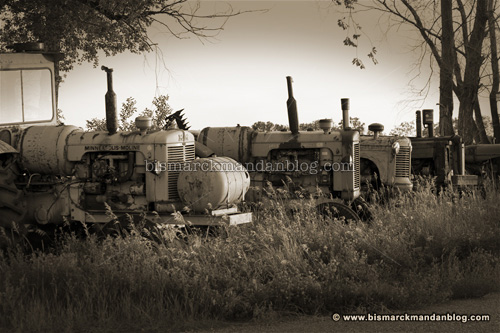 I see these tractors every time I head toward Lincoln on south 66th Street. They're parked in such a way that a photo of them is a little tricky; there's other stuff in the background, there are trees interfering with the light, and their arrangement is set. Nevertheless, I stop on occasion to try a new idea when I'm on the way to visit friends living in Lincoln. Sometimes, like this example, I play with the light in Photoshop. A challenge is usually a good thing, especially in photography!
[ add comment ]
( 19 views ) |
permalink
|
Click a dot to rate this entry:





( 3.1 / 386 )
---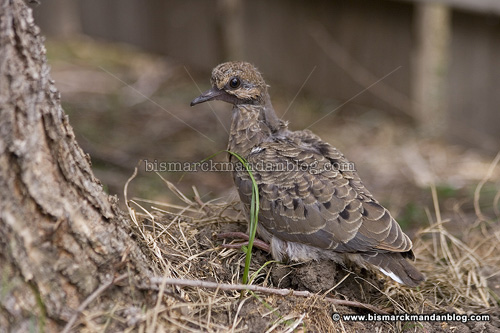 Remember those doves that
I posted about a few days ago
? Well, they appear to be doing better! The mom huddled atop her babies for a few days, and they are doing well. They've been hiding around the yard and eating from a plate of wild bird seed that we have left out for them. First we saw only the mom, then the mom and one of the little ones. I don't know for sure what happened to the third. Now they're all gone, presumably having moved on to someplace better. We did our part to help nurse the poor little birds along after they were blown out of their nest...now the rest is up to the normal course of nature.
[ add comment ]
( 8 views ) |
permalink
|
Click a dot to rate this entry:





( 3.1 / 332 )
---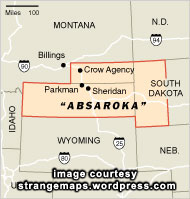 Not much can be easily found with merely a cursory Google search, but there are those souls on the Internet that love chasing down such details. I was tipped off to this by a blog I frequent,
Strange Maps
.
Apparently a few disgruntled folks were looking to make a state of their own back in the 1930s, borrowing bits from Montana, Wyoming, and South Dakota. "Absaroka" would have been the 49th state, cutting in line ahead of Hawaii and Alaska, a.k.a.
"Seward's Folly"
.
The name Absaroka is tied to the Crow Nation, according to
this article from the New York Times
. (Of course, we know how reliable THEY are...I'd rather trust a blogger!)
Apparently these folks were quite serious, even to the point of printing up
state license plates
(as pictured above), and even a Ms. Absaroka contest (as pictured below).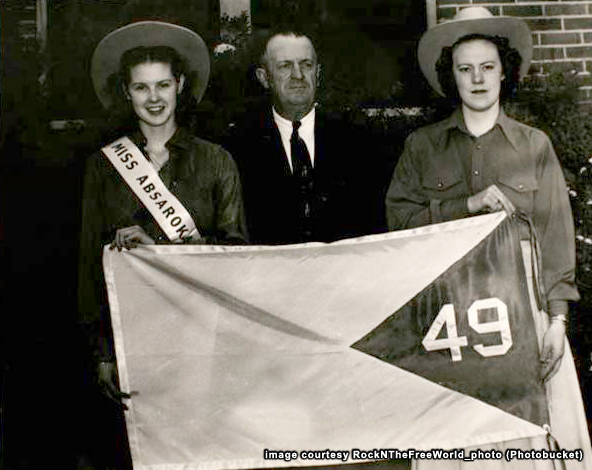 I wonder what Montana, Wyoming, and "the other Dakota" would have thought about losing a big chunk of their territory to this new state? I can hardly imagine they'd be thrilled. And of what serious offense would the instigators of this movement be guilty? Not secession, at least on a national level. In any case, it must have fizzled out. The last time I headed south of Belfield, the signs said South Dakota.
[ add comment ]
( 5 views ) |
permalink
|
Click a dot to rate this entry:





( 3 / 347 )
---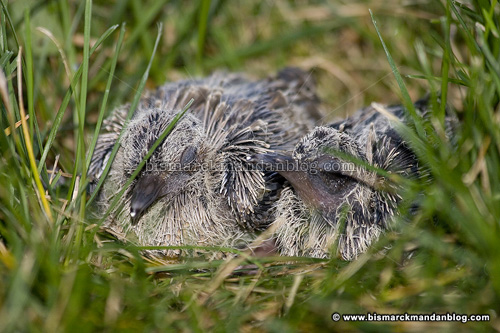 Yeah, I know. Perhaps the worst, corniest music reference title I've come up with yet. Hopefully these little dove chicks don't have to cry, though...despite a rocky start to their weekend. Saturday morning I discovered these two huddling in the grass, shivering and scared. I'm pretty sure they got knocked out of a tree on Friday, with all the wind that came through.
I grabbed a space heater and extension cord and got them warmed up pretty well. They seemed to really like the warmth, and quit shivering as well. I'm sure the sprinklers didn't help that morning, either! Once we got them warmed up, we tried to figure out what to do with them. That's when we looked up.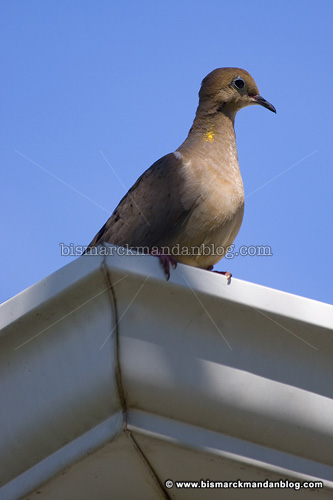 Their mom had arrived and was watching us nervously from above, sitting absolutely motionless. With the little birds' temperature stabilized, we quickly packed up the heater and retreated.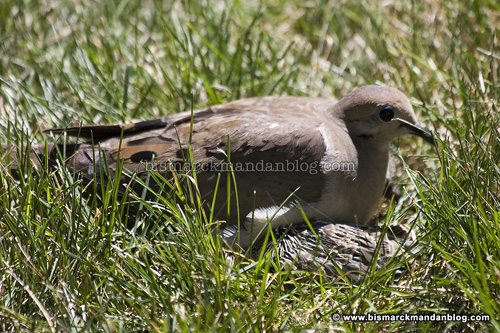 A short while later, I ventured out into the yard and found mama bird cuddling her babies, still in the little divot in our yard. I picked up some wild bird food and placed a paper plate of it nearby, so she can grab some chow, and hoped for the best.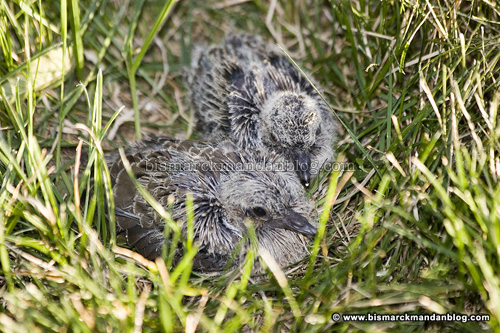 We've checked on them off and on throughout the weekend, and the mother bird seems intent on sticking by her little babies. They're not that little, actually, which gives me hope that they'll actually pull through. With the help of their attentive mama, they at least stand a chance. The countenance of these little birds has sure changed from when we found them huddling and scared in the grass.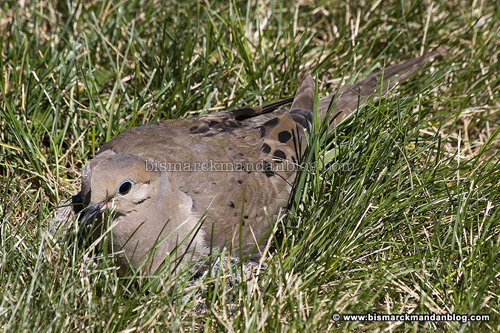 They're content to stay in that little divot, but now they've got their mom and the warmth and food she provides. She does venture away on occasion, but so far has returned every time. I looked after dark tonight to find her settled in atop her babies, wings spread to provide good cover. Hopefully this story will have a happy end, with the baby birds able to take off with their mommy soon. Maybe Prince would like to adopt them!
[ add comment ]
( 15 views ) |
permalink
|
Click a dot to rate this entry:





( 3.4 / 344 )
---
<<First
<Back
| 178 | 179 | 180 | 181 | 182 | 183 | 184 | 185 | 186 | 187 |
Next>
Last>>