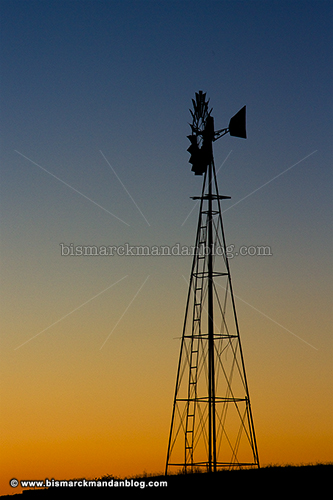 A sunset photo is not much of a sunset photo at all when all the clouds flee, leaving a clear sky. It's the interaction of cloud and sun that makes a sunset truly dramatic. Having said that, the setting sun did provide me with a gorgeous gradient as backdrop to this, one of my famous local windmills.
[ add comment ]
( 5 views ) |
permalink
|
Click a dot to rate this entry:





( 3.2 / 344 )
---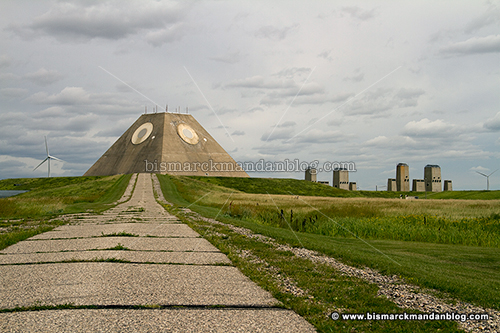 This giant pyramid is about the last thing you'd expect to find out in the middle of the North Dakota prairie... yet here it sits. It's part of the
defunct Stanley R Mickelsen Complex
, part of the
Safeguard anti-ballistic missle program
.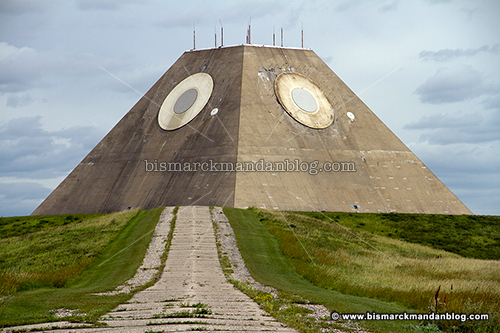 The pyramid is the most striking feature of this complex, which operated for about four months before being closed. It housed the Missile Site Radar (MSR) with circular antennae on all four sides of the pyramid. This phased-array radar allowed tracking of incoming ballistic missiles as well as control of the ABMs.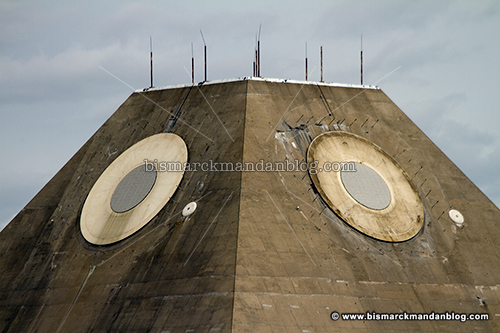 Sadly, this structure has seen better days. The inside is flooded and the equipment has been removed. The outside is beginning to show its age as well. Can you imagine the power needed to operate these huge arrays?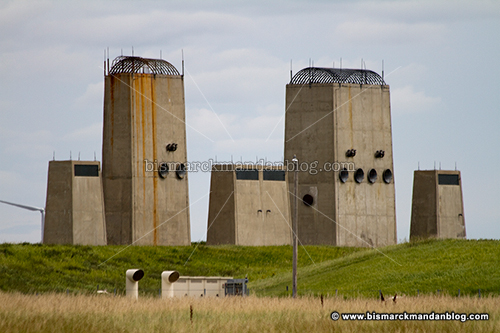 That's what these giant structures are for. Among the more confusing of the site's many protuberances, these are actually the intakes and exhausts for six absolutely monstrous engines, used to spin generators capable of powering the facility.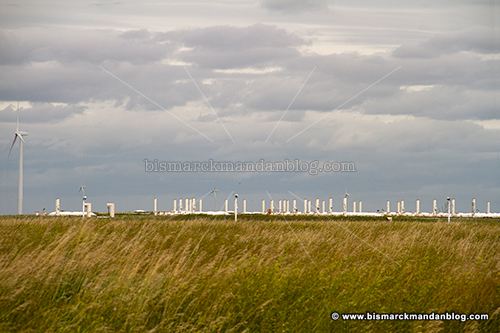 Without an aircraft I can't give you a photo of this that does it justice. It's the missile field, which at one time contained both
Spartan
and
Sprint
anti-ballistic missiles. The Spartans were designed for long-range interception, and in case of failure the Sprints would be deployed. Both used nuclear blasts to knock out an incoming warhead, which due to EMP concerns really isn't practical. One cool thing is that the Sprint missiles went from zero to Mach TEN in five seconds. How do I strap one of those to my Suzuki?
This base was built in the 1970s, operated for a matter of weeks, and was then shut down. The town was all set for the boom of having a military base next door, and then suddenly it all evaporated on them.
Here's a must-read article about the impact of this base's construction and subsequent closure on the little town of Nekoma.
The Library of Congress has a small collection of photos from the site's construction available online.
A really nice
aerial photo of the facility is available on Wikipedia
and I think may come from the LoC collection.
Here's a link to a Google Map I'm working on with various photo sites marked for your enjoyment.
This link will allow you to view the site from above via satellite.
This gives a good idea of what the missile fields look like.
Many more mundane buildings still inhabit this facility, although the base housing has been moved away. Various shops, administrative buildings, the security station, the chapel, and other such buildings are still maintained on site in case the Army chooses to return.
WARNING * (Don't say you haven't been warned) * WARNING
This base, while abandoned for purposes of the Safeguard program, is still a US Army facility and protected government property. YOU MAY NOT ENTER THIS PROPERTY WITHOUT PERMISSION. PERIOD. I don't know what the punishment is for trespassing on a site like this, but I don't recommend it. You can get really great views from the road on the south side. While doing so you'll see signs indicating that this still belongs to the Army. Take them at their word.
I wish I'd taken photos of some of the other buildings in the area, including the chapel with the Christmas decorations still hanging in the window. If I find myself in the area again, I'll be more thorough.
(UPDATE) I came across
this website today, srmsc.org
. It's got a ton of information about the entire Mickelsen Complex and its function. Check it out!
[ 1 comment ]
( 18 views ) |
permalink
|
Click a dot to rate this entry:





( 3.2 / 271 )
---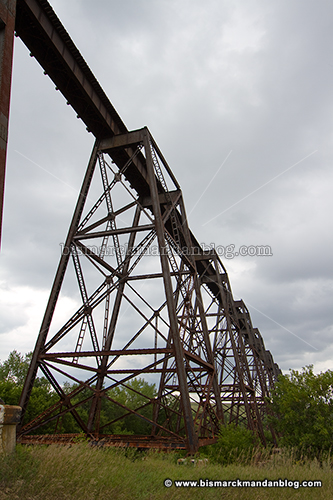 There are a lot of places in North Dakota which, sadly, I've never visited. One objective of my recent photo vacation, since dubbed the Cold War Vacation, was to rectify that. So here we are, at the Valley City railroad trestle bridge. If memory serves me correctly, this is North Dakota's longest bridge. Since I'm sure it's been photographed to death, I thought I'd try for some unique angles to show off its geometry.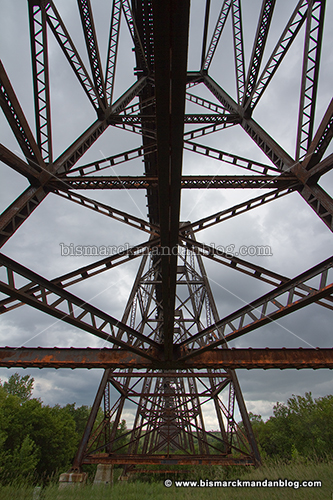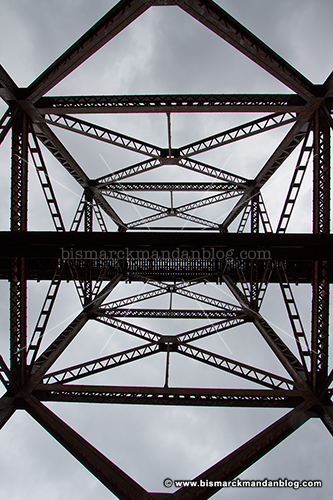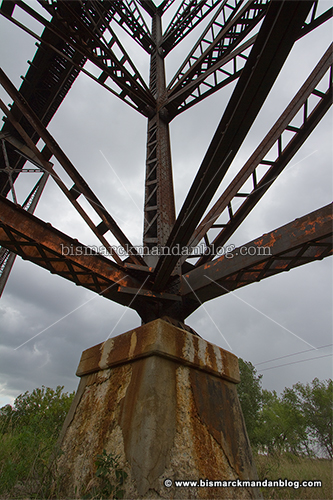 Not a lot of words today, just some fun shapes and lines compliments of one of North Dakota's many interesting sights. I'm still just scratching the surface of the Cold War Vacation photos, but more are on the way very shortly. Have a great weekend!
[ 2 comments ]
( 14 views ) |
permalink
|
Click a dot to rate this entry:





( 3.1 / 281 )
---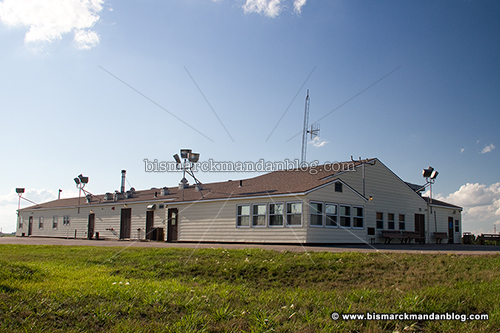 As I mentinoed before, I took a little photo vacation last weekend with one of my closest friends. It was a trip dubbed the "Cold War Vacation" due to the nature of many of our stops. One of them was to the
Ronald Reagan Minuteman Missile Historic Site
, north of Cooperstown. I'd been there before, he had not. This was a great opportunity for both of us, as I have a new camera this time.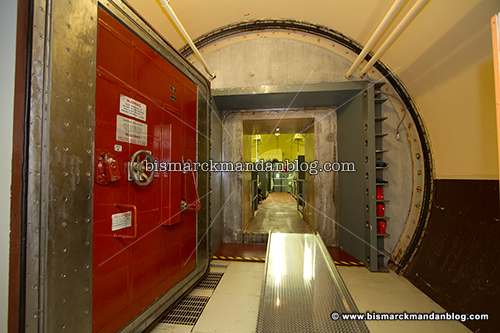 You can see more about the topside part of this historic site by reading my previous post about this facility.
This time I'm just going to focus on the two capsules down below. This is the doorway to the hardened equipment building, a capsule-shaped bunker with a blast door weighing around twelve tons if I recall correctly. One guy can move it.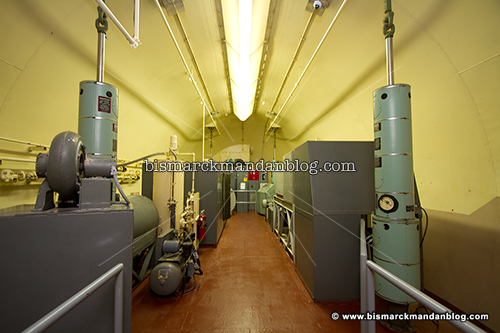 Generators, pumps, filters, the works. Everything required to keep things functioning down below...all hung on a suspended platform stabilized by giant gas shock absorbers.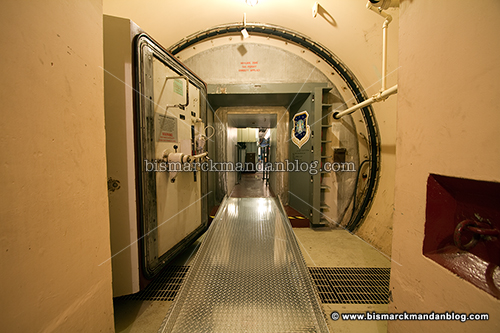 Next we have the launch control capsule, with its own puny little 8 ton door. The doors on these capsules are only as large as is required to get equipment in and out. Unlike
the front door of the capsule at the Minuteman I national historic site
in South Dakota, this one is not painted with anything witty. I got to peek behind here and check this time, a luxury I didn't have during my first trip.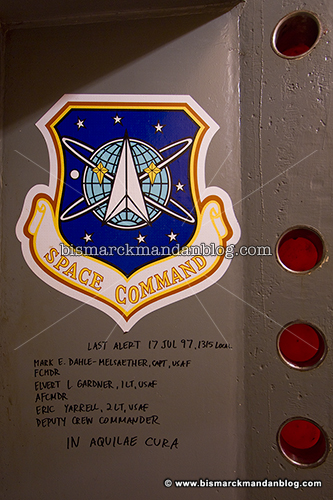 The last crew to serve down here marked the occasion on their way out. My understanding of the Latin at the bottom is something along the lines of "in the care of eagles." Those holes are where the giant pins of the blast door interface to secure the capsule.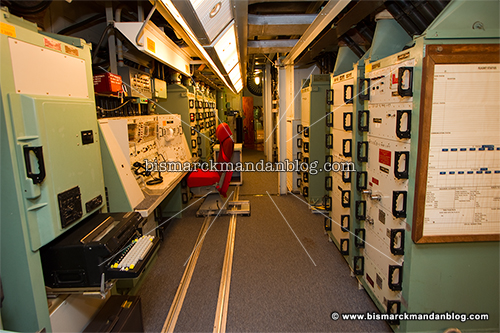 Inside the capsule are the facilities to accommodate the crew, communicate with topside and command, and of course launch the missiles. There's a potty even smaller than the one in your average camper as well as a single bunk.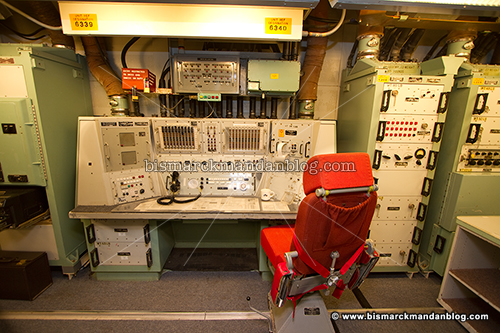 One of two stations manned by the missileers during a shift. Notice that the chair is secured to the floor on rails, as well as the five point harness used to keep the operator in his seat in case of an anticipated attack. The men and women serving in these capsules need to be able to launch their missiles, and being knocked out of their chair would impede that.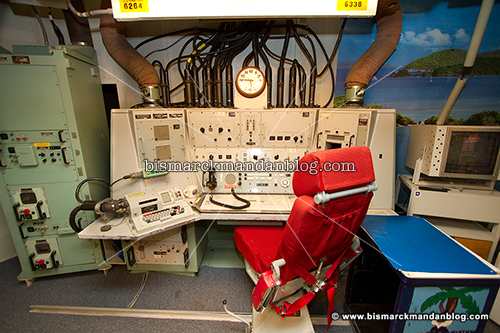 Here's where the shift commander would sit. I appreciate the scenery adorning the wall on the upper right, I bet it broke up the monotony a little bit. Obviously there's no window seat!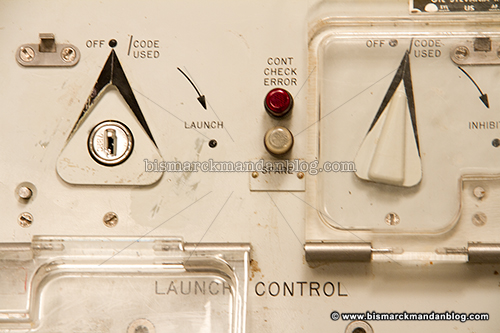 Here's where the serious stuff happens. Each station has one of these, where the infamous "keys" would be inserted and turned simultaneously. Funny thing about those keys...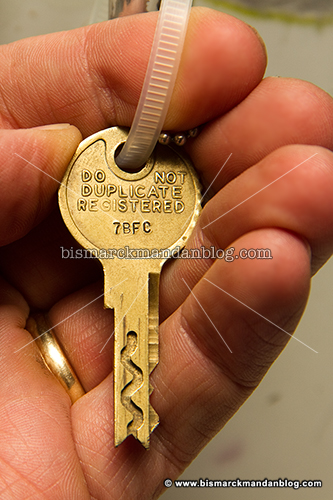 "DO NOT DUPLICATE." Seriously. I found this so hilarious, that a key capable of launching a nuclear weapon would have the same stamping as the key to my dorm room! Even though it should go without saying, these keys bear the warning. If you look at the toothed head of the key as well as the really interesting shape of the end and cut grooves, it's obvious that Ace Hardware probably isn't going to have a blank for this anyway.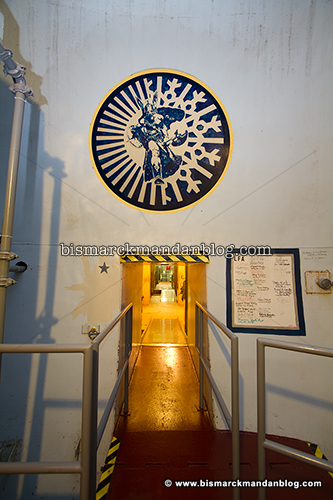 On the way out of the capsule you get a look at what I'm told is dubbed "the Norwegian snowflake." The list on the right is from the crews as they each served their last shift with this missile wing before decommission.
This site is amazing. You can get more information and listen to some relevant podcasts by
clicking here for the State Historical Society's page
. If you visit, tell them you heard about the site here. I got to hang out for a while and chat with some of the staff and the site director (a former missileer and narrator of one of the SHS podcasts). It was a real treat. There's plenty more I haven't even described here, so you've got plenty of surprises awaiting.
Update:
Announced yesterday was the news that this site has won an award:
click here for more information
.
[ add comment ]
( 2 views ) |
permalink
|
Click a dot to rate this entry:





( 3.2 / 314 )
---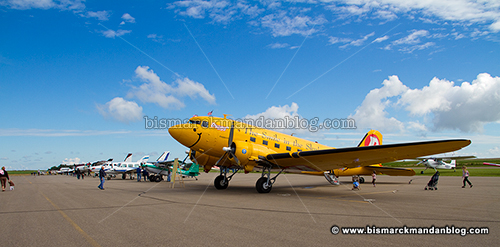 My favorite part of Buggies & Blues this year actually took place south of town at the Mandan Airport, where a fly-in was held in the morning with perfect weather and a great selection of airborne participants. My little boys love airplanes, so it was a real treat for them to see so many up close.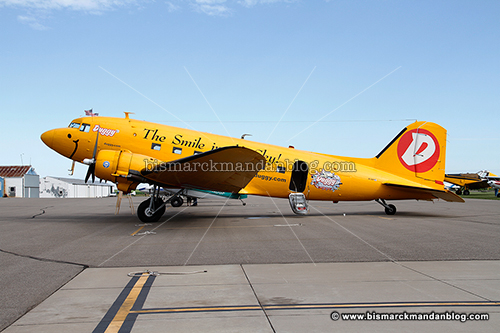 One of the stars of the show was Duggy, also the winner of Brightest Participant in my book. One other important fact about Duggy is the fact that they can go inside and have a look around, a bonus for any little kid.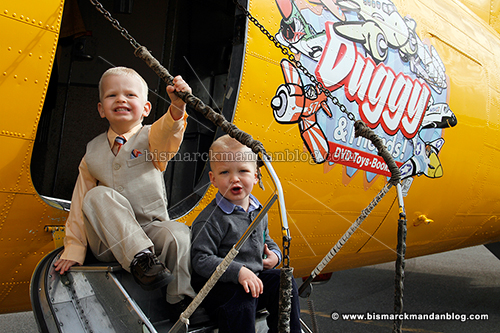 I often wonder why people schedule events like this on Sunday when they could enjoy better participation on Saturdays, when people aren't attending church in the morning. Be that as it may, we made an exception and showed up on our way to church. We just weren't able to spend as much time as we'd like, or buy breakfast there at the airport. My little guys sure looked sharp that morning!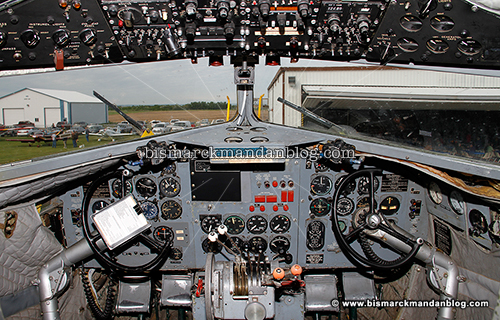 The techie in me had to get a shot of all the bells & whistles, of course. It must be really interesting to taxi a big tail-dragger like this considering the obstructed view when the back wheel is on the ground!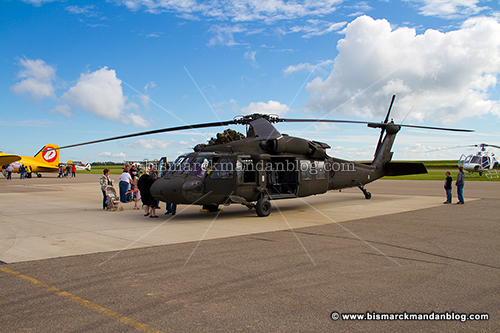 One other star of the show was a Blackhawk helicopter from the National Guard unit across the river. I spent a little while inspecting it for camera attachment locations, since I was scheduled to do some video work from one of these about a week later (which, sadly, I was too busy to perform).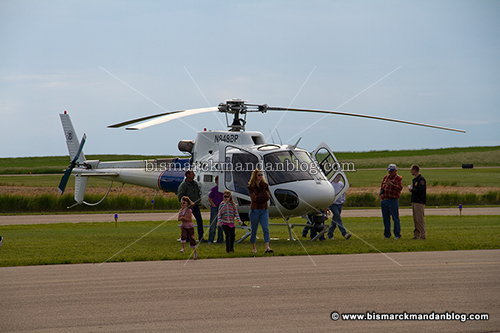 This sleek border patrol helicopter was pretty cool too, and my little guys really appreciated the opportunity to sit in it. I was kept quite busy making sure they didn't hit any buttons or switches. Even at my age those things look tempting, so imagine what it must be like for a 2 and 3 year old!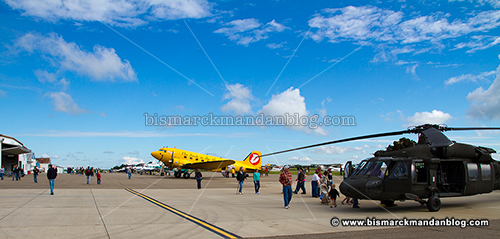 One nice thing about this event (which was not an air show, but a gathering of aircraft enthusiasts) was the ability to roam the tarmac and peruse the assortment of plains and helicopters which had assembled. From all the little private aircraft to a few experimental units, there was a lot of variety.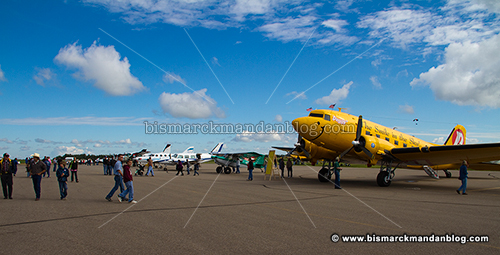 Turnout was great, with plenty of spectators taking in the display and having some breakfast in one of the hangars. Last year's weather didn't cooperate the way this year's did, and I don't think one could have asked for a better morning for an outdoor gathering. Even the wind was light, a plus for small aircraft such as the paraplane that was flying for a little while.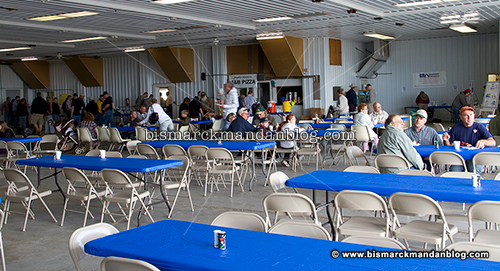 Mmmmmm...breakfast. If only it was Saturday, I could have stayed long enough to load up on some chow. Oh well...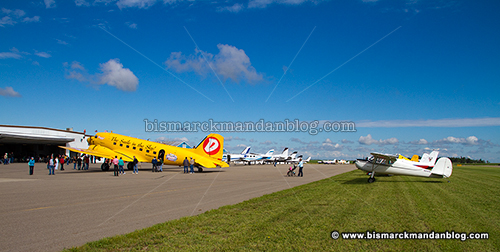 This fly-in may not get as much publicity as the main Buggies & Blues event, but it's definitely worth catching. Remember that next year as these events approach. Hopefully 2011 brings good weather and participation again...maybe even on a Saturday so more people can enjoy it!
[ add comment ]
( 1 view ) |
permalink
|
Click a dot to rate this entry:





( 3.1 / 321 )
---
<<First
<Back
| 89 | 90 | 91 | 92 | 93 | 94 | 95 | 96 | 97 | 98 |
Next>
Last>>