I took some time after the University of Mary homecoming game today to venture over to the Missouri River Natural Area trail. It's tucked next to the Interstate in Mandan, near the refinery exit. To get to the trail, however, one must go into Mandan from the east and turn right by the Bonanza restaurant. The road goes east along I-94's westbound lane, takes a sharp left, and passes some residential neighborhoods before snaking beneath the Interstate. Right after going under the highway, turn right down the short gravel road and you're at the trailhead. I find this the better end of the trail from which to start, since the other end involves navigating around the Memorial Bridge construction.
Next to the trailhead is a little inlet that looks quite manmade (and quite old). My friend Joe told me that this is one place where people used to drag ice out of the river way back when. It's hard to see in this pic since I sized it down so much, but there a bunch of aged wooden pilings along the rocks as well as some metalwork and cables protruding from the dirt. I'll get back to his part later.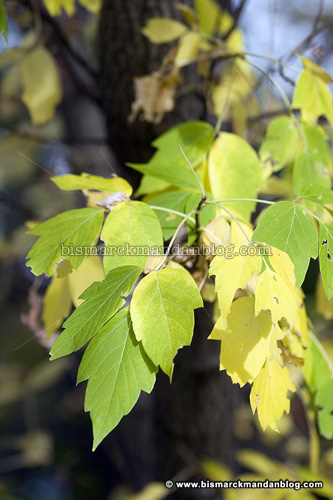 I was worried that I was going to miss all the colors, but that hasn't happened. I had a birthday party to attend today so I barely got into the trail before I had to work my way back out, but here's a sample of some of the leaves that are turning from green to gold. The red ones I saw all looked pretty ratty, so I hope to get photos of them later on.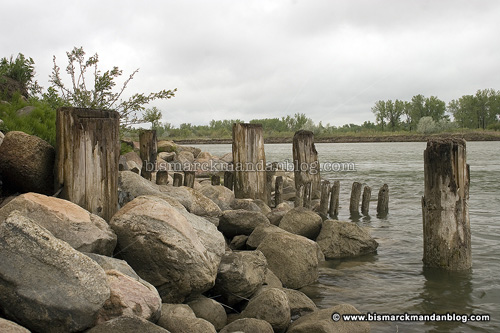 Back to the ice ramp. This is a shot from water level at the point where the pilings stick up from the rocks. I'm sure this was a dock of some sort, or perhaps just a platform. Obviously nature didn't pile all these rocks here, so this area was definitely used for something in the distant past.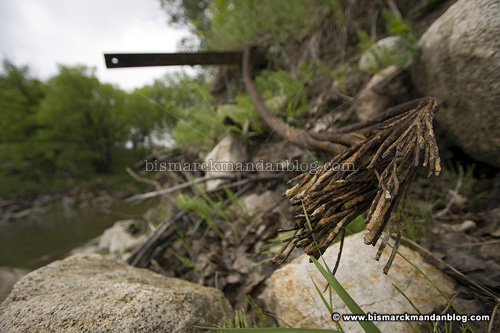 Here's one of the large cables still protruding from the dirt. Oh, if only they could talk! I am going to have to poke around and see what exactly transpired at this place. Either that or I'll ask someone who knows what they're doing to find out for me!
There you have it...a great idea if you want a nice walk with fall colors all around you. There will be plenty of birds and deer and stuff, too! But don't wait too long...it seems that the truly colorful part of autumn lasts about a week here in Bismarck-Mandan!
[ add comment ]
( 6 views ) |
permalink
|
Click a dot to rate this entry:





( 2.8 / 447 )
---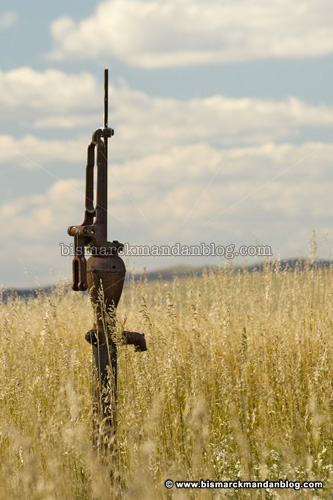 In my travels around the Bismarck-Mandan area, I have now had two occasions where I'm surprised by a well sticking out of the middle of a wheat field. I'm no farm kid, but it seems a little odd to me. Why would a hand-pump well be sticking out of a seemingly arbitrary spot in the middle of a field? Isn't it a pain cutting around it? I guess not.
This is a different well from the one I spotted
north of Bismarck early this summer
. Both are logged in my GPS in case there are some dramatic skies that could benefit from being photographed with a well in the foreground!
[ add comment ]
( 7 views ) |
permalink
|
Click a dot to rate this entry:





( 2.8 / 442 )
---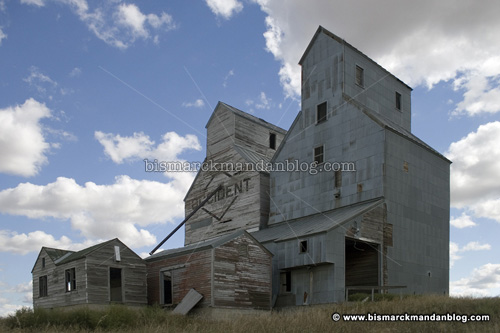 I took off early from work last Friday and went off on one of my notorious photography drives, exploring the little nooks and crannies around our fair cities. I was west of Mandan a little ways when I noticed this abandoned Occident elevator just outside of Almont. Okay, so I was more than a little west of Mandan!
This particular day I was capturing photos of a lot of Fallen Farm photos as well as old farm equipment and other North Dakota scenery, but I never thought I'd find an abandoned elevator. Using a circular polarizer filter on my lens, I was able to get a nice blue sky with clouds that really 'pop' out of the blue. As I do with a broken-down farm house or barn, I felt a touch of sadness that this big structure was no longer in use.
[ 1 comment ]
( 26 views ) |
permalink
|
Click a dot to rate this entry:





( 3 / 402 )
---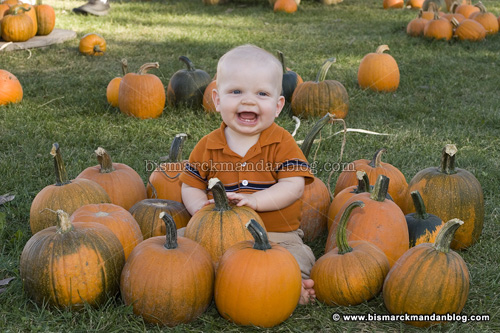 I can't help myself, this picture of PJ is so adorable that I had to be the proud daddy and post it. We went to the opening of Papa's Pumpkin Patch and introduced him to a lot of new things! He's nine months old now, is quite mobile, and is ready to start talking soon. He's got his dad's big, bright blue eyes and blond hair, so I'm as happy as a dad can be.
If you haven't gone to the pumpkin patch, get out there soon! It's amazing what they do for the kids. I hadn't been there before, since I wasn't a dad until this fall. Don't get me wrong, it's neat for adults too, but until PJ I just didn't have the motivation to get out there. Then by the time I remembered to check it out...it was over for the season! Don't let that happen to you. You won't be disappointed!
[ 3 comments ]
( 51 views ) |
permalink
|
Click a dot to rate this entry:





( 3.5 / 519 )
---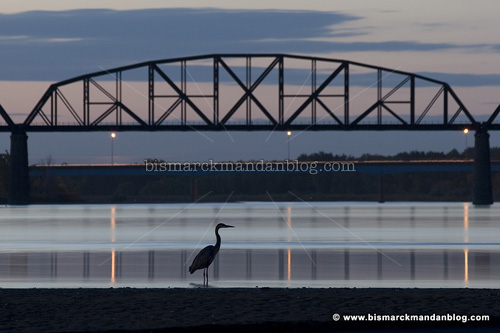 After a long day of organizing photos and walking around
Papa's Pumpkin Patch
with my wife and PJ, I let them take care of stuff like baths and took off to the sandbar with my camera. I wanted to see two things: what that pile of rocks under the bridge is, and what the new beam is that's sticking out of the west end of the new bridge.
That's when my attention was drawn to the silhouette of one of my favorite, most elusive subjects: the Great Blue Heron. This one was reasonably cooperative, although I never did get too close to him. It turned out that was just fine, as I wanted to include the railroad bridge and the river in the shot. I set up my tripod and was able to take this exposure. What's cool about the herons is that if they perceive a possible threat, they stand still to assess the situation. I clapped my hands to make this bird freeze in his tracks, then took the shot. This bird sat still for the
eight seconds
needed to capture the moment! Even zoomed into the full size picture, the water is blurred but the bird is not. What a cooperative subject! In fact, if you look at the Grant Marsh bridge in the background, you'll see streaks of lights made by cars driving over the bridge while the camera's shutter sits open.
By the way, the piles of rocks are so they can make a platform out into the water for a track-driven crane to move. Apparently the ones on the barges just aren't going to cut it. And the beam sticking out of the west end of the new bridge? It's a beam. Not that it was a mystery to start with, but it's hard to get a decent look at it while driving over the old bridge. Two questions answered, one awesome (and unexpected) photo to boot. Chalk up one more successful journey in the Bismarck-Mandan area!
[ 3 comments ]
( 55 views ) |
permalink
|
Click a dot to rate this entry:





( 2.9 / 408 )
---
<<First
<Back
| 221 | 222 | 223 | 224 | 225 | 226 | 227 | 228 | 229 | 230 |
Next>
Last>>