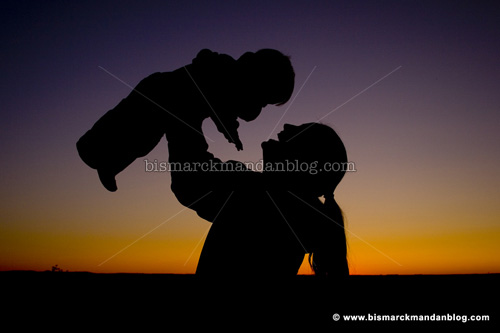 If you're a regular Bible reader, you probably read a chapter of Proverbs each day. Since there are 31 chapters, a month with 31 days gets you all the way through. When there aren't 31 days, you can just read an extra chapter or three to get 'em all before starting over on the first of the new month.
Proverbs 31 is my favorite because it describes my wife, pictured above with little Sparky. The latter portion describes the virtuous woman, whose price "is far above rubies." Here are some of my favorite verses:
11 The heart of her husband doth safely trust in her, so that he shall have no need of spoil.
12 She will do him good and not evil all the days of her life.
...
27 She looketh well to the ways of her household, and eateth not the bread of idleness.
28 Her children arise up, and call her blessed; her husband also, and he praiseth her.
29 Many daughters have done virtuously, but thou excellest them all.
30 Favour is deceitful, and beauty is vain: but a woman that feareth the LORD, she shall be praised.
I have a sweet, beautiful, hard working wife...a woman of integrity and character. She's such an amazing mommy for our two little guys, and makes our house a home. She brought the little fellas to the shop to visit me today, so I got to run around with them for a few minutes before tucking them back into the truck.
I like to tell her on the 31st of the month, "I read about you today." After posting this, I'll read ahead a chapter, since tomorrow brings chapter one. She stepped out for a bit so I got the dishes done, house tidied up, and little boys tucked snugly into bed. This isn't the only day I try to show my appreciation, but it is somewhat special I suppose. Next month, when most people are celebrating Halloween, I'll be celebrating my wife again!
[ add comment ]
( 3 views ) |
permalink
|
Click a dot to rate this entry:





( 2.9 / 313 )
---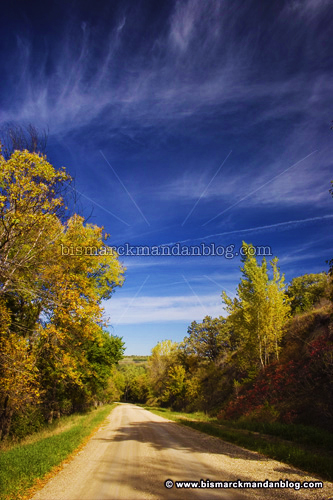 This was the scene Saturday, as I was in such dire pain I would rate it at a 7. I felt okay when I ventured out with my friend Ken in the wee hours of Saturday morning, road tripping to the Sheyenne River Valley Scenic Byway for some photos. There was a lot going on in Fort Ransom too, with a big arts and crafts show underway, and we were determined to check it out.
We were a little bummed that the fall colors hadn't fully arrived, and many of the trees whose leaves had turned were already barren. We did our best to have fun and hunted around for whatever we could find. One weird thing about this Byway is that it's quite lovely...but I didn't really find a whole lot of interesting photo opportunities! We found a few, but they were far between.
I ended up with some weird sort of infection Friday night that started in my lower sinuses and the roof of my mouth. By mid-day Saturday I was in such pain that I couldn't swallow, even though my throat was fine. It was bizarre. We cut the trip short and I headed off to the clinic. I was prescribed some antibiotics and other nasty drugs and crawled back home for a couple day's bed rest. Yuck.
[ add comment ]
( 17 views ) |
permalink
|
Click a dot to rate this entry:





( 3.1 / 418 )
---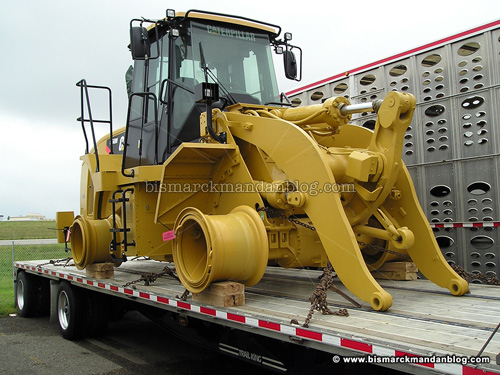 I suspect this is a common sight these days. Like metal, petroleum products, and everything else, rubber is in short supply. Perhaps this piece of equipment's trip
sans
tires is similar to a story I heard a while back.
I was videotaping at a mining operation (not local) and one of the guys mentioned that they had placed a huge equipment order. When the time came for delivery, the manufacturer called to say that the equipment was ready to ship, but that there were no tires. No tires? Yes, the industrialization of other parts of the world had put a strain on the supply of tires for heavy equipment.
To my recollection, they had to cancel the order; you can't have millions of dollars of big equipment show up and not be able to put it into service; at that point it's costing money, not making money. I talked to another fella at a different mining operation who said that they have to try to stretch the tires on their big haulers a little further, and try to buy in advance, because they're hard to come by. If they can't operate their equipment, they can't produce their product.
I don't know if that's the case with this loader. I don't think they ship them without tires normally, but perhaps that's the case. I used to have a desk facing the dock where Caterpillar equipment would come off the train cars, and I don't recall seeing any without tires; of course, this is a truck, and it has to fit under the overpasses.
Whether this loader being hauled without tires is an illustration or not, I'm told the problem exists. I found out more anecdotal evidence when I replaced the tires on my truck. The model of truck I drive came stock with oversized tires, so that's the kind of replacements I have to buy. Tires that cost $400 a few years ago cost $700 now. Ouch!
Race tires for the motorcycle were around $350-400 when I last raced, ($300 EACH if you order from the catalog) and they're good for a couple of days if ridden hard. When it comes to the cost of tires and fuel, that's the
only
reason I am glad haven't gone racing lately!
[ add comment ]
( 10 views ) |
permalink
|
Click a dot to rate this entry:





( 3 / 324 )
---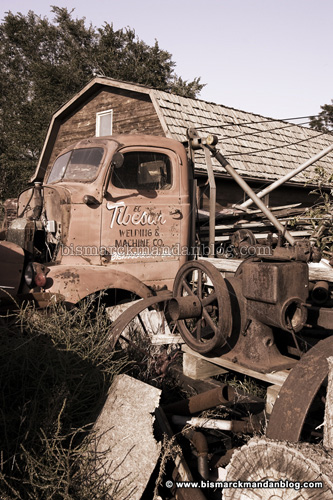 I took my wife and boys on a walk along the Mandan side of the river, taking the
Missouri River Natural Area trail
. We hopped on from the trailhead in the Captain Leach area north of the Memorial Bridge, and I spotted this scene in one of the many backyards bordering the trail. As I framed the shot, I caught something. Do you know what it is?
.
.
.
.
.
.
.
.
.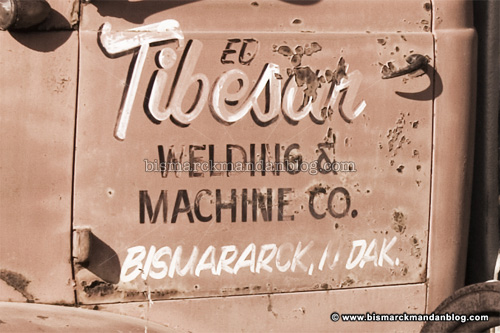 How many times does "ar" appear in "Bismarck?" I suppose I can't call it a typo, since this lettering wasn't typed! I wonder if the artist got a phone call halfway through the word Bismarck or something. Maybe it was painted on
International Talk Like a Pirate Day
! It never fails...everywhere I look, I find typos. It's a disorder, I think.
Case in point: we just got our first fancy new high-definition video camera last week. I opened up the operations manual from Sony and...yep! Typo! I guess it's a good thing that my spelling and grammatical "spider sense" still works.
I experimented with giving this photo the faded look of an old print by desaturating it and giving it a slightly different gamma curve. I love playing in Photoshop and haven't really had much to do with it lately. Time to step it up, I think...those skills can get rusty when not used!
[ 3 comments ]
( 59 views ) |
permalink
|
Click a dot to rate this entry:





( 3 / 312 )
---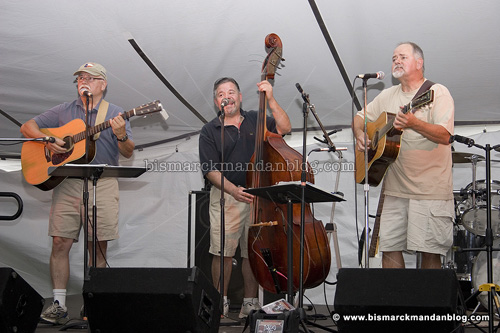 This weekend I was able to visit Buckstop Junction for
Applefest
, a benefit for the Bismarck Cancer Center. While I had a freelance gig occupying my Saturday, I braved the wind on Sunday to watch my friends
Tucker'd Out
play their mix of bluegrass, folk, and other tunes. It was fantastic; I haven't seen these guys play live since a practice jam sesion in Lynn's basement.
I've referred to these guys previously as
JPL
, but they took on the Tucker'd Out moniker when they started playing some serious gigs. The band is comprised of brothers John and Lynn, and bass player Jeff ("Petey" ). Thus the "JPL" origins. Petey, Lynn, and I have worked together since...well, almost 20 years, technically...since the start of my NBC days. They're part of the KVLY crew, and we've worked together on freelance jobs all over from ESPN to FOX Sports Net. I got to meet John for the first time this weekend as well.
Thanks to the guys for playing two of my all-time favorite songs, and calling me out by my TV nickname (which I am not giving away, sorry!):
"The Dutchman" is a song I can't listen to with a dry eye. It's a sweet song about an old man whose grip on reality is fading due to dementia, and his loving wife Margaret who is ever by his side. It's just a plain lovely song. Lyrics are copyrighted material, so I'll post a link to the writer's page
here.
I'm no Bob Dylan fan, but the song
Lay Down Your Weary Tune
is another truly beautiful song that pops into my head whenever I behold a broad landscape and the beauty of God's creation. Please click on the link above and read the lyrics; you'll see what I'm talking about.
As with many of the songs I hear them play, I've never heard the original versions of these two favorites. I don't want to. With a simple guitar, acoustic bass, and mandolin, these guys give such a warm treatment to every song they play that I don't ever want to hear these songs by anyone else. It's simply not necessary. Songs like "If I Had a Boat" (one of my other favorites) seem to be written for these guys, anyway.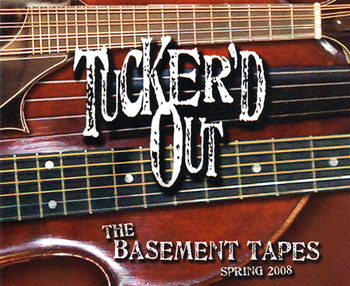 I was able to score a copy of the new album, "The Basement Tapes - Spring 2008" this weekend as well. Thanks, guys! I already have some new favorites, such as "One Drop of Rain." It's a love song talking about drops coming together, forming a river of love. You can listen to this one
on the band's MySpace page
.
One side note: their albums are recorded, mixed, and mastered by KVLY farm news anchor and meteorologist
Mick Kjar
. They sound as well as any studio recording I've ever heard. What is it about those farm news guys? Al Gustin is another one who's multi-talented, with woodworking and other skills to go with his award-winning journalism. I guess it takes a certain type of fella to fill those morning ag news shoes!
For any of you who find themselves in the Fargo-Moorhead area, look ahead on that page to see if Tucker'd Out is playing while you're there. Check out the songs on their MySpace page, and score a copy of their CD if you're able. Say hi from me, and ignore any stories they might tell about me!
[ 1 comment ]
( 9 views ) |
permalink
|
Click a dot to rate this entry:





( 2.9 / 310 )
---
<<First
<Back
| 174 | 175 | 176 | 177 | 178 | 179 | 180 | 181 | 182 | 183 |
Next>
Last>>