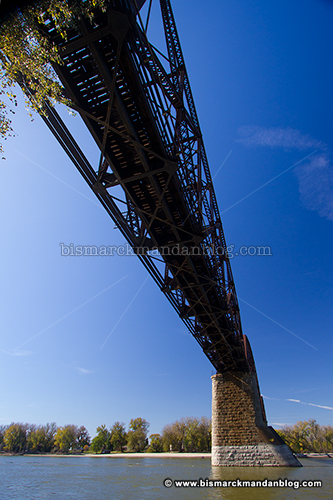 Here's another angle at the historic Northern Pacific bridge along our receding Missouri River. This has been one of my favorite indicators of the river's rise and decline.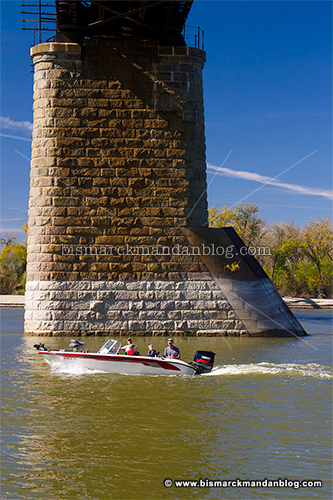 As you can see, that's a pretty tall watermark. The river is currently at under seven feet, after a height of approximately twenty. I don't know how much longer this watermark will remain, but for now it's a stark reminder of how the Big Muddy behaved in 2011.
[ add comment ]
( 13 views ) |
permalink
|
Click a dot to rate this entry:





( 3.2 / 158 )
---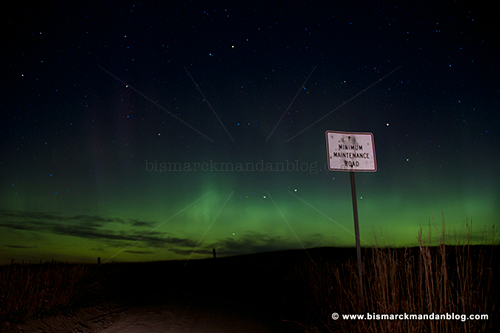 Thanks to my network of spies, my cell phone vibrated my pillow tonight and set a great sequence of events in motion. My wife heard the phone, answered the text, woke me up, and I was on my way to catch the auroras before they faded! Naturally I headed out of town as quickly as I could after picking up my best friend.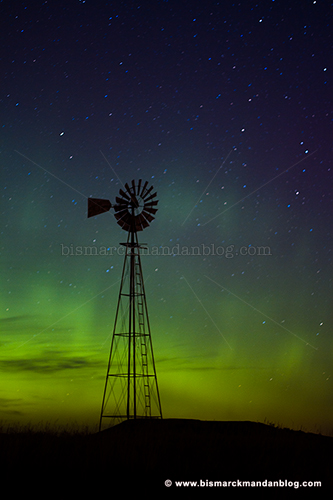 Taking great photos of the sky ironically requires a good foreground object to put things into the proper perspective. In this case I found one of my favorite old windmills. I love these trademark North Dakota artifacts, but they do come with one caveat: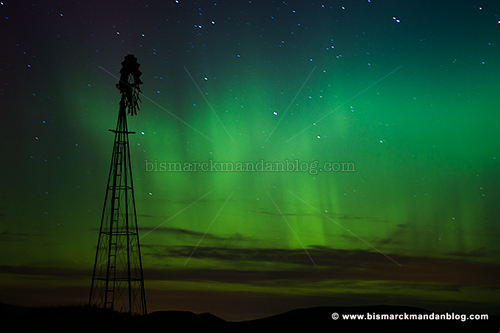 They don't always point in the direction you'd prefer. This shot had some great aurora activity in the background, but the head of the windmill isn't really facing in a photogenic direction. Sure, I could Photoshop it, but that's not how I roll.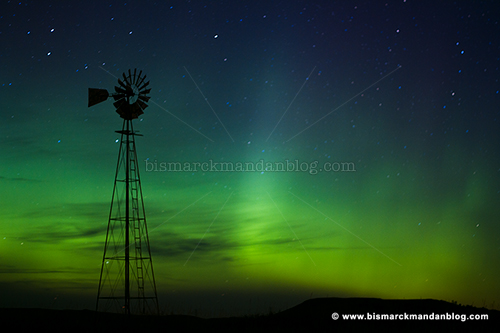 That's more like it. I had to stumble around in the dark for a bit and try different angles around the area to see which one presented the best angle. Of course, once I moved in a certain direction, the auroras flared up in the other. I'm so accustomed to this taunting by the sky that I've actually developed a little bit of patience!
As auroras go, tonight's weren't even that dramatic. I'm told there was a lot more "spike" activity before I dragged my tired butt out into position. I don't care, though...it's literally been YEARS since I've been able to take decent Northern Lights photos due to the
solar minimum
. I've often joked that I single-handedly extinguished the auroras by buying digital cameras with the intent of photographing them! Now it seems that a frustratingly dormant period of solar inactivity is coming to a close, and I'll be ready to capitalize on it.
[ 1 comment ]
( 16 views ) |
permalink
|
Click a dot to rate this entry:





( 3.2 / 157 )
---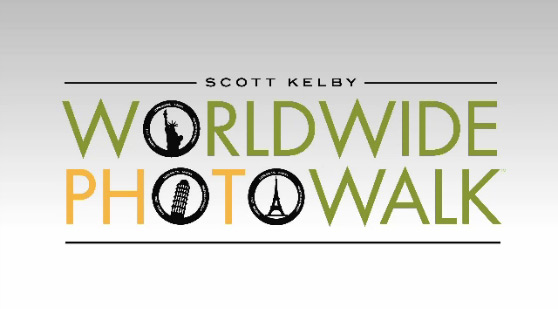 If you like photography, there's an event this Saturday in which you should definitely participate: Bismarck-Mandan's portion of the
Worldwide Photo Walk
. This annual event is comprised of photo walks all over the world, as the name implies. Local groups take a couple of hours to roam a predetermined location, after which they meet up for some fun. Participants are invited to submit photos to the leader of their local walk, and they're then entered with other photos worldwide for a chance to win prizes.
Our group from
BisManPhoto.com
has participated in this walk before, and it's a real blast. We had people drive from as far away as Jamestown last time, as I recall, and quite a diverse mix of folks as well. It doesn't matter if you just like taking photos with your phone, an inexpensive point-n-shoot camera, or an expensive DSLR rig; everyone's welcome, no matter their background or level of expertise.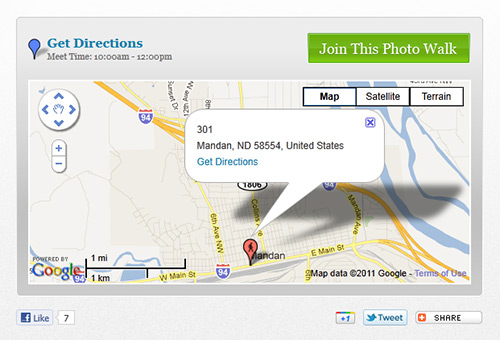 To join you need to locate the local walk on the Worldwide Photo Walk website by
clicking here
. You need to register with the site and get a slot on the walk, since space is limited. Then simply meet up with the other participants at the appointed time and have a blast!
Of course, I also suggest joining the local photography club at
www.BisManPhoto.com
. Not only will you make plenty of new photography buddies, but you'll also be able to join us for other fun events like our monthly Coffee and Cameras. Please tell them you heard about it here. There's a small fee to join in order to fund our online community website, something that we members voted to do because we found it to be such a valuable resource and worth every penny.
I invite you to join the walk and, if you have fun, BisManPhoto! I repeat, it doesn't matter your level of skill or equipment. Our group contains the full spectrum of photographers, from total newbies to licensed professionals. It's a great way to learn and make friends at the same time.
Hopefully we'll see you at the walk or online as a new member of BisManPhoto.com!
[ add comment ]
( 8 views ) |
permalink
|
Click a dot to rate this entry:





( 2.9 / 215 )
---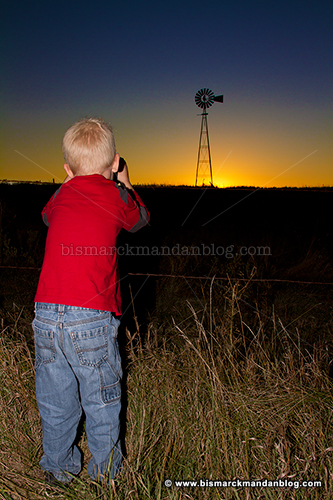 What happens when you're having a "guys' night out" with the fellas and our cameras? Well, of course the Proud Daddy Instinct™ kicks in, and I start taking pictures of my boys taking pictures! Well, apparently three can play at that game...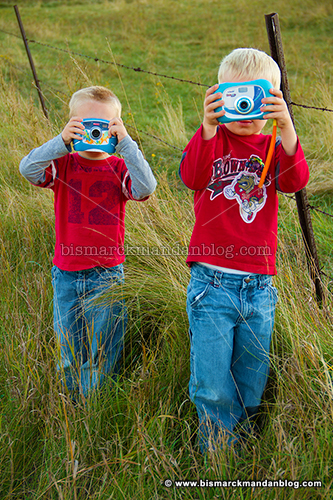 Taking pictures of Daddy taking pictures of the boys taking pictures! Whoa, we're lucky we didn't get caught in some sort of infinite loop there!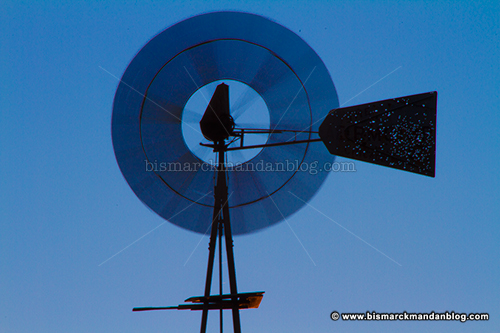 Of course, I did avail myself of the opportunity to get a little artsy with the windmill we were photographing. Then it was dark, past our bedtime, we were on a muddy road that required a little four wheel drive, and there was a Winnie the Pooh story waiting to be read before bed. Needless to say, mission accomplished.
[ add comment ]
( 11 views ) |
permalink
|
Click a dot to rate this entry:





( 3.2 / 186 )
---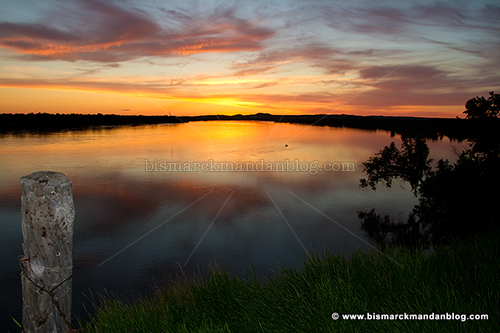 Three months ago I visited Double Ditch to assess the impact of Missouri River flooding on the view. It was astounding; any trace of sandbars had vanished beneath a wide expanse of water. Now that access to the site is no longer prohibited, I was a little curious about what it looked like: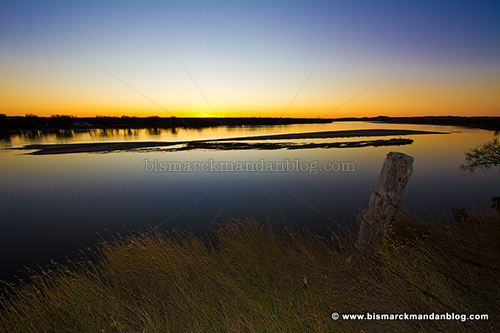 As you can see, we now have plenty of sandbar. In fact, there are plenty of other places along the Missouri that now have plenty of sand. Welcome to the new normal!
One other thing that's noteworthy, and hard to discern from these photos because they're framed so differently, is how much farther south the sun sets in mid-September compared to June. On the longest day of the year, just four days after the top photo was taken, the sun sets much farther north. As winter creeps closer and the days grow shorter, however, the sun's track moves southward and peaks lower in the southern sky during midday. It may be interesting to return to Double Ditch on the shortest day of the year and see where it intersects the horizon; if I do so, you'll see it here.
[ add comment ]
( 10 views ) |
permalink
|
Click a dot to rate this entry:





( 3.1 / 176 )
---
<<First
<Back
| 51 | 52 | 53 | 54 | 55 | 56 | 57 | 58 | 59 | 60 |
Next>
Last>>