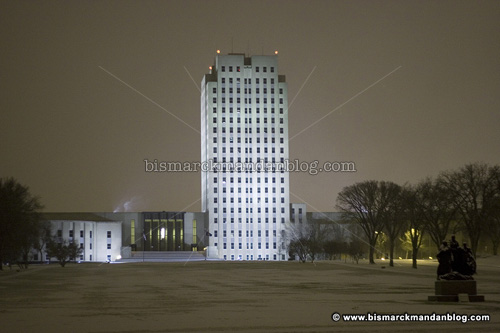 Color me disappointed. I was hoping that the State Capitol building would be adorned with colored windows to form a Christmas tree, as is typical for the Christmas season. I had expected it to be so the day after Thanksgiving, but sadly that was not the case this weekend. Hopefully that situation gets rectified soon.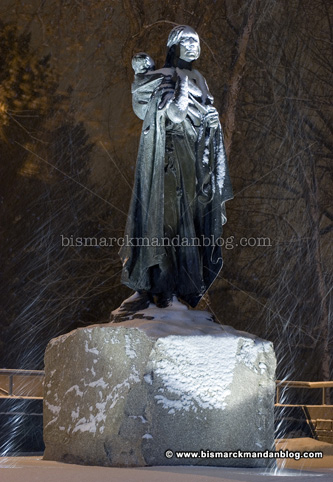 As I drove through the capitol grounds, I noticed that the Sakakawea statue was getting a face full as the snowfall began to intensify. I set up my camera in the middle of the road with a clamped aperture and long shutter delay, set the timer, then splashed the statue with light from a handheld flash unit to fill in the shadows. I'm quite pleased with the way it turned out. Then it was on to one of my favorite Christmas destinations: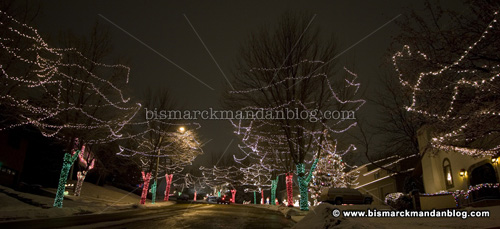 You can always count on the folks of Northview Lane to make sure that the Christmas spirit is alive and well! Even without a whole lot of snow on the ground, this street is a winter wonderland every year. I'll probably take my family through it tonight, now that we've had a bunch of flurries overnight!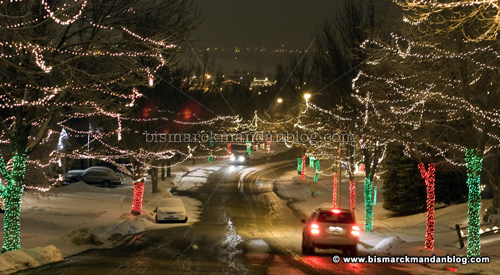 There was already plenty of traffic; the locals know when this display goes online each year, and there were plenty of people driving up and down the hill.
Friendly hint: TURN OFF YOUR HEADLIGHTS
and just use your vehicle's running lights if you want to enjoy the show and make it more pleasant for others. It's hard to enjoy the lights when someone's high beams are blasting you in the face; that's what happened to me last night.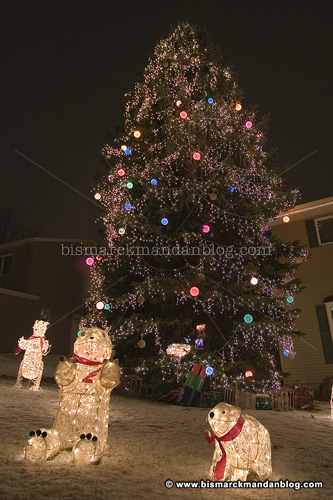 This tree is a
lot
bigger than the photo implies. It's also adorned with some of the coolest Christmas decorations I've seen, and the yard sports a lit menagerie of Christmas characters and critters.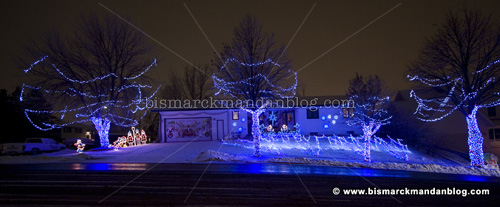 Atop the hill is this house, which has an elaborate animated display of lights that keep time with the Christmas music broadcast on 107.5 FM. There are often people stopped near this house with their car radio going, watching the different lights (and MERRY CHRISTMAS spelled out on the lawn) flash and twinkle in time with the music. I found out that a motorcycle friend's father-in-law owns the house, which was pretty cool. Josh and a few friends were out on the sidewalk across the street with a boom box and Santa hats, waving to passers-by. Josh told me that on the 20th they're going to have elves out there, giving candy to kids that come by, so save the date on your calendar! Tell them I sent you. I'll probably be there with my little boys too, as one of them will be turning two.
Until (and after) they get the capitol lit for Christmas, make sure you frequent Northview Lane this Christmas season! Oh, and if I may make one last suggestion: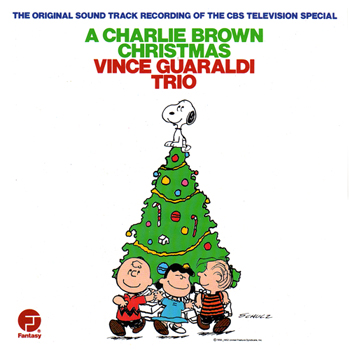 Pick up this CD. Keep it handy for Christmas. I actually dubbed mine to
MiniDisc™
, since the stereo I put in my truck plays MDs instead of CDs. Once the snow flies in the fall, I put this disc in...and it doesn't come out until the snow's gone for good in the spring. Of course, I also have my iPod connected, but that's another matter.
That's all for now. Put in your Vince Guaraldi disc, get some hot chocolate, and head for Northview for a dose of Christmas spirit!
[ 1 comment ]
( 22 views ) |
permalink
|
Click a dot to rate this entry:





( 3 / 311 )
---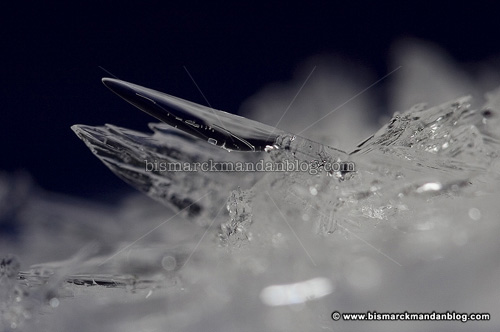 I thought of so many movie/music references I could make to title this post...Superman of course, with his crystal palace; Crystal Palace from "War Games"; "Dark Crystal" if you're into the whole Jim Henson thing; or songs like Crystal Ship (which Duran Duran does a GREAT cover of, btw).
This photo came about when I ran out to the Garage Mahal to grab a plastic dish out of my "bachelor fridge." I had a bowl of my notorious "Four Alarm Hamburger Noodle Bachelor Chow" in there, and it had seen better days. I figured now would be a good time to put the bowl and lid back into service. The frost that had formed on the lid, however, was begging for a photo. That's what you see above. I took a quick shot with my macro lens while the frost started to melt, then went back to doing dishes. I wouldn't mind seeing frost like this outside sometime, too!
Remember this frosty photo?
[ add comment ]
( 4 views ) |
permalink
|
Click a dot to rate this entry:





( 3.1 / 299 )
---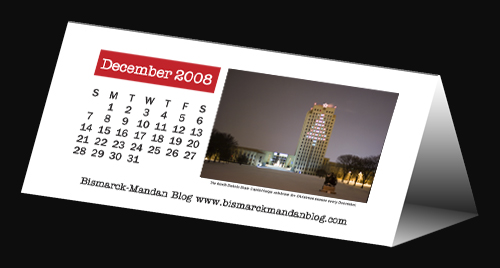 Here we are, officially into the Christmas season for 2008. One of my favorite signs of the Christmas season is the way the windows of the ND State Capitol are adorned for the holiday. Thus it was an easy pick for this month's calendar photo.
Click here to download a printable calendar in PDF format.
If you have Adobe Acrobat Reader installed, you're good to go. It may take a little bit for the program to load, but the file should download reasonably quickly. Click on the icon below to download the free Adobe Reader if necessary.

When you print the PDF, fold along the lines and tape or staple at the bottom. You will then have a free-standing desk calendar with a little bit of Christmas cheer, North Dakota style.
[ add comment ]
( 3 views ) |
permalink
|
Click a dot to rate this entry:





( 2.9 / 343 )
---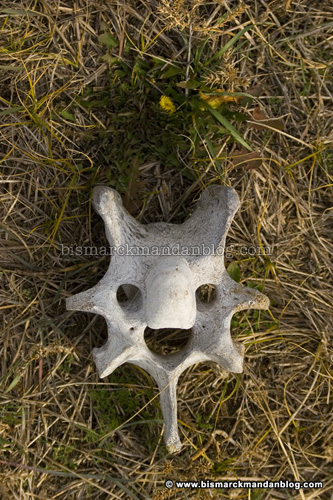 In one of my recent photo hikes I came across this vertebra, presumably from some sort of livestock. It just struck me as familiar, as if it was some sort of character from
the Space Invaders video game
I enjoyed in my youth.
I struggled with the orientation of this photo, since it looks quite like a little digital alien like this, or flipped upside down. Please turn your monitor or laptop upside down to view it the other way.
[ add comment ]
( 16 views ) |
permalink
|
Click a dot to rate this entry:





( 2.9 / 285 )
---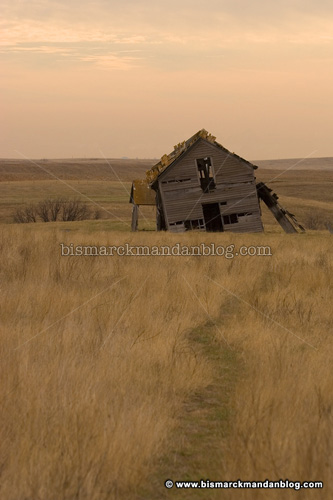 My friend Tony was in town from the great Palin state of Alaska a few weeks ago, during our last nice stretch of warm weather. He brought his camera and lenses with him, so we took a Saturday to go poking around the outskirts of town. One of the places we stopped to visit was this falling farmhouse north of Bismarck.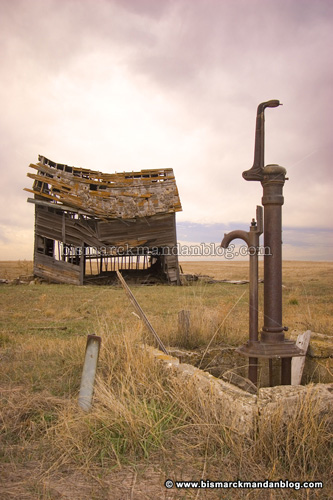 I've wanted to get a closer look at this building for a long time. I've taken many photos of it from afar, actually. This year it seemed to suddenly lurch to one side, as if its days were coming to an end in the near future. With that in mind, we took our gear and hiked in for a closer look.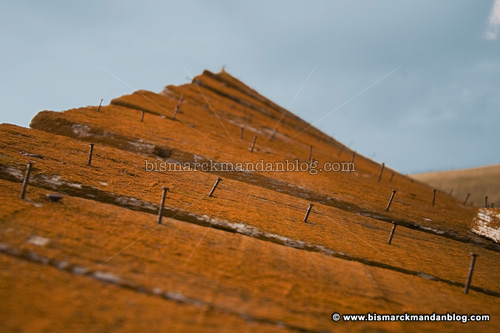 If I may get all abstract on y'all for a minute, here's a shot of the roof of a fallen outbuilding that has long since gone away. Only this roof remains. I thought it pretty neat that the nails had found their way up, forming a little cluster of sorts. I took several shots before I found an angle I liked.
I never tire of photographing windmills and old farmsteads. Some days I think they seem cliche' or that I'm overdoing it, but I have to remind myself that each one of them is special. They're an endangered species of sorts, too. Tony pointed out that even in Alaska, one can tire of a certain type of photo. For example, you can only take so many Alaska mountain shots before one tires of it. Unique photos are elusive, and need to be hunted down...that's part of what makes them special.
Variety is the key, I suppose...that's why I've tried to vary my subject matter a bit lately. It's important to keep a diverse palette of photo styles and subjects, so that none of them ever seem tired. That's especially true of the North Dakota features which are so near and dear to my heart, and which inspired this website in the first place.
[ 2 comments ]
( 31 views ) |
permalink
|
Click a dot to rate this entry:





( 2.9 / 310 )
---
<<First
<Back
| 166 | 167 | 168 | 169 | 170 | 171 | 172 | 173 | 174 | 175 |
Next>
Last>>