You can download the bill in PDF format here
.
Part of this was spurred on by
this article in the Washington Post
. According to the article,
"Rep. Earl Pomeroy (D-N.D.), a prominent fiscal hawk, stood up to announce that he would support the measure, drawing a round of applause loud enough to be heard outside the room."
I think we can draw the right conclusion as to who was doing the applauding, and it
wasn't
North Dakotans.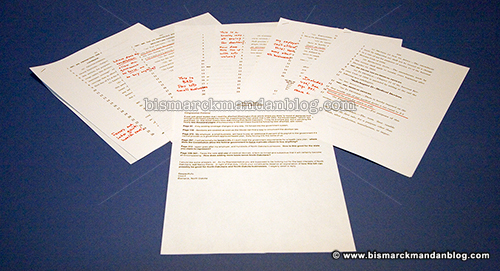 I took seven of the sections of legislation that stood out to me the most, printed out those pages from the over 1,900 contained in this bill, and made some notes of my own. I attached a brief letter to my Congressman, and set out to deliver it in person to his office.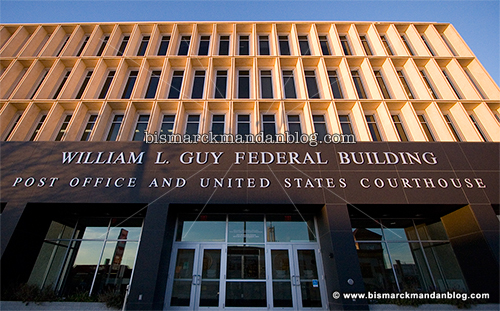 Getting to the office of your Senator or Representative in Bismarck isn't exactly convenient. Because they put their offices in the federal building, there are certain restrictions. No cameras, which is why the only photo you'll see for this post is above. No phones, presumably because they take pictures. Metal detectors, of course, since there's a federal courthouse and other offices such as US Marshals reside inside. Thus my Superman-inspired "fortress of solitude" crack in the title of this post.
Walking down the sterile hallways, it was obvious this was a government building. Pale blue walls, all doors closed, no windows, lots of cameras. Can you imagine having a national health care system every bit as personal as this place? I shudder at the thought. Anyway, I found Representative Pomeroy's office on the third floor, northeast corner, with windows facing out toward 3rd Street. I talked to a polite gentleman there and handed him my letter voicing my concerns. The text of the letter:
Congressman Pomeroy:

It was with great disdain that I read the attached Washington Post article where you drew "a round of applause loud enough to be heard outside the room" for supporting the train wreck that is HR 3962, the House health "reform" act. I guarantee, sir, that those cheers were not coming from North Dakotans. I may be a simple guy, but in perusing the nearly two thousand pages of bureaucracy in the act I have found the following (see attached, with notes):

Page 91 - if my existing coverage changes in any way, I'm forced into the government system;

Page 110 - Abortions are covered as soon as the House can find a way to circumvent the abortion law;

Page 275 - My employer, a small business, will have to pay an additional 8 percent of its payroll to the government if it cannot provide us a government-approved health plan, likely forcing it to fire some of us;

Page 297 - I will personally be taxed 2.5% if I don't meet the government requirements for a health care plan - where does the Constitution allow the federal government to force a private citizen to buy anything?

Page 313 - again goes after my employer, and hundreds of North Dakota businesses. How is this good for the state you claim to represent?

Page 339-341 - Taxes the sale and use of medical devices, a term so broad and subjective that it will certainly become all-encompassing. How does adding more taxes serve North Dakotans?

I'd like to remind you that all this information is readily available to North Dakota citizens and we are using it. More and more of us each day are building excitement at the idea of defeating anyone supporting this socialist, unconstitutional assault on our freedom. I advise you to keep us in mind as you consider your next bid for re-election.

I would like some answers, sir. As my Representative you are supposed to be looking out for the best interests of North Dakotans, not Nancy Pelosi. In light of that duty, I think your constituents deserve an explanation of how this bill can possibly be good for North Dakotans and North Dakota businesses. I eagerly await a reply.


Respectfully,
Clint
I suppose I could have been all confrontational and demanded an answer from the staffer, but why should I ambush a guy at work? I voiced my concerns on paper and received an assurance that Representative Pomeroy would receive my letter. I took part in the process. Let's hope that others took some time to send him (and other members of Congress) a clear message.
Don't take my word for it, though. Download the bill yourself and look at the page numbers I listed above. Those are just scratching the surface of this monstrosity! It creates
111 new federal bureaucracies
to administer this juggernaut as well, according to a report I read online. It may even be worse, since Nancy Pelosi has
broken her promise to post the final legislation online 72 hours before it comes to a vote
. Does
anyone - especially
Congresman Pomeroy - have any idea what's actually contained therein?
Like my letter said, we North Dakotans deserve some answers.
[ 1 comment ]
( 31 views ) |
permalink
|
Click a dot to rate this entry:





( 3 / 295 )
---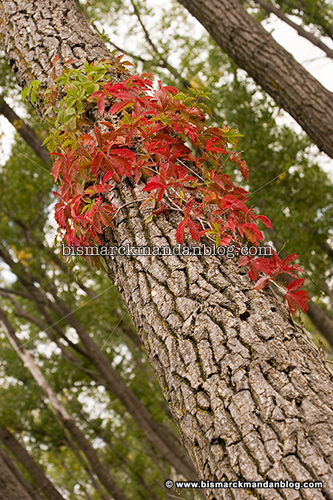 This was a wacky year for photographers; we waited patiently for the leaves to being changing in color so we could head out and poke our cameras at 'em, when suddenly they all dropped to the ground. They were still green, too. What's up with that?
I haven't had my camera out of the bag since I don't know when. The past week and a half of family with flu, colds, and whatever else hasn't helped. Now I've got it, yay! I did get to shoot some video outside today at McDowell Dam, and it really helped me feel better (but still sick). Hopefully I can get on the mend for the rest of the week, I hear it's supposed to be pretty nice out there. Perhaps there's a chance to take my boys for more motorcycle rides!
[ 1 comment ]
( 19 views ) |
permalink
|
Click a dot to rate this entry:





( 3 / 244 )
---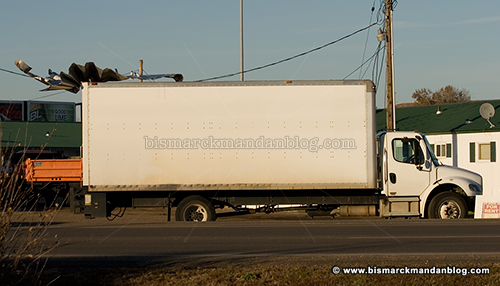 I was on my way to a decisive victory on the air hockey table at Midway Lanes, when I had to do a double-take. This truck was parked in front of the Dakota Maid Bakery building. Something looked a little weird about the top and back of the truck. Yep, when I turned around to take a look, I knew my peripheral vision had been correct.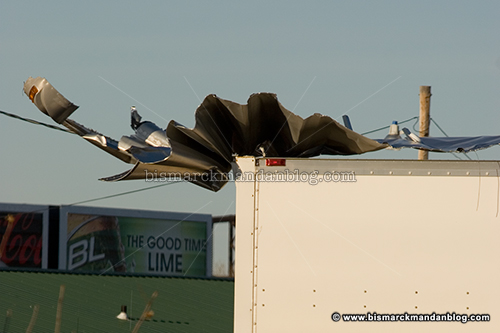 Owie. I'm not sure exactly where this damage was performed, but it sure looked ugly. The top of the truck was literally peeled back. The roll-up door was up, so I'm guessing they just parked it and transferred the cargo to a new truck. Bummer.
That reminded me of the other day, when I was sitting in a McDonald's with my boys. A little truck came by with a ladder in the back, propped up against the cab. It was clearly too high to make it through most drive-thrus, and I heard another table of customers remark about it. The truck went around the back in the drive-thru lane, but we never saw what transpired. When you have two toddlers and a lot of ketchup handy, there's not much time to be gawking at the parking lot.
I could tell some funny insider stories about the KFYR-TV live truck with the antenna mast on top of it, but I'll just leave that to your imagination ;-)
[ add comment ]
( 9 views ) |
permalink
|
Click a dot to rate this entry:





( 3 / 268 )
---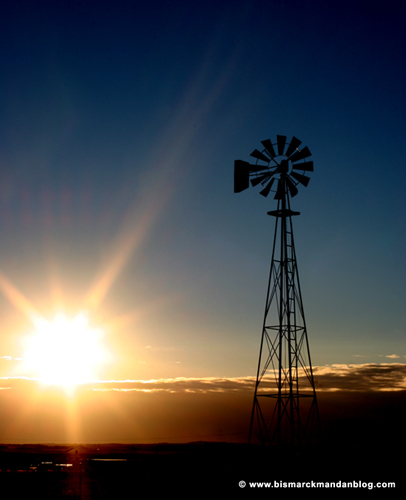 Here's to the babies in a brand new world,
Here's to the beauty of the stars...
Here's to the travelers of the open road,
Here's to the dreamers and the bards...
Here's to the soldiers on the desert dunes,
Here's to the farmers in the fields...
Here's to the preachers of the sacred Word,
Here's to the loving God who heals...

Here's to you, my little loves, with blessing from above, now let the Day begin.
Just sharing a friendly good morning with you and the windmill perched near Farmer's Livestock southeast of Bismarck and some lyrics modified from one of my favorite songs by The Call. Have a great weekend.
[ 1 comment ]
( 12 views ) |
permalink
|
Click a dot to rate this entry:





( 2.9 / 327 )
---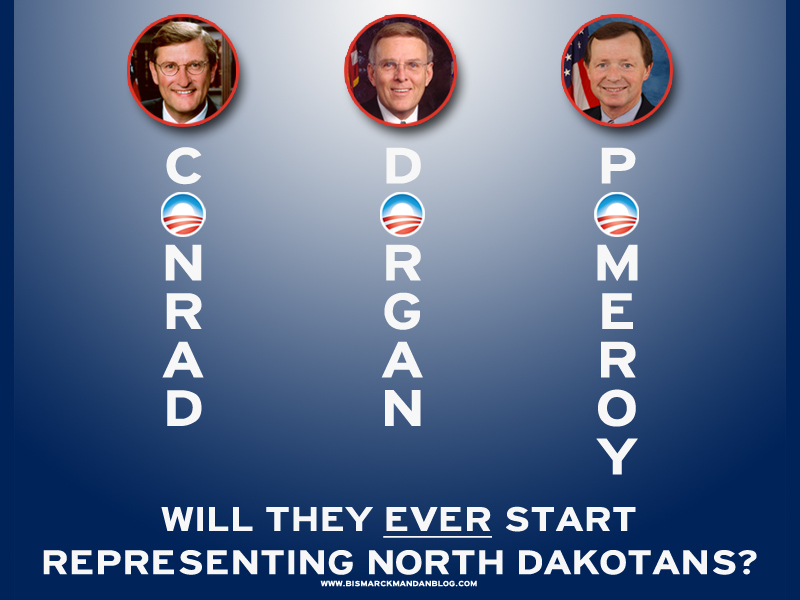 Click on the image for a larger version (opens in a pop-up window).
This was a busy day for North Dakota's congressional delegation. When Nancy Pelosi released her 1,900 page behemoth of a health care takeover bill, Earl Pomeroy jumped on board.
This is the same Earl Pomeroy who
was not interested in meeting with his constituents during the August recess
, choosing instead a call-screened "telephone town hall" which featured questions from liberal activist groups and labor unions. Gee, I wonder why?
Then there's Kent "Countrywide" Conrad, who is trying to pull a sneaky one. He's
voting yes on cloture to send the Senate healthcare takeover bill to the floor
, yet may get an opportunity to vote against it on the floor of the Senate if they use a trick to make it a 50-vote pass. If that happens, he'll come back to North Dakota and tell the angry peasants that he voted against the health care bill, then jet back to his million dollar house on the east coast. KFYR, KXMB, and the Forum group will act as dutiful stenographers, and the whole matter will be buried.
Speaking of town halls, Kent Conrad was pre-loading the few events he did, walked out after a couple of questions, and was
astroturfing the events with liberal supporters via the BarackObama.com website!
You and I will get stuck with the bill, no matter what the result. It's interesting; after this House bill was announced today,
I was able to download the PDF of the bill
and find out that anyone who doesn't want to participate will be taxed for their choice (Section 501, page 297) in less than five minutes. I'm a pretty quick reader, but that was just with a simple perusal. Imagine what else is hidden therein!
There wasn't any breaking news about Senator Byron "Skybox" Dorgan relating to the government health care takeover, but there was one interesting story.
According to the Fargo Forum
, Senator Dorgan is "frustrated" that the Obama administration hasn't named appointees for a pair of federal positions here in North Dakota. Well, wait a minute. Whenever one of these three guys jet back to North Dakota, throw on a flannel shirt and rub elbows with the peasants, they talk about how much seniority, clout, and influence they wield in Washington. When have they
ever
displayed it? Have they written and sponsored legislation that has become law? Are they totally unable to sway the White House now that it's "their guy" who's running it? You can't have it both ways, Senator.
Let's put a stop to this circus. For starters, it's time to call our congressional delegation and tell our Representative and Senators that this takeover of our health choices is NOT in North Dakota's best interest. Here are the phone numbers:
Rep. Earl Pomeroy
Bismarck: 701-224-0355
Washington, DC: 202-225-2611
Sen. Kent Conrad
Bismarck: 701-258-4648
Washington, DC: 202-224-2034
Sen. Byron Dorgan
Bismarck: 701-250-4618
Washington: 701-202-224-2551
[ 4 comments ]
( 62 views ) |
permalink
|
Click a dot to rate this entry:





( 2.9 / 319 )
---
<<First
<Back
| 126 | 127 | 128 | 129 | 130 | 131 | 132 | 133 | 134 | 135 |
Next>
Last>>