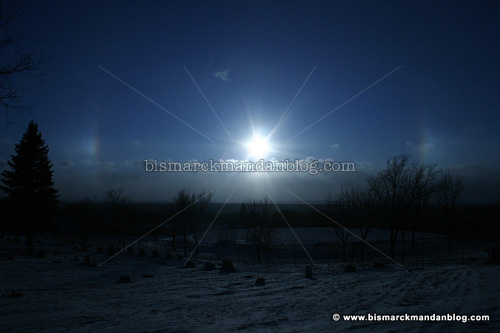 This was a unique sight on Saturday: a rainbow on each side of the sun! It's a
parhelion
, or sundog. It's formed by rays of light refracting through ice crystals, just like they do with water droplets to form a rainbow.
I saw this as a bunch of low clouds rolled past. The remnants of the clouds caused this phenomenon to occur, and it disappeared when the skies cleared completely.
[ 1 comment ]
( 37 views ) |
permalink
|
Click a dot to rate this entry:





( 3.1 / 482 )
---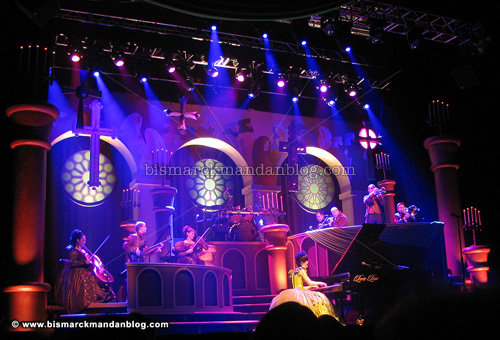 Lorie Line played the Bismarck Civic Center once again with a show on Saturday Night. As you can tell from the photo, Stacy and I had really good seats: just four rows back, with a great view of Lorie's keyboard. That lady sure can play! I don't know how many of you are fans of Christmas at the Minneapolis Dayton's from years past, but she used to play there back in the '80s. I never made the connection until the first time I attended the show here in Bismarck.
I've been a Lorie Line fan since my wife and I started dating. She's extremely talented, her husband does a great job as the emcee, and the production is always top notch. This year's show was really good...but it was nowhere near the high standard they've set in years past.
One downside to the show is that
gospel singer Robert Robinson
is no longer touring with the group. That man's voice could draw tears from the hardest of hearts! Hearing him sing carols like "Oh Holy Night" "What Child is This" is enough to make your knees weak. I wish him well in whatever his current endeavors may be. The bright side is that his replacement, soprano Kelly Smith. She's definitely a worthy successor to Mr. Robertson.
Another element missing from this year's performance is a trademark Lorie Line feature. She comes out with a legal pad and asks the crowd to belt out requests. She then sits down at the piano and makes an impromptu medley of the list! It seems that someone always yells "Spongebob Squarepants" but there are also requests like "Inna Godda Da Vida and other challenging tunes. We kept waiting for this part of the show, but it never came.
I don't get it...this show's theme was supposed to be "The Traditions of Christmas" but I didn't really feel the Christmas spirit by the time the show was over. It was certainly a great performance by everyone, yet really didn't capture the fun and sparkle that one normally gets at a Lorie Line concert. My favorite show of hers happened to be themed, "My Favorite Things." This one, however, didn't really seem to have a theme. Hopefully things will be back up to that sky-high standard next year.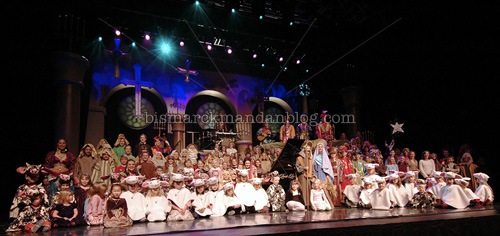 One neat thing they did this year was during the part of the show every year when the kids come up on stage and sing. They have a photographer that takes a hi-resolution picture, which they post on
the Lorie Line website
for people to download the next day. They also had the whole crowd sing "Silent Night" along with the orchestra. They record it at each performance and make it available online as well, for 99 cents. That's a good way to get people to go to your website! I wonder what I could post here...
If you have an opportunity to see Lorie Line this Christmas season, don't pass it up. Don't let my comments about not living up to last year's show stop you: I doubt anything could match it. I do hope, however, that Lorie brings her legal pad with her the next time she comes to Bismarck.
[ add comment ]
( 2 views ) |
permalink
|
Click a dot to rate this entry:





( 3 / 484 )
---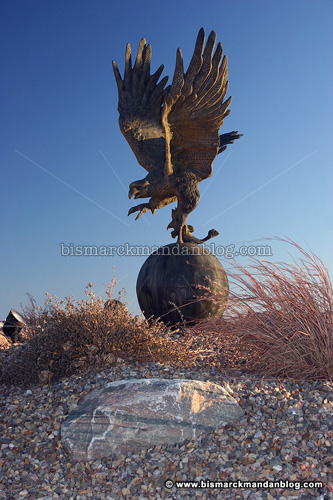 This one's got some special significance, but I'd give it away if I told you what that was. If you're able to guess where this statue is, then you should be able to tell me what's so special about it. If you can identify the statue but not what it's there for, then you really need to do two things: go back and read the plaque beneath it, and look more closely at other local statues in the future!
[ 8 comments ]
( 169 views ) |
permalink
|
Click a dot to rate this entry:





( 3.1 / 458 )
---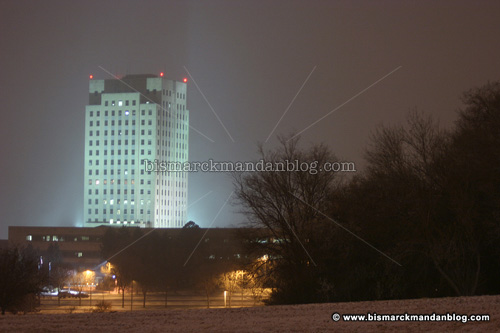 One interesting thing about the really cold North Dakota nights is the amount of ice crystals in the air. It stays bright all night because of the diffused city light in the air, and there's a nice soft glow to objects such as our beloved capitol. I was driving home and couldn't resist a quick snapshot.
Really bright sources of light tend to shoot spires of light straight up into the sky, which are visible for quite a long distance. It's almost like a "synthetic aurora" in a sense, except they don't dance like the real thing.
[ 3 comments ]
( 46 views ) |
permalink
|
Click a dot to rate this entry:





( 3 / 379 )
---
Now in this
report from Minneapolis - St. Paul
, they're being served a little more victory:
Airport officials said Friday they will consider setting aside a private area for prayer and meditation at the request of imams concerned about the removal of six Muslim clerics from a US Airways flight last week.

...

Airport officials will accept the group's invitation to visit a mosque, airport spokesman Pat Hogan said.

"I think there's a mutual recognition that it would be helpful for there to be a solid understanding," Hogan said.
These people are not going to be satisfied until Islam is institutionalized. They understand how to do it, and little tiny incidents like this will add up and set precedents over the long term. It's too bad the West seems willfully blind to what they're trying to achieve, even though they make absolutely no pretense about their goals and methods.
[ 1 comment ]
( 26 views ) |
permalink
|
Click a dot to rate this entry:





( 3 / 395 )
---
<<First
<Back
| 268 | 269 | 270 | 271 | 272 | 273 | 274 | 275 | 276 | 277 |
Next>
Last>>