I don't know the motivations behind the whole matter, but a deal was struck to simulcast the NFL Network game on CBS and NBC. Presumably it was to keep Congress off the back of the NFL. I was under the impression that the
Sports Broadcasting Act of 1961
allowed Congress some oversight authority in exchange for granting the NFL anti-trust exemption. So the NFL made a deal with the devil, in the parlance of our times. I was eager to see how it all panned out.
What I saw, in addition to a good football game, was something of a win-win for the NFL Network. They turned it into a three hour commercial for their network. Game interstitials promoted NFL-N exclusives such as draft coverage, game recaps, NFL Films presentations, and the like. And NBC & CBS were forced to carry it! Imagine if the NFL had tried to buy three hours of commercial time...something they got for free Saturday night.
I have NFL Network on my satellite dish, so I'm no stranger to it. Frankly, I think Bryant Gumbel is one of the worst announcers to ever call the game. But I do like a lot of their exclusives, and they were granted access to two national broadcast networks last night in order to promote those exclusives to millions of potential subscribers. I bet there are NFL Network executives laughing themselves silly now that it's done.
I couldn't help but wonder what NBC and CBS execs must have thought while watching plug after plug for the NFL Network airing on their networks. I had to chuckle, because I think the NFL Network has every right to do so and were "sticking it to the Man" in a way. I hope they sent NBC and CBS a belated Merry Christmas card, because they got a heck of a freebie: 3 hours of promotional time on TWO broadcast networks during the game of the year, a game which set a historical record for the league. At the same time they got Congress off their backs (for now) and came out looking like the good guys. Good for them.
[ 3 comments ]
( 29 views ) |
permalink
|
Click a dot to rate this entry:





( 2.9 / 400 )
---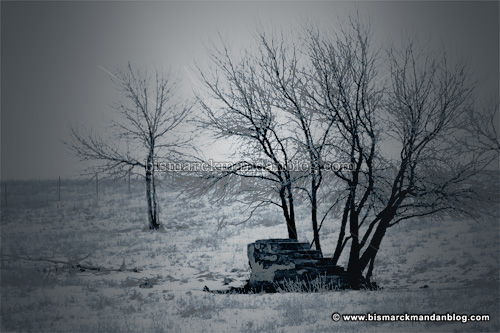 As my truck crested the hill where the gravel road I'd been following met Highway 1804, I planned to just head north and scoot back to my family. It was early in the morning and I expected little PJ to be waking up soon, so I wanted to be the one to haul him out of his crib. I did, however, spot this on the way home...just north of the aforementioned intersection.
I suppose this could fit into my Fallen Farms series, but instead I just decided to push it around a little bit in Photoshop and leave it at that. Sadly, this is all that's left of what probably housed a family at some point. What was once home is now gone. I know how that feels; a couple of years I went back to the old homestead in the Montana Rockies and found that my childhood house had been replaced. Bummer. But it sure makes for nice pictures, I suppose.
[ 1 comment ]
( 25 views ) |
permalink
|
Click a dot to rate this entry:





( 3 / 353 )
---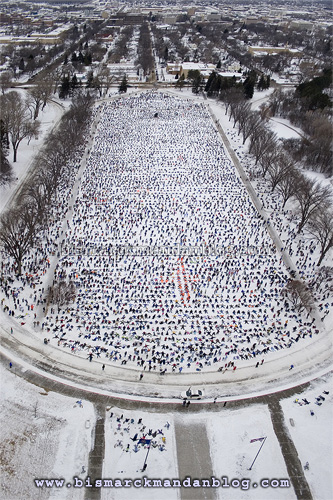 I wasn't there Wednesday because I work for a living, but the state capitol was all abuzz with the folks getting their certificates for taking part in the
snow angel record
. I was there, but I wasn't flapping my arms. I was flapping the shutter in my camera from the roof of the capitol.
Now the governor has proclaimed December 26th, 2007 to be Snow Angel Day in order to commemorate the event.
You can download a PDF of the proclamation by clicking here (Adobe Reader required).
Save a copy to your hard drive and print it out to go with your Guinness Book of World Records snow angel certificate, if you have one. And get ready...those Michigan folks are preparing to take another run at the record! That means we'll have to reclaim it if they succeed, with another outing on the capitol lawn and another day of passing out certificates when we emerge victorious. Ah, the thrill of competition, eh?
[ 1 comment ]
( 14 views ) |
permalink
|
Click a dot to rate this entry:





( 3 / 374 )
---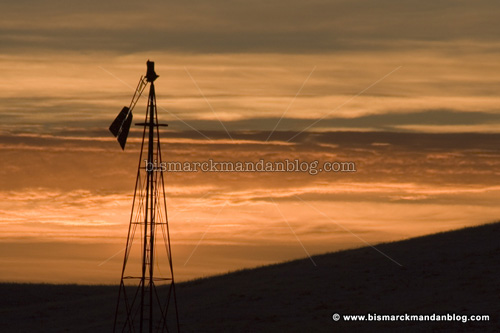 My wife woke me up Christmas Eve to tell me of a lovely sunrise developing. I'd fallen asleep with my contact lenses in the night before, so I was pretty well ready to roll out of bed and into the truck. I'm so blessed to have a wife who realizes my need to just get out and roam, and she was graceful in getting me out the door for a brief Christmas Eve outing. I missed the red part of the sunset, but things stayed golden for quite a while.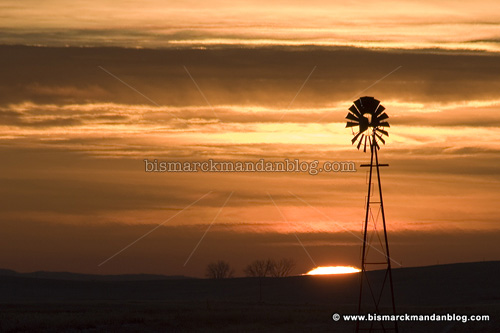 As I've mentioned before, the best sunrise, sunset, or aurora photo is one with a nice foreground. I set out southeast of town in search of that foreground, which is why much of the color got away from me. No worries, though - I found the broken down windmill in the first picture, then moved on to this intact one a little further down the road.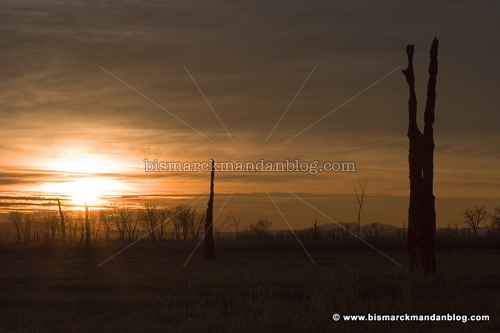 I soon found myself in the river bottoms, in what looked like a graveyard for forgotten cottonwood trees. It was quite a sight, especially so given the sun's position. I poked around down there for a little bit and even considered hopping out of the truck to pound a few rounds at the gun range, but I didn't want to be out too long.
I popped out of the other end of the bottoms onto Highway 1804 and pointed the truck home. I gave the boys at KFYR Radio a Merry Christmas phone call along the way and caught up on the latest happenings in local broadcasting, then marched through the door to hug my wife and boys. It was nice to get out and poke around, yet get home early enough to enjoy the rest of the day with family.
[ add comment ]
( 17 views ) |
permalink
|
Click a dot to rate this entry:





( 3.2 / 394 )
---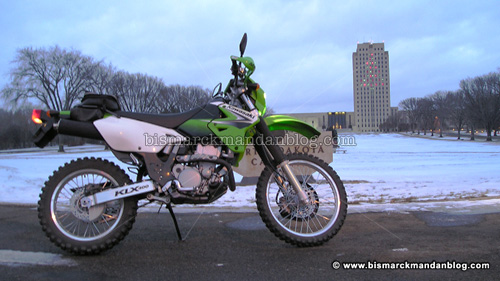 After a fun afternoon of Christmas frivolity, my wife remembered that I'd made a comment about riding motorcycle today. She suggested that I do so, and I didn't need any arm twisting. Rather than get a sportbike wet and dirty, I decided to grab something with knobby tires. By the way, knobbies do NOT work on ice. I got it pretty loose a couple of times, but that's all part of the fun.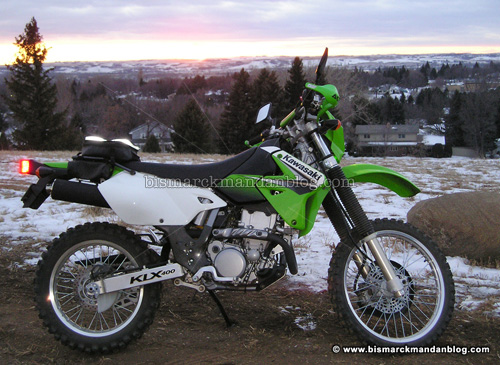 Here's the view from atop Tom O'Leary hill. There were some kids snowboarding when I rolled up. I had my crappy Olympus camera with me, not my nice Canon SLR, so I wasn't able to do any really challenging shots. It was just nice to be able to enjoy a ride on my summer toy while the kids on the hill were able to enjoy riding their winter toys. We had quite a sunset tonight, too...I think everyone on that hill got some enjoyment out of it.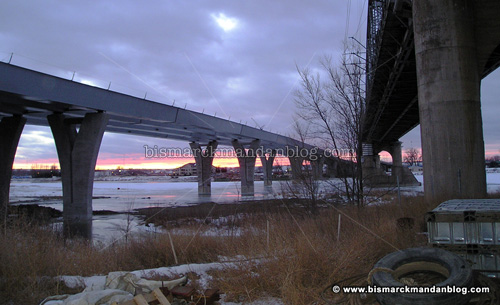 After running into a friend of mine from Madison, Wisconsin at the intersection of Avenue C and Griffin Street (no, not literally running into) and sharing a discussion about how nobody has sunsets like North Dakota, I flew down to the Memorial Bridge area to get a shot of the brilliant red sky. I wasn't as fast as the sun, but there was still a little bit of a rosy glow (or pinkish hue) on the horizon as I snapped this shot beneath the Memorial Bridge(s).
My prayers for a White Christmas were answered this year, and yet I was still able to ride motorcycle on Christmas day! I think we'll call that the best of both worlds. So what did you do for Christmas?
[ 3 comments ]
( 35 views ) |
permalink
|
Click a dot to rate this entry:





( 3 / 342 )
---
<<First
<Back
| 207 | 208 | 209 | 210 | 211 | 212 | 213 | 214 | 215 | 216 |
Next>
Last>>