I decided to stop and play a little bit with my camera on the way home today. I was working pretty hard on an animation that had me really tired of staring at my monitors, so it was nice to get out in the brisk December air and click the shutter a few times. Okay, well...a LOT of times. This timelapse of downtown Bismarck is the result. It's short but pretty neat. After all, it was pretty cold out there. At approximately 30 frames per second, it can take a lot of pictures to make even a brief time lapse happen.
[ add comment ]
( 7 views ) |
permalink
|
Click a dot to rate this entry:





( 3 / 372 )
---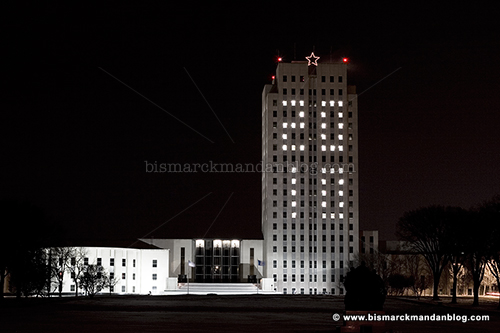 Photoshopped version of what 2010 might look like
One of the things that makes North Dakota, and Bismarck-Mandan in particular, feel so homey is the display of the Capitol building windows for certain holidays. There's the Christmas tree currently on display, made with red and green window shades; the "4th" that appears on the front face of the building every Independence Day; and, of course, the numbers announcing the New Year. Those numbers will appear this week...but how will they look? It's been nine years since we had a 1!
There are four possibilities, given the rows of windows on the face of the capitol building. I don't think either of the outside rows would look right, so I guess it's a 50/50 chance between the two center rows. Any guesses?
I know the guy who does these displays (he has help, of course) and was tempted to call his cell phone and ask...but it's more fun guessing, don't you think?
[ add comment ]
( 10 views ) |
permalink
|
Click a dot to rate this entry:





( 3.1 / 354 )
---
'Twas the night before Christmas, and all through the house...not a creature was stirring, not even a US Senator from North Dakota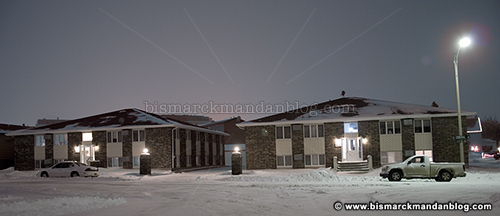 I had some errands to run last night on my way to the law enforcement center to hang out with some friends who were on duty. My wife and boys were in bed and I wanted to let the guys know I appreciate them and wish 'em a Merry Christmas. I couldn't help but satisfy my curiosity and swing by the apartment building that Senators Kent Conrad and Byron Dorgan use to claim North Dakota citizenship on paper for re-election purposes. Kent Conrad sold this apartment building to an LLC that he set up for $1 a few years ago, then refinanced it on a
sweetheart mortgage deal from Countrywide Financial
. Conrad was "cleared" by an ethics committee once the Democrats gained control of it in the 2008 elections and pulled pranks like
changing the locks on the hearing room doors to keep Republicans from asking him tough questions
. Members of that oversight committee had their own Countrywide problems they wanted to go away, as well.
The two buildings are part of one property. Apartment #1 in the building on the right belongs to Sen. Conrad. It's the dark set of windows on the left side of the second floor. Apartment #8 in the building on the left belongs to Sen. Dorgan. It's the dark set of windows on the bottom back corner. It doesn't look like they're "home" for Christmas.
I don't know about Senator Byron "Skybox" Dorgan, but perhaps the Conrads are enjoying the holidays at the
million dollar beach home that Sen. Conrad failed to list on his required financial disclosure forms
. After all, it would save him the unpleasant possibility of having to face his constituents over his behavior in recent Senate votes.
Then again, maybe they're so tired from stabbing North Dakotans in the back yesterday by voting for the health care takeover bill that the majority of North Dakotans oppose. That's tough work, contorting yourself between the carefully crafted image you portray back in North Dakota and the lockstep liberal you really are in Washington, DC!
It's time to send these guys packing, and throw little Earl Pomeroy out to boot. Merry Christmas to all, and to all a good night!
[ add comment ]
( 6 views ) |
permalink
|
Click a dot to rate this entry:





( 3.2 / 359 )
---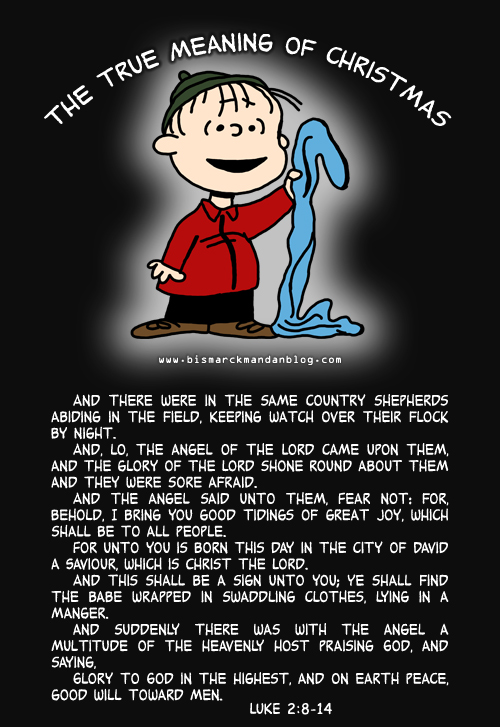 Despite all the efforts to combat it, Christmas is here. What was once a celebration of Christ's birth has become artfully hijacked. In some ways it's been converted into a time of commercialism. In others it's become simply a time of tradition; family, food, fun. I'm not saying the exchange of gifts is bad and, quite frankly, this world needs more tradition and family time. Whether good or bad, these things are a distraction from the true meaning of Christmas.
One thing I first realized when I became a Christian is that there's way more to the Christmas story than I'd ever known. Jesus didn't suddenly spring up and change the way God dealt with man forever; his birth was foretold. Around the time of his conception, you didn't have to explain to an Israelite who the Messiah was. He was foretold by the prophets. His lineage was known and predicted, as well as his birthplace of Bethlehem. They were literally waiting for him to arrive. Check out Isaiah 53 and you'll see how important Christ's arrival is, and what was foretold.
Another thing I realized is that we Gentiles are not God's chosen people; Israel is. We, however, through the faith in Jesus that his nation didn't have, are grafted in. In both the old and new testaments, Jesus is referred to as a light to the Gentiles. As Paul points out in Romans, the grace God shows the Gentiles is intended to provoke Israel to jealousy. He made a covenant with them that he will not break, and his wish is that they'd come around.
The Christmas story as told in Luke is simply beautiful. I love to try to picture that starry night (because I'm a starry night kind of guy) and the magnitude of the events that unfolded around Jesus' birth. People were waiting for his birth. This night was prophecy fulfilled, the opportunity for God's chosen people to be redeemed. Later on, because he wasn't the type of Messiah they wanted, they rejected him. When Stephen was stoned in Acts chapter 7, he saw Jesus
standing
at the right hand of God. He was ready to redeem his people, but again they rejected him and killed the messenger, Stephen. Thus we are now in the church age, the time of the Gentiles.
Christmas 2009 has been such a blessing. Little PJ turned three last week, and his brother is now two years old (and talking!). We've got a White Christmas, something I've been dreaming of for the past few years. My wife and I, although busy beyond belief, occasionally get time to stop and remark how thankful we are for the blessings we've been given. The Lord gave me an amazing woman, and gave us the two most precious little boys ever.
I can't stop gushing about The Best Christmas Ever. Combine Christmas and Bismarck-Mandan and put it on film, and I'm going to be the biggest cheerleader ever. It's airing this Christmas on KNDX, KXMB, and KFYR. It's already playing on Dakota Media Access (cable channel 12). It's absolutely amazing. Check the show times at
www.bceshow.com
and don't miss it!
One down side every Christmas is that my dad disowned me when he found out I wasn't going to a Catholic church any more. He hasn't spoken to me since, and it's been around five years now. I don't remember the exact time it started. He didn't attend my wedding, didn't visit us in the hospital when our boys were born, and he's never even met his grandchildren. If I come to the house, he leaves the room until I have gone. I can't really get too upset by dwelling on it, because it's his decision. The man that told me all through my youth that it's important not to ever leave a loved one on bad terms, because there's no telling if something might take them from you, has thrown his own advice out the window. Hopefully little PJ and Jonathan, along with our prayers, will someday help soften his heart.
We've got plans to just stick close to home and enjoy our precious little family this year. Our property is blanketed by a thick blanket of nice white snow, our little boys are finally old enough to partake fully in Christmas festivities, and the Lord has continued to show himself faithful (even when I'm not) throughout another year. I hope your Christmas is as memorable as mine. If you've got anything you'd like to share about your Christmas, please enter it as a comment. Merry Christmas!
[ 2 comments ]
( 38 views ) |
permalink
|
Click a dot to rate this entry:





( 3.2 / 367 )
---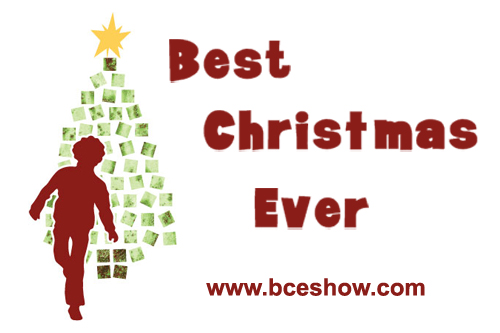 You may have seen posters for this locally-produced short film about a young boy who discovers the true meaning of Christmas. From the website at
www.bceshow.com
:
Local actors and musicians will share the holiday message of love and hope through the film, Best Christmas Ever, airing on local television stations on Christmas Eve and Christmas Day.

The film features a young boy struggling to find significance in Christmas. Watch and follow Isaac, played by local actor Reilly Hedegaard, on his journey through familiar Bismarck-Mandan holiday backdrops as he searches for a gift he didn't know he already had. The film is truly a local Christmas commemoration for all to enjoy.

The cast of Best Christmas Ever has years of stage and film experience. Isaac's father is played by Waylon Hedegaard, his mother by Anne Green, pesky little sister, Judith by Elizabeth Green and Daniel Rogers plays the loveable grandfather.

AIR TIMES

Christmas Eve
12:05AM - Fox
Various Times - Cable Access

Christmas Day
8:30AM - Fox
12 Noon - KFYR, KXMB
Various Times - Cable Access
If you're in Minot, Williston, or Dickinson, tune to your local affiliate at the above times. I'm pretty sure it's going to air on all western North Dakota affiliates of the stations listed above.
You can watch the first two minutes of the program
on the show's website
. Of course I've seen the rough cut, and I can say that you'll absolutely love this locally-produced short film. It's produced here in Bismarck-Mandan by a local crew with local actors. Not just that...it's an amazing story with a lot of heart. Check it out!
[ 1 comment ]
( 15 views ) |
permalink
|
Click a dot to rate this entry:





( 3.1 / 383 )
---
<<First
<Back
| 120 | 121 | 122 | 123 | 124 | 125 | 126 | 127 | 128 | 129 |
Next>
Last>>