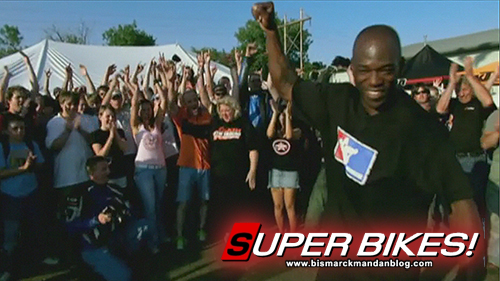 The folks at
KTM Cycle Hutt in Mandan
gave the community a treat by inviting Jason Britton of the Speed Channel program "Superbikes" to perform and hang out with the Cycle Hutt gang for July 4th last year. He and his friend Tony rode in the parade, gave multiple shows at Cycle Hutt, trained some local stunters, and took in everything Mandan has to offer on Independence Day. He even tried his hand at bull riding at the rodeo!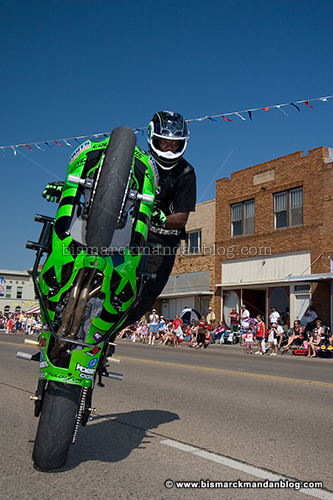 I was hired to follow and photograph the craziness, including riding on the parade float. It was an incredible blast, and I'm so grateful to Justin and Tammy for everything they did for me and the rest of the community that weekend. Now you can see how Jason and the Speed Channel crew enjoyed their time in Bismarck-Mandan!
The program is available on iTunes by
clicking here
or by searching for Super Bikes" in your iTunes browser. It's $1.99 for the episode. Yeah, my ugly mug appears in there a little bit, but it's still an entertaining episode.
I still have some image galleries online from the event:
July 3rd
- training the locals
July 4th Parade
- Two wheeled insanity hits Main Street
July 4th
- The prime performance
July 5th
- The aftermath
[ 1 comment ]
( 18 views ) |
permalink
|
Click a dot to rate this entry:





( 3 / 336 )
---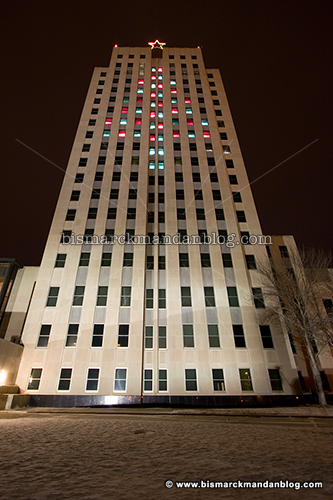 While talking with someone I knew at the ND Republican Party annual Christmas Party, I received a shot in the arm for my quest to show a different angle of the Capitol building. I think this one will do quite nicely. Time to stagger off to bed.
[ 1 comment ]
( 11 views ) |
permalink
|
Click a dot to rate this entry:





( 2.9 / 229 )
---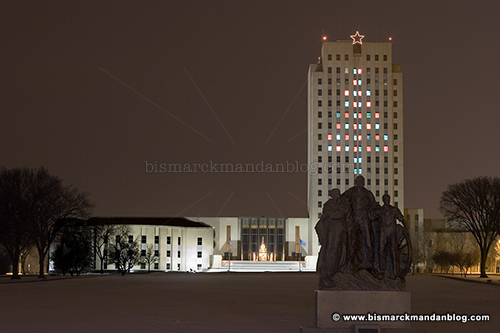 It's December, which means that the North Dakota State Capitol is adorned with a Christmas tree shape in its windows. Whether it's the new year, the 4th of July, or Christmas, the windows of the capitol have become known for being the largest decoration in the city.
I got to wander the halls of the capitol once with the fella who is in charge of making sure that the right windows get changed over (using colored or blank window shades). He has a map that goes floor by floor, a diagram of how things need to be done from the inside to look just right from the outside.
The star on top was airlifted by my friend's dad in a National Guard helicopter - a Huey, if I recall - many, many years ago. It may be older than I am. If I recall, it has a twin on the back side of the building.
Christmas in central North Dakota wouldn't be the same without this 18-story (plus the star) display every year!
[ add comment ]
( 4 views ) |
permalink
|
Click a dot to rate this entry:





( 3 / 202 )
---

It's an annual tradition: the lights go on the day after Thanksgiving! Make sure you check out
Northview Lane
in northeast Bismarck.
[ 1 comment ]
( 33 views ) |
permalink
|
Click a dot to rate this entry:





( 3 / 241 )
---
[ 1 comment ]
( 23 views ) |
permalink
|
Click a dot to rate this entry:





( 3.1 / 228 )
---
<<First
<Back
| 122 | 123 | 124 | 125 | 126 | 127 | 128 | 129 | 130 | 131 |
Next>
Last>>