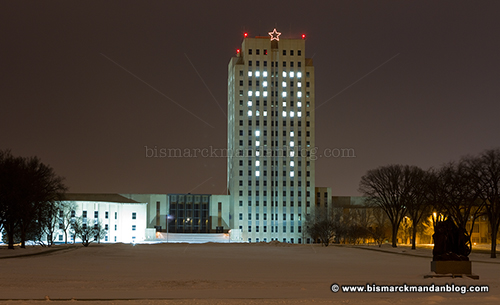 Happy New Year! Well, in an hour and forty-five minutes or so, anyway. Got any fun plans? Got some pretty exciting ones here. Today (well, tomorrow actually) marks a milestone here on the ol' Blog. More on that later. Time to enjoy the evening.
[ add comment ]
( 4 views ) |
permalink
|
Click a dot to rate this entry:





( 3 / 323 )
---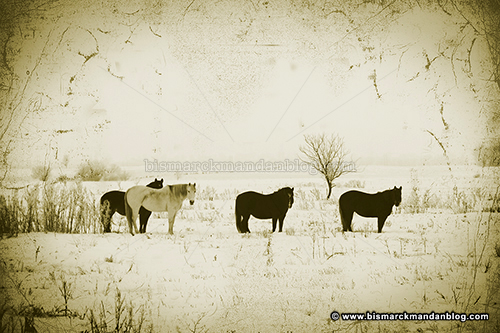 It seems like it's been a slow year for photography, but somehow I have managed to run just over 9,000 shots through the Canon 7D I bought this Spring. This is number 9,000. I decided to give it an aged feel in Photoshop when I saw it, blowing out the highlights and adding some artifacts to make it look somewhat like an antique print.
Happy New Year!
[ add comment ]
( 3 views ) |
permalink
|
Click a dot to rate this entry:





( 3.1 / 346 )
---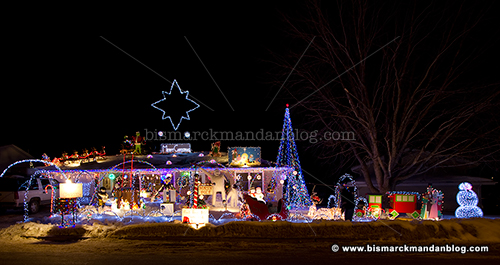 If you like Christmas celebrations, certainly you've passed by this house near the intersection of Kennedy Avenue and N 23rd Street. If you haven't, you only have a couple more days in which to check it out! It's worth your time.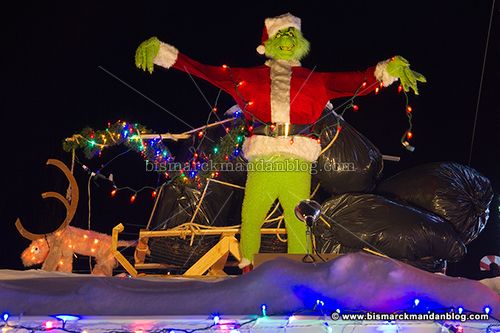 This display gets better every year, with familiar characters placed strategically around the yard. I like to think that this version of the Grinch is the one
after
his heart grew three sizes that day!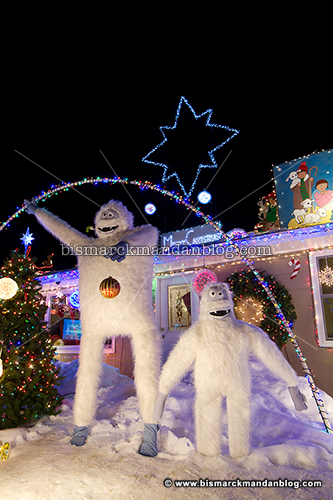 Of course, the stars of the show have to be the abominable snowmen...not one, but two! The original big guy now has a little Mini Me monster to keep him company.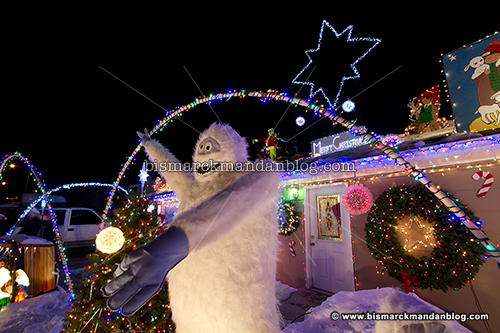 Some of you may recall that some chowderhead(s) stole the head off the big snow monster a year or two ago. Not only has the big guy been repaired, but I'm told that security measures are in place. Hopefully nobody tries it again, but if they do I hope they get a beatin'!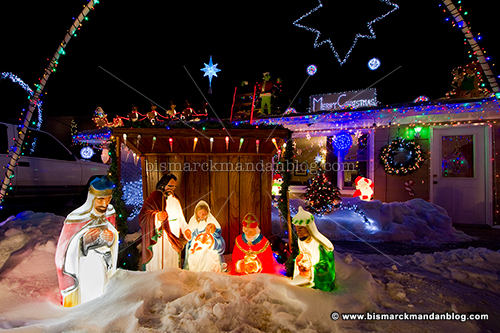 Let's not forget the real reason for Christmas, the birth of the Lord Jesus Christ. No Christmas display, no matter how elaborate, would be complete without a nativity scene.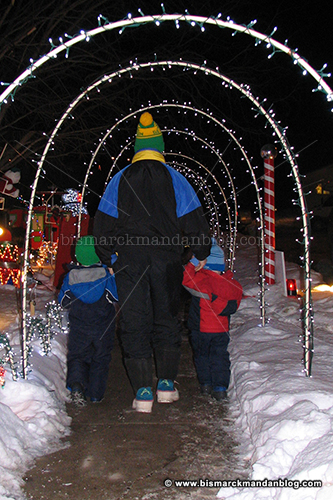 A sign out front invites passers-by to get out and walk around, taking in the sights. The weather was pretty decent so I accepted the invitation to take my little boys out for a walk. They loved the whole display (and the free candy).
It's nice to see the display still going strong for a few more days after Christmas. I've always liked continuing past Christmas Day until the New Year's holiday has passed before taking down Christmas decorations and getting set for another eleven months of waiting. If you need one mroe little shot of Christmas cheer, don't hesitate to take it all in before the displays get stowed away!
[ 2 comments ]
( 29 views ) |
permalink
|
Click a dot to rate this entry:





( 3.2 / 314 )
---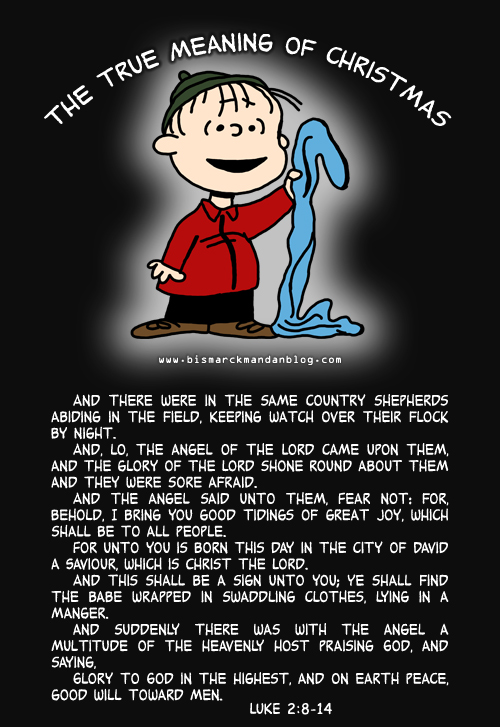 Despite all the efforts to combat it, Christmas is here. What was once a celebration of Christ's birth has become artfully hijacked. In some ways it's been converted into a time of commercialism. In others it's become simply a time of tradition; family, food, fun. I'm not saying the exchange of gifts is bad and, quite frankly, this world needs more tradition and family time. Whether good or bad, these things are a distraction from the true meaning of Christmas.
One thing I first realized when I became a Christian is that there's way more to the Christmas story than I'd ever known. Jesus didn't suddenly spring up and change the way God dealt with man forever; his birth was foretold. Around the time of his conception, you didn't have to explain to an Israelite who the Messiah was. He was foretold by the prophets. His lineage was known and predicted, as well as his birthplace of Bethlehem. They were literally waiting for him to arrive. Check out Isaiah 53 and you'll see how important Christ's arrival is, and what was foretold.
Another thing I realized is that we Gentiles are not God's chosen people; Israel is. We, however, through the faith in Jesus that his nation didn't have, are grafted in. In both the old and new testaments, Jesus is referred to as a light to the Gentiles. As Paul points out in Romans, the grace God shows the Gentiles is intended to provoke Israel to jealousy. He made a covenant with them that he will not break, and his wish is that they'd come around.
The Christmas story as told in Luke is simply beautiful. I love to try to picture that starry night (because I'm a starry night kind of guy) and the magnitude of the events that unfolded around Jesus' birth. People were waiting for his birth. This night was prophecy fulfilled, the opportunity for God's chosen people to be redeemed. Later on, because he wasn't the type of Messiah they wanted, they rejected him. When Stephen was stoned in Acts chapter 7, he saw Jesus
standing
at the right hand of God. He was ready to redeem his people, but again they rejected him and killed the messenger, Stephen. Thus we are now in the church age, the time of the Gentiles.
Christmas 2010 has been such a blessing. For one month between November and December we had two three-year-old boys. We've got a White Christmas, and PJ loves to help Daddy shovel snow. My wife and I, although busy beyond belief, occasionally get time to stop and remark how thankful we are for the blessings we've been given. The Lord gave me an amazing woman, and gave us the two most precious little boys ever.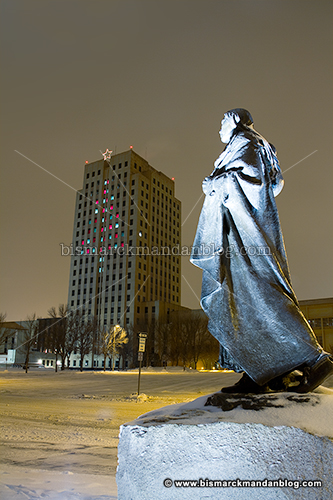 While out and about doing some gag-gift shopping for our Christmas party at work, I found myself distracted by gifts for my little boys. We'd already finished shopping for them, but I couldn't resist. It occurred to me that it was the joy of being able to buy something to light up their little blue and green eyes that had me hooked. It's just one more joy of being Daddy.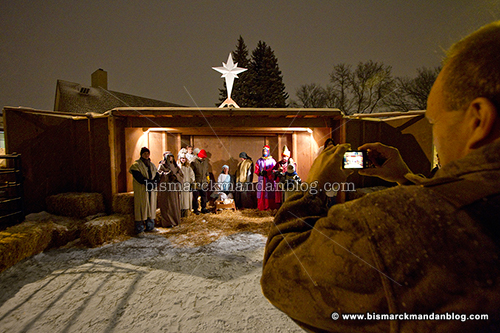 I drove around town the other night looking at Christmas lights, a live nativity scene at Zion Lutheran, and just generally enjoying the town while my wife and the boys were visiting cousins. I had sneaked home and done all the dishes and stuff to surprise my lovely wife and then hopped in the truck with my gear. I actually recorded a potential podcast with my MP3 recorder as I drove around, but I don't know if I'll post it here. I love our town(s) during Christmas time, even though there seem to be fewer homes decorating for the holidays every year.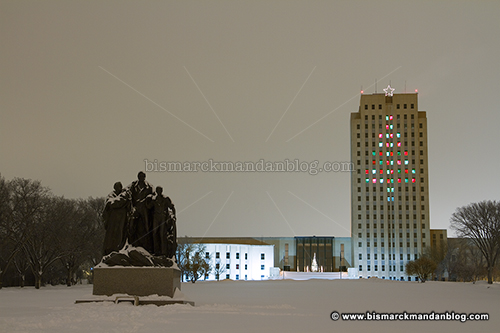 We've got plans to just stick close to home and enjoy our precious little family this year. Our property is blanketed by a thick blanket of nice white snow, our little boys are finally old enough to partake fully in Christmas festivities, and the Lord has continued to show himself faithful (even when I'm not) throughout another year. I hope your Christmas is as memorable as mine. If you've got anything you'd like to share about your Christmas, please enter it as a comment. Merry Christmas!
[ 4 comments ]
( 30 views ) |
permalink
|
Click a dot to rate this entry:





( 3.2 / 235 )
---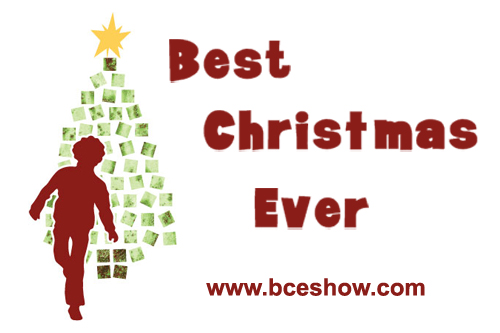 I don't know if you remember this program from last year, but it is airing again on Christmas Day at noon on KFYR. From the website at
www.bceshow.com
:
Local actors and musicians will share the holiday message of love and hope through the film, Best Christmas Ever, airing on local television stations on Christmas Eve and Christmas Day.

The film features a young boy struggling to find significance in Christmas. Watch and follow Isaac, played by local actor Reilly Hedegaard, on his journey through familiar Bismarck-Mandan holiday backdrops as he searches for a gift he didn't know he already had. The film is truly a local Christmas commemoration for all to enjoy.

The cast of Best Christmas Ever has years of stage and film experience. Isaac's father is played by Waylon Hedegaard, his mother by Anne Green, pesky little sister, Judith by Elizabeth Green and Daniel Rogers plays the loveable grandfather.
AIR TIME: Christmas Day, 12 Noon - KFYR
(The airtimes listed on the website are from last year...until they update it with the KFYR Noon airtime, disregard the others.)
If you're in Minot, Williston, or Dickinson, tune to your local affiliate at the above times. I'm pretty sure it's going to air on all western North Dakota NBC stations.
You can watch the first two minutes of the program
on the show's website
. Of course I've seen the rough cut, and I can say that you'll absolutely love this locally-produced short film. It's produced here in Bismarck-Mandan by a local crew with local actors. Not just that...it's an amazing story with a lot of heart. Check it out!
[ add comment ]
( 1 view ) |
permalink
|
Click a dot to rate this entry:





( 3.1 / 270 )
---
<<First
<Back
| 77 | 78 | 79 | 80 | 81 | 82 | 83 | 84 | 85 | 86 |
Next>
Last>>