Here in central North Dakota, we're blessed with the opportunity to witness some fabulous auroral activity overhead. My new favorite resource is NOAA's "Ovation-Prime" model.
They plot the statistical probability of Aurora Borealis activity based on a number of factors. One NOAA facility helping generate this report is the one located here in Bismarck. The plot looks like this: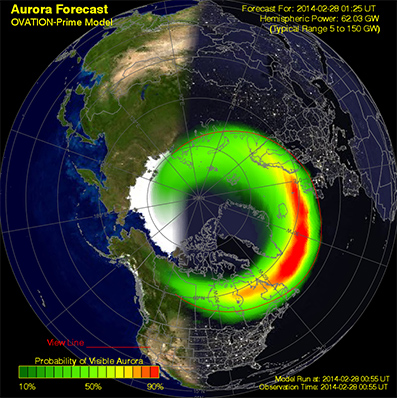 If you see North Dakota covered in yellow or red, head out of town and look up! It's just my luck, every time I see a good probability on the POES or Ovation satellite readouts, it's cloudy! I hope you have better luck than I. You can check out my Northern Lights photography by clicking on the Northern Lights category on the right-hand side of the page.
Does anyone remember that guy who used to shoot a lot of Northern Lights photos from New Salem or Glen Ullin? If you do, send me an email. I've been wondering what happened to that guy. I'd see a lot of his pics on TV during the weather, or occasionally in the Bismarck Tribune.
Here are some additional weather / aurora related links you may want to visit:
Oh, and the iPhone apps I like to use:
Try those, and have fun!