Cycle Hutt
put their spacious new facility to use this weekend with their first (and certainly not last) Sportbike Night. They've got an enormous parking lot, which they made available Saturday night for wheelies, burnouts, stoppies, and whatever other sort of tricks one could do while contained within the premises. It was an enormous success!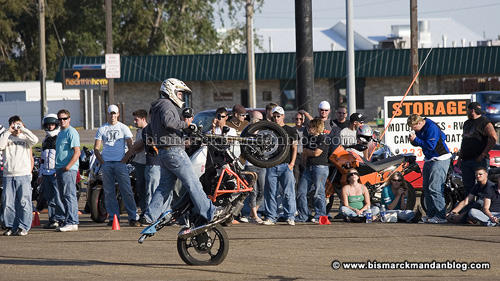 Stunters from all over western North Dakota joined in. I heard talk of guys from Dickinson and Minot who came down to take part. Amos from the 5-Oh brought his van and PA system, food was available, and everybody had a good time! Yeah, there was a crash or two, but I got there a little late and missed those. Nobody was hurt, though. Many of the bikes used have special cages welded or bolted on to prevent injury to the bike as well.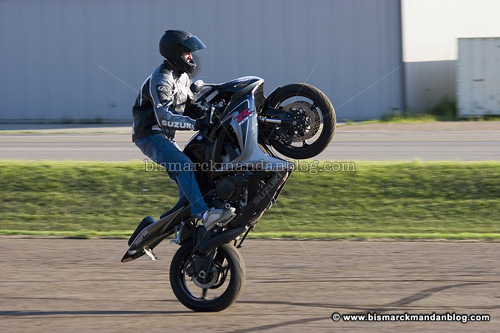 Wheelie time! This is far better than doing it on the street where it's illegal and dangerous. An "exhibition driving" ticket is pretty expensive, too, I understand. I've never had one. Read the back of any speeding ticket to find out…I haven't had one of those in seven years or so, either.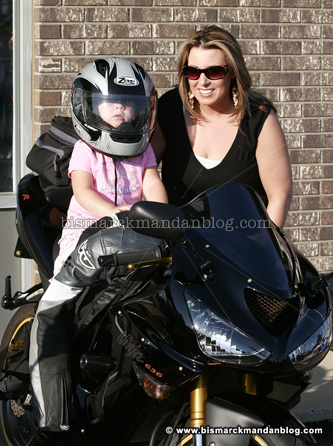 Even the kids came to enjoy the fun! I didn't bring little PJ, because I couldn't find a way to safely transport a seven month old boy on the back of my Suzuki. He and his mommy had a birthday party to attend, so I flew solo. Gary's wife brought their little girl in the car, I'm sure…but here she's enjoying their Kawasaki in the parking lot.

After things wrapped up at the shop, it was out for a group ride. Here's the stop at Double Ditch (which has three or four ditches, actually, according to recent discoveries) Indian Village. From here many of the riders headed north on Highway 1804. Some of us ran back into town to meet up with the group later for some in-town cruising. I had a pretty serious mountain biking appointment, so that's where I put the big Gixxer away for the evening.
Kudos to Justin and Tammy, owners of Cycle Hutt, for giving area sportbike riders such a great night! Also to the guys who helped orchestrate the event. I know Amos was part of it, and I think there was another guy or two who partnered up with him. I'm sorry I don't have your names, guys. Anyway, props to all involved – we had a blast!