Clark W. Griswold would be green with envy. I have featured the Paul Schaaf residence before on this blog, and I'm proud to do so again. It's a fabulous sight to see. Of course,
any
home can be seen from orbit, but it's fun to joke that perhaps this one could be seen without fancy satellite imagers!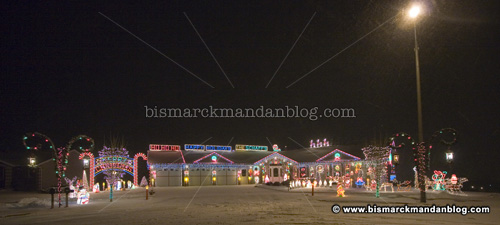 Mr. Schaaf was featured on the PH Phactor last year and had a lot of interesting things to say about his display. He's retired, if I remember correctly, and devotes a lot of time to putting up this display. As you can see from this photo of the backyard, his house is visible long before you arrive at his driveway on West View Place in Mandan. This photo was taken from 8th Avenue Southeast.
If you want to see this house, simply look southwest from any high ground in Bismarck-Mandan. Seriously, though…simply cross the river and take the first right. Stay on this road until you reach the Fort Lincoln school. Continue to go straight from the 4-way stop there, and you can see the house to your right. From there I forget the exact turn to take, but I think it's the third turn on the right. You'll figure it out. If you get lost, you can always look for the glow!