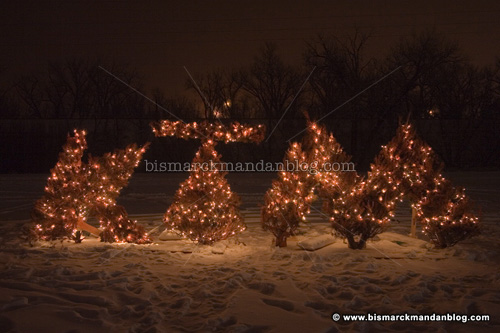 Justin and Tammy, owners of KTM Cycle Hutt in Mandan, decided to have a contest to help boost the Christmas spirit around the shop. Here's what they told me by email:
As part of Mandan's Holiday Shop Hop, KTM Cycle Hutt offered a challenge to their 16 employees: decorate the best tree and win $1,000 in cash; 2nd place $500; 3rd place $100.
To jump-start the decorating frenzy, each employee was given $250. The 16 uniquely decorated Christmas trees will be on display from December 2nd through December 28th outside KTM Cycle Hutt located on the Strip in Mandan (3700 Memorial Highway).
Drive by to view the colorfully lit Christmas trees during this holiday season. If you would like to vote for your favorite Christmas tree visit www.cyclehutt.com or stop in the dealership 9 am to 9 pm weekdays, Saturday 9 am to 1 pm. through December 20th. For 2008 KTM Cycle Hutt will allow non-employee Christmas tree entries.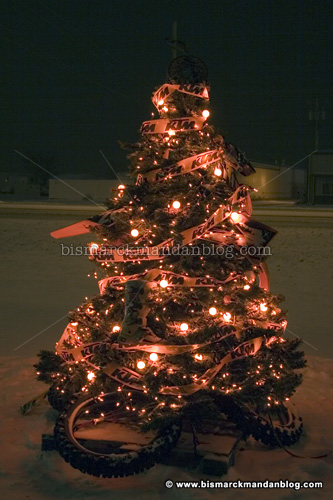 I stopped by to visit Justin and Tammy and take some pictures, since the trees are located strategically around their giant parking lot. I thought I had a favorite tree, but I have to admit I'm stuck on two. This one depicts a motorcycle crash, one of my favorite pasttimes! There are wheels lying at the base, with fenders sticking out and even a helmet. Very cool!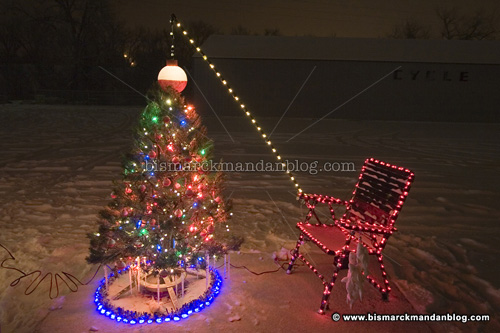 This fishing tree is pretty sweet too. Note the frozen fish dangling from the arm of the chair! I don't know where the bobber came from, but that's pretty impressive as well. Very well done.
You can visit Cycle Hutt on the strip in Mandan. You can't miss the trees, which are positioned around the lot. When you drive through, please stop to take a close look at all the trees; there are some pretty cool items hanging in them to complete each tree's theme! When you find a favorite, don't forget to vote. Click here to vote online for your favorite tree at KTM's "ndracing.com" website.