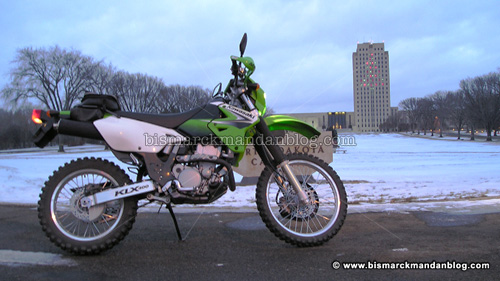 After a fun afternoon of Christmas frivolity, my wife remembered that I'd made a comment about riding motorcycle today. She suggested that I do so, and I didn't need any arm twisting. Rather than get a sportbike wet and dirty, I decided to grab something with knobby tires. By the way, knobbies do NOT work on ice. I got it pretty loose a couple of times, but that's all part of the fun.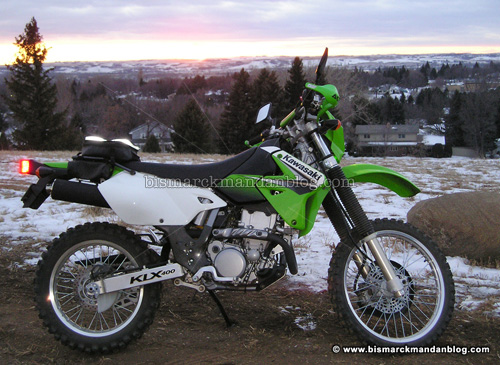 Here's the view from atop Tom O'Leary hill. There were some kids snowboarding when I rolled up. I had my crappy Olympus camera with me, not my nice Canon SLR, so I wasn't able to do any really challenging shots. It was just nice to be able to enjoy a ride on my summer toy while the kids on the hill were able to enjoy riding their winter toys. We had quite a sunset tonight, too…I think everyone on that hill got some enjoyment out of it.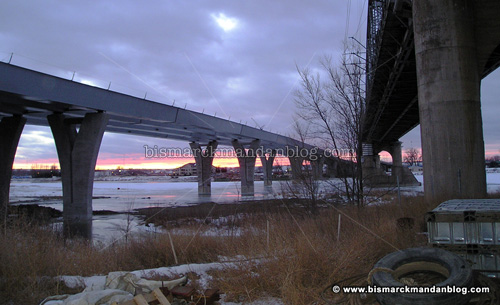 After running into a friend of mine from Madison, Wisconsin at the intersection of Avenue C and Griffin Street (no, not literally running into) and sharing a discussion about how nobody has sunsets like North Dakota, I flew down to the Memorial Bridge area to get a shot of the brilliant red sky. I wasn't as fast as the sun, but there was still a little bit of a rosy glow (or pinkish hue) on the horizon as I snapped this shot beneath the Memorial Bridge(s).
My prayers for a White Christmas were answered this year, and yet I was still able to ride motorcycle on Christmas day! I think we'll call that the best of both worlds. So what did you do for Christmas?