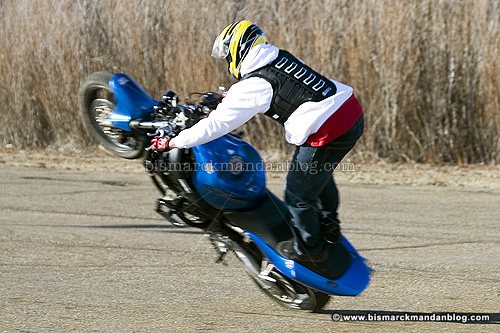 No, this guy didn't crash. Even if he would, this bike is set up with crash bars ( the Harley guys call them "whiskey bars" ) and other equipment to protect vital parts when dropped. This photo is from Cycle Hutt's monthly Stunt Night. But when I decided to title this post "Nice save" I wasn't talking about this stunter; I was talking about my Saturday.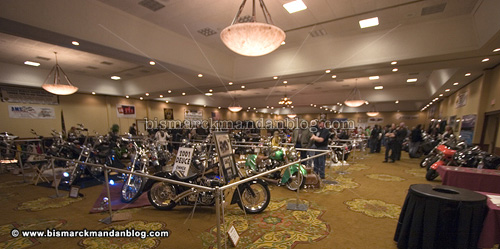 After plugging a few targets at the handgun range I decided to stop in on the Freedom Riders motorcycle show at the Ramkota. Sadly, alcohol is mostly what there was to see. After I braved the nasty cigarette smoke to get into the Ramkota, it seemed like everyone had a beer or whiskey in their hand. Beer sponsors, beer logos, and a beer in every hand. Boy, that sure does a great job of presenting motorcycling's image to the community, doesn't it?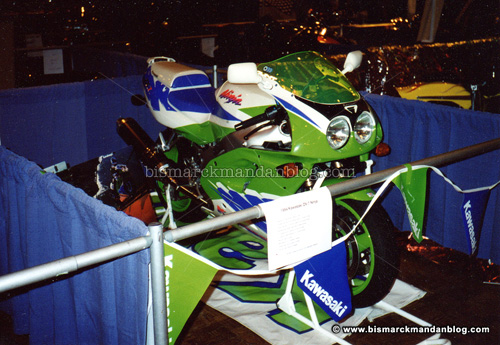 Back in the 90s I was part of trying to help sportbike riders get involved in the show, so it wasn't 100% Harleys. After a couple of years of working hard on a display only to have some biker's old Z-1 with candy apple paint take the Sport/Street category, I gave up. In recent years a few sportbike riders have entered their bikes, so I wanted to see what there was to see.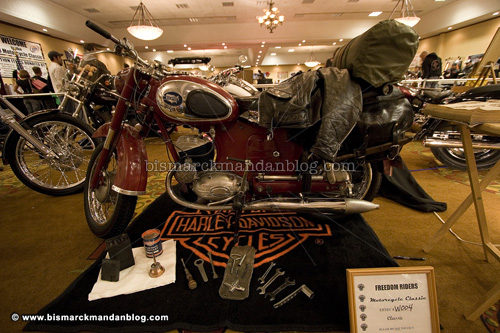 There wasn't a sportbike to be found. I'd heard rumblings and grumblings at a parts counter or two about the same issues I'd experienced, and apparently the sportbike guys had thrown their hands up on the Freedom Riders show. There was seven bucks (!) and twenty minutes of my life I wasn't going to get back. I decided to make the most of it and eyeball some cool antique entries, such as this one, and then make my hasty exit back through the wall of smoke.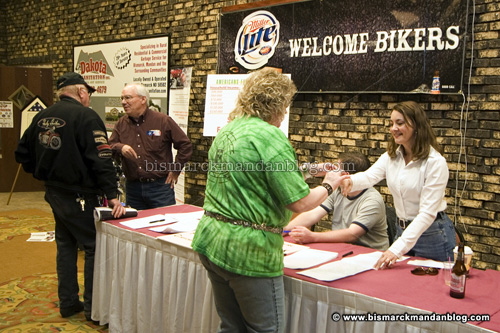 This was the one bright spot of the show, aside from seeing a couple of friends from local dealerships. This was a petition signing point for
Americans for Prosperity
, which is a grassroots organization pushing for tax cuts. I signed the petition, chatted with the folks involved, and took off. Note the beer sign on the wall and the beer on the table, which didn't belong to the AFP folks.
I meant to visit the 50th annual Mandan Art Show, but by the time I got to the Mandan Community Center, the doors were locked! Argh. I was feeling pretty down about the nosedive my Saturday was taking, until I drove past Cycle Hutt.

Quite a few sportbike riders were gathered for this event, and there were a few guys performing wheelies and other assorted stunts. Redemption! I pulled in to enjoy the atmosphere for a little while and take some pictures as well.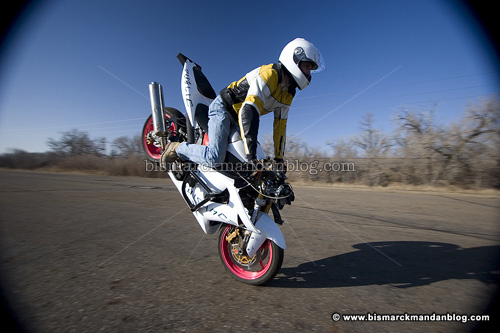 This was a great opportunity to play with my ultra-wide lens, because the distortion effects it gives are pretty cool. The only trick is getting close enough. I don't want to distract the riders, and I also don't want to get hit if a stunt goes wrong. Everything worked out okay, however. I got a ton of photos, some of them even turned out! I don't do much action photography, so it was a good exercise.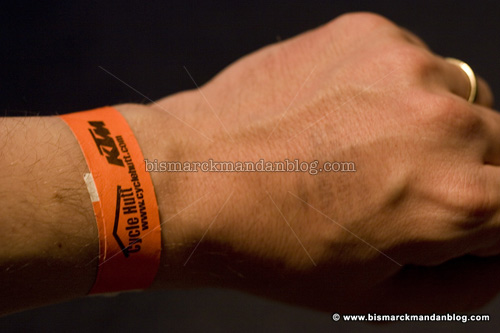 So the rubber stamp on my hand cost me $7 and got me a look at a bunch of people drinking and a bunch of bikes with skulls and other garbage airbrushed on them. The best one I heard it called was a "Costume party" because of all the folks throwing on leather and playing "bad biker" for the weekend. It was like walking into a bar that happens to have a bunch of Harleys parked on the floor. The band on my wrist was free, I got to see a bunch of sober people having a good time, and take some wild photos to boot. Nice save.