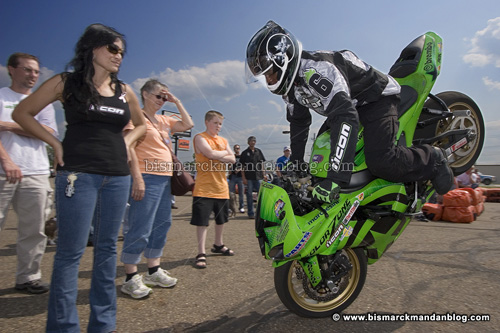 Some call it a brakestand, some call it an endo, but it could simply be called entertainment. Or talent, as
Jason Britton
is in town. He's hanging out with the folks at
Cycle Hutt
over the 4th, giving tips to riders and performing Saturday at 1:30pm in Cycle Hutt's giant lot on the Strip in Mandan.
He'll also be taking part in the Hutt's parade float Friday morning, so don't forget to keep an eye out for the flashy green Kawasaki! Then hop on something with two wheels and head over to Cycle Hutt for the 1:30 performance and some fun that will last throughout the night. Anyone on a motorcycle will be invited to hang out and watch the fireworks after dark.
There was a lot going on at the Hutt today, too…I have hundreds of photos of course, which I'll post in due time. There was free pizza and Dew, so I was pretty much in heaven; pizza, Dew, sportbikes, and photography. Wow!
Don't forget to take part in the festivities at Cycle Hutt! They've really gone out of their way to do something fantastic for fans of sport motorcycles in Bismarck-Mandan.