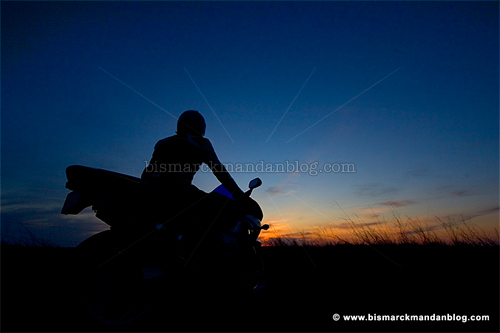 Over the course of the weekend I went from couch pilot to two-wheeled pilot back to couch pilot. I'm fighting a nasty head cold (no, not swine flu) and took Friday off. Saturday I felt better so I helped my wife get the garden and yard into shape, which turned out to be the
wrong
thing to do. So today saw me in as equally rough shape as Friday for most of the day.
One thing that brightened my countenance was some garage time, tinkering on the motorcycles. Mostly spring readiness stuff, which doesn't entail much; I put my bikes away properly and they're plugged into trickle chargers all winter long. Once I had a nice polish on my big sportbike, I decided to go for some fresh air. It felt pretty good and helped clear my head a bit. It sure was nice to feel 150hp pushing a 375 pound bike around…wheeeeeeee! If only my truck would lift the front wheel under acceleration with only moderate throttle…
I used to be one of those guys who had to ride all the time. I rode every month of the year, including ice racing. Nowadays I'm busy being husband and Daddy as well as having hobby overload. Besides, the roads right now are absolutely AWFUL. There's still lots of sand and gravel out there, and the potholes & cracks are everywhere. Because of this I'm satisfied to wait before ramping up the riding season.
I don't mean to imply that the city isn't taking care of the roads to the best of their ability; after all, they're only finishing up the aftermath of the flood fight…this after a record winter. The weather has subjected the roads in our area to abnormal stresses and it's going to be a while before crews can give the roads the attention they require. Add to the fact that the problems are everywhere and you have a long, drawn out repair season.
I have seen a lot of motorcycles out, especially young guys on the sportbikes. I understand the itch to ride 'em. This seasoned sportbiker, however, has put in enough years as a gung-ho kid to know when it's time to hold off a bit to avoid bending wheels or sandblasting the bottom of the bike. I'll be out with my dirt bikes or my camera for a while instead.