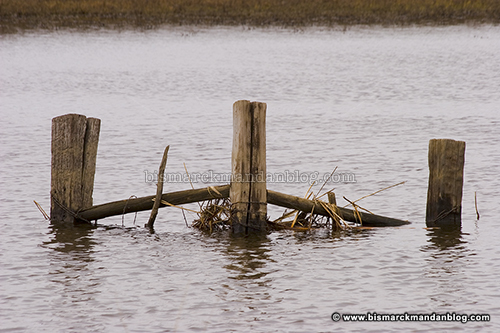 I got the opportunity to poke around the Apple Creek area the other day and scope out the ol' stomping grounds. For instance, there's a Great Blue Heron living near the 66th Street bridge that has eluded me for years, and he made a fool out of me again already this Spring (as if I need help for
that
). This time around, however, much of the area is under water, or at least it was several days ago.
I didn't get any earth-shattering photos of this, but there were people lined up along the ditch beside 66th Street, fishing the high water in the ditch. Carp up to three feet long were everywhere! One of the ladies in our office came back to work after her lunch break, saying they were spearing carp "as big as me!" over at the golf course. Amazing.
My hope is that this will be a good year for the wetlands of the Prairie Pothole region. I suspect it'll take more than spring flooding to accomplish that, however. We'll have to wait and see!