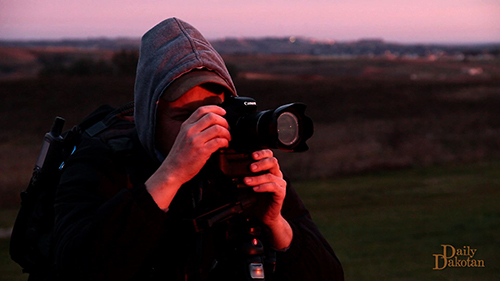 If you're familiar with this blog you probably know that I started it out of a love for North Dakota and Bismarck-Mandan in general. I have an fond affection for and connection with our cites and our state, and because I tend to bump haphazardly into really cool things from time to time I felt compelled to share them with words and pictures. I'm not alone.
For years my friend and former co-worker Matt Fern has been exercising his creative abilities doing what he does best: storytelling with a visual medium. We've had numerous conversations over the years about North Dakota stories just waiting to be told, and that same spark that drove me to start this website has driven Matt to start his new feature, the Daily Dakotan. In this series he's found an interesting selection of people with unique personal connections to North Dakota, and he delivers their stories using their own words and his captivating storytelling skills. Here's an official rollout:
Professional filmmaker and Bismarck native Matt Fern has announced the launch of the video series, Daily Dakotan. Each episode in this online series profiles a different North Dakota resident and his or her unique contributions to the community.
"With Daily Dakotan, I wanted to explore the North Dakota community," says Fern. "I thought by letting individuals tell their diverse stories, I would ultimately start to tell the story of North Dakota. For example, we talk to a guy who came home to start a newspaper, a grandmother making a difference at the state prison, and even a musician who's turned a karaoke hobby into a cult-favorite TV show."
Fern says he's already recorded and edited 24 Daily Dakotan episodes, each less than three-minutes long. He'll release episodes to the public starting November 21st at www.DailyDakotan.com, with new episodes and bonus clips added every weekday through the end of the year. A Facebook page and Twitter feed have been created for anybody wishing to be notified when new episodes become available at Facebook.com/DailyDakotan and Twitter.com/DailyDakotan.
Fern attended film school in Bozeman, Montana, and has been working in advertising agencies for the past 5 years. He is currently executive director of the Bismarck-based video advertising company, the Creative Treatment.
The series starts today, with the first episode appearing below:
As you can tell from the photo at the top of this post, you may encounter an appearance by yours truly sometime down the road…but don't let that stop you from enjoying this series! I have been given a "sneak peek" at a couple of finished episodes, and I can assure you that these will be both entertaining and heartwarming. If you love North Dakota now, wait until you get to share the stories of other North Dakotans who contribute to our state's greatness.
Visit DailyDakotan.com to find Matt's YouTube channel for this project, and be sure to subscribe and share! You can also contact Matt by email at info@dailydakotan.com.