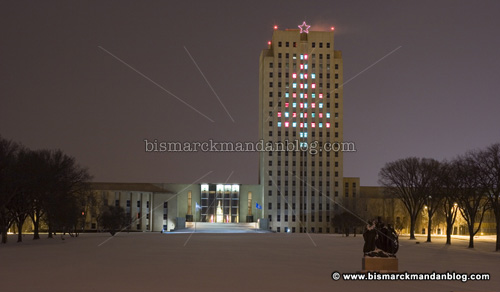 If there's a beacon of Christmas decorum in Bismarck-Mandan, it's gotta be this one: the state capitol. Coinciding with Monday's lighting of the official Christmas tree, these windows keep an annual tradition that seems as much a part of Christmas as snow and caroling!
Bit of trivia: the stars on top of the capitol are too large to get up to the roof via conventional means, so they were dropped off by National Guard helicopter way, way back when. My friend's dad flew that important mission, as I recall.
Have you ever wondered how those windows get decorated with color for Christmas, or blacked out to form numbers on New Year's Day and Independence Day? If you haven't read it before, please click to view this post on the guy who leads the crew in charge of that duty: Bill Jundt.