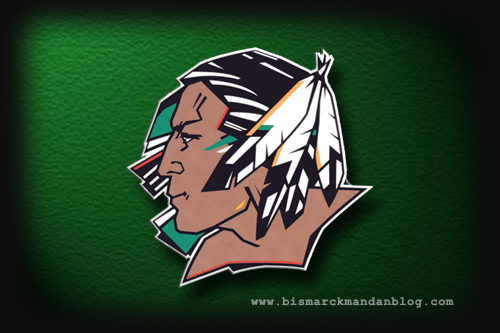 My friend Rob dropped a bombshell this week when he
revealed documents indicating that UND has been a core member of the Big Sky Conference
since October 2010. You can view the
contract between the NCAA and UND here (pdf).
Well, wait a minute! Weren't we scolded and scared by UND and its liberal proponents into thinking that we'd never make it into the coveted Big Sky Conference if we didn't get rid of that nasty, "Hostile and Abusive™" Fighting Sioux logo?
Kudos to KFYR for picking up on this and even sending some props toward Rob for his discovery – you can view their online article here. Here's where it gets even more interesting:
"This notion that, somehow, the University of North Dakota has misled people about our affiliation in the Big Sky, I think, is inaccurate. We`ve been very upfront about that," said UND Spokesperson Peter Johnson. "We`ve held a news conference, we made a lot of noise when we joined the Big Sky, about a year ago. We`ve said all along that we`re members of the Big Sky Conference."
Um…really? That's news to me. In fact, I have this damning piece of evidence, available by the simplest of Google searches using the terms "und allowed enter big sky conference":
At a hearing Monday on the measure, the university's athletics director, Brian Faison, said keeping the Fighting Sioux nickname and logo has already caused scheduling difficulties and would jeopardize the school's plans to join the Big Sky Conference in July. –ESPN's College Sports news page, November 7th 2011
Somebody at UND better start getting their lies straight! Here are a few more instances of misinformation which the university either propagate or at least allowed to go uncorrected:
Robert Kelley, the university's president, praised the law's approval Wednesday, saying the move would lift the NCAA sanctions and ensure that UND may join the Big Sky Conference. –Bismarck Tribune, November 10th 2011
UND's move to NCAA Division I in 2008 hinged on finding an established conference. The Big Sky is that established conference and had the controversial nickname and logo stayed, the league presidents — based on prior comments — could have refused UND admittance. –WDAY News, November 11 2011
At best, UND officials have allowed a misconception to flourish, while at worst they've misled everybody deliberately. The two quotes above from college president Kelley and athletic director Faison seem to indicate the latter. I don't see any effort by the university to correct the scores of news reports, mostly sourced by the AP, which indicate a pending entry into the Big Sky Conference.
What a mess. We have had UND officials advocating for the removal of the logo behind the scenes, lawsuits by non-Sioux persons claiming discrimination, and now this. There are petitions circulating to put this to a popular vote – I suggest finding one, signing it, and letting North Dakota citizens be in charge of what happens with the Fighting Sioux logo and name, the way it should have been decided in the first place.