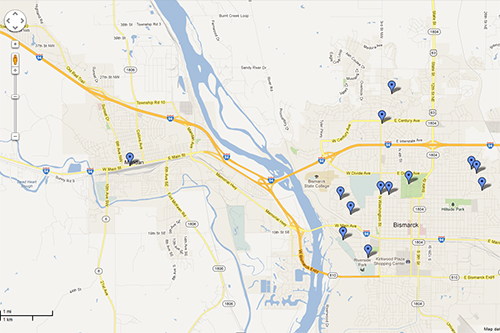 Sorry, I forgot to include
the link to the map on Google Maps
when I wrote this post at oh-dark-hundred this morning! This is hardly comprehensive, but it'll get you going. I've resurrected last year's Google Map of Bismarck-Mandan Christmas Lights for this year, with an addition or two and, sadly, a few subtractions. Highlights include:
– My friend Jerry's "Peanuts" display on Calgary & Montreal;
– Chmielewski's Christmas Corner on Kennedy & 23rd Street;
– Northview Lane;
– Acres of musical lights with a Light-O-Rama show on Chestnut Lane;
– Dykshoorn Park in Mandan;
– Christmas in the Park in Bismarck;
– and a wooden cartoon menagerie on west Avenue C.
Notably absent are displays on 4th and Divide, Ridgeview lane, West View Place. I'm sorry to see those places dark, since they had such wonderful Christmas displays in the past.
The link is easy to remember:
www.tinyurl.com/bismarck-mandanchristmaslights.
It's been an extremely busy Christmas season, with multiple live shows and lots of other videos on my plate. I haven't had much time to go out searching for lights this year. As a result, I merely updated last year's list the best I could. If you have any other additions that don't appear on my map, please submit them using the "Contact Me" link on the top of the right-hand panel, or leave a comment.