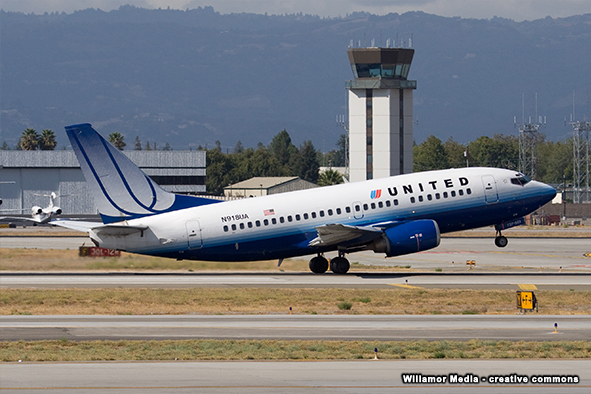 In a shocking move that will send central North Dakota air travelers scrambling for replacement travel plans, United Airlines announced today that they will be terminating their airline service to/from Bismarck Airport. While air travel to and from the Bismarck-Mandan area has picked up sharply, the reason for this rapid departure is simple: Bismarck's decision to subsidize United's competition. Delta Airlines has not yet returned inquiries for comment.
In February of this year, the Bismarck City Commission offered $200,000 in what amount to "break-even guarantees" to Frontier Airlines, a low-cost air carrier, in order to lure them to Bismarck as an additional provider. The Bismarck Tribune reports that in addition to the $200,000 guarantee the airline has also been offered "$50,000 in free marketing of its services for one year and certain fees will be waived at the airport." It reports that the incentives have been given to "other new air carriers." (emphasis added)
Al Flaweigh, spokesman for United Airlines, put it plainly: "United Airlines has been faithfully providing air service without interruption to the Bismarck Airport for years. Now the city is going to foot the bill for our competitors to come in and inevitably take business away from United.
We struggle to make a profit in this area, and now the City of Bismarck has conspired to pay our competition to make it harder to do business here? We don't need this. Rather than struggle to swim upstream against the flow of money from the City of Bismarck and the Bismarck-Mandan Chamber, we will simply devote our resources to a market that's more friendly to open competition and won't pay other airlines to lure away potential United customers."
The issue is actually a constitutional one. According to constitutional scholar Reed DeLaw, Article X Section 18 of the state constitution is clear: "…neither the state nor any political subdivision thereof shall otherwise loan or give its credit or make donations to or in aid of any individual, association or corporation". This apparently hasn't presented an obstacle to the City of Bismarck, however.
A noteworthy analogy is the case of a "mom & pop" store in the Kirkwood Mall. Suppose that suddenly store owners Mom & Pop McGillicuddy open the Bismarck Tribune one day and find out that the City of Bismarck is going to promise Corporation X $200,000 in guarantees to move into the mall right next door to McGillicuddy's, give them free advertising, and discount their rent and utilities. Suddenly, Mom and Pop not only have a new competitor in town, but their own tax dollars (and those of their family, friends, neighbors…) are being given to that very same competition.
DeLaw simplified it even further: "Should Ruby Tuesday's invite Chili's to build next door, help them do it, write them a check every month, and call it 'economic development'? They could bypass the tax 'middleman' and do what the City Commission would already be requiring them to do indirectly."
Ironically, Frontier Airlines pulled out of Fargo in 2010 after only two years of being "touted as a low-cost carrier that would bring down fares at Fargo's Hector International Airport" (Associated Press, 2/5/10). Flaweigh surmised, "Once that happens in Bismarck, maybe the City of Bismarck will consider offering United a 'break-even guarantee' and some other concessions as they are currently offering our competitors. They can call it a 'no-harm, no foul' I suppose, or even an 'April Fools' if you will."
Read that last line again.