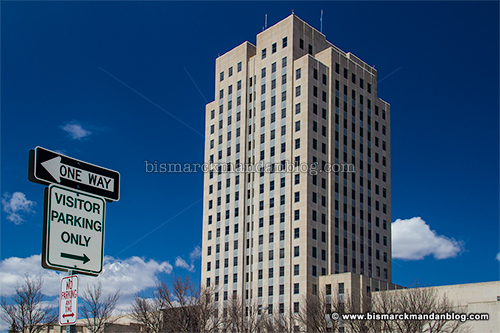 This sign could work well as a picture metaphor of the state legislature and property tax "reform". They're throwing hundreds of millions of dollars in "relief" at a problem which isn't inherently theirs.
– The state legislature doesn't assess property values;
– The state legislature doesn't levy property taxes;
– The state legislature doesn't collect property taxes…
And yet they've managed to not only tie the noose of public anger at property taxes, but they've also stuck their head in the loop and tightened the knot. Meanwhile, the culprits behind high property taxes at the county level get a free pass without any accountability.
I'd expect another Measure Two type initiated measure to appear on the radar soon. In fact, while I opposed Measure Two on the last ballot I would certainly vote for the abolition of property taxes in North Dakota. I just saw the bad mechanics of the last attempt and didn't want to put the state in a bind. If it had simply said "No governing entity may levy property taxes" I'd have voted yes. I imagine that a lot more people will be voting yes for whatever property tax measure hits the ballot, regardless.
I met one of my representatives for coffee back when Governor Hoeven got this ill-fated "reform" shell game started and pretty much predicted the debacle we're facing now. I warned that the legislature will assume responsibility for the tax & spend behavior of the counties, and will be the bad guys in the eyes of voters no matter what they can and can't do to relieve property tax burdens. Here we are.
Some days the legislature makes just about as much sense as the signs pictured above – and those signs would work even better as a descriptor of the failed transparency bills in this session, but I'm not going there…yet.