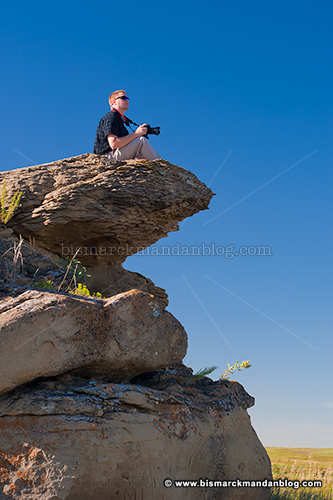 If you've read this blog for even a few weeks, you know that I love skies. I particularly enjoy blue, sunny skies. I attribute much of this to my formative years as a boy growing up in the Rocky Mountains of western Montana. In fact, I returned to the mountains on a sabbatical to work a couple of years as a snowboard bum, working at 10,000 feet and getting closer to those blue skies than ever.
Since then I've seen so many forms of sunny days…long, hot drives through the New Mexico desert; lazy days out on a blanket with a Walkman and a good book; blazing sunsets and uplifting sunrises; solitary treks through the Badlands on my mountain bikes. I can't say I've seen it all, but I've seen a lot. The memories formed thereby have fortified my love of wide open, sunny skies.
One of the best ways to capture or recall the mood of many of those sunny days is through music, and I have a series of playlists for such things. I have an intense Stargazing playlist I'll share someday, a Sunrise/Sunset playlist which overlaps in places, and my more recent Sunny Day playlist. I was actually inspired to do the Sunny Day list when my friend Monte posted a request for sunny day music suggestions on his Facebook page. It didn't take long.
This is by no means comprehensive, but it's a good first draft. There's a link to each song on iTunes if it's available, although a good chunk of music in my collection is very hard to find.
Perfect for a sunny photography outing, here's an eclectic mix ranging from mostly alternative to fusion jazz to classic rock and all points in between, here's my Sunny Day Playlist, version 1.0:
The War on Drugs – Comin' Through
Craft Spells – Party Talk
The Clean – Stars
Memory Tapes – Wait in the Dark
Republic Tigers – Buildings and Mountains
Primal Scream – Higher Than the Sun
MillionYoung – Hammocks
Frightened Rabbit – Swim Until You Can't See Land
Generationals – Ten Twenty Ten
Crocodiles – Sleep Forever
The Radio Dept. – Heavens on Fire
Citay – Careful With That Hat
America – Ventura Highway
The Go-Betweens – Cattle and Cane
Ringo Deathstarr – So High
Washed Out – New Theory
Innocence Mission – Keeping Awake
B-52's – She Brakes for Rainbows
The Jesus and Mary Chain – Head On
Amon Tobin – One Day In My Garden (Instrumental)
Love Tractor – I Broke My Saw
Cocteau Twins – Heaven or Las Vegas
The Daysleepers – Summerdreamer
Fleetwood Mac – You and I, Part II
Grasshopper Takeover – Up and On My Way
Guadalcanal Diary – Litany (Life Goes On)
The Love Language – Heart to Tell
Jamaica – Jericho
Throwing Muses – Dizzy
The Dylans – I Hope the Weather Stays Fine
Cloud Cult – Lucky Today
Math and Physics Club – Love or Loneliness
Herman Dune – I Wish That I Could See You Soon
Stranglers – Always the Sun
Truckasauras – Angels Sound Like Bottle Rockets
Ten Bears – Braces
Cinammon Chasers – Luv Deluxe (Instrumental)
Kitchens of Distinction – Drive That Fast
Love Tractor – Fun to be Happy (Instrumental)
Ian Brown – Northern Lights
Screamin' Cheetah Wheelies – Boogie King
Yppah – Again with the Subtitles
Material Issue – Valerie Loves Me
Missing Persons – Walking In L.A.
Throw Me The Statue – About To Walk
Laura Veirs – July Flame
Sheryl Crow – Soak Up The Sun
Spyro Gyra – Bob Goes to the Store (Instrumental)
Wall Of Voodoo – Lost Weekend & On Interstate 15 (Instrumental)
Dreadzone – A Dream Within a Dream (Instrumental)
The High Dials – Teenage Love Made Me Insane
One Dove – Breakdown (Radio Mix)
Peter Gabriel – Solsbury Hill
Pink Martini – Anna (El Negro Zumbon)
Slowdive – Rutti
The Sundays – Here's Where the Story Ends
Pixies – Wave of Mutilation (UK Surf Mix)
The One AM Radio – Sunlight
Surfer Blood – Swim (To Reach the End)
The Expendables – Wells
Stone Roses – She Bangs the Drums
Chad Valley – Fast Challenges
Aberfeldy – Summer's Gone
Forro In The Dark – Perro Loco
Deer Tick – These Old Shoes
Tennis – Marathon
Big Spider's Back – Warped
Ganglians – Jungle
Gui Boratto – No Turning Back
REM – Near Wild Heaven
Royal Crescent Mob – Nanana
Luke Graner – Drops (Homemade Music version)
The Farm – Groovy Train
Daysleepers – Loved by the Sun
Diesel – Sausalito Summernight
Blue Sky Black Death – Sleeping Children Are Still Flying
Frankie Knuckles – Whistle Song (Instrumental)
Rephrase – Oldtimer
General Public – Taking the Day Off (Instrumental)
Hectic Redd – The Thumb
Joe Satriani – Surfing with the Alien (Instrumental)
The Ladybug Transistor – Fallen and Falling
Jesse Sykes and the Sweet Hereafter – In the Summertime
Nickodemus – Sun Children
Edward Sharpe And The Magnetic Zeros – Chickens in Love
Jazzhole – Free the Robots (Instrumental)
The Joy Formidable – The greatest light is the greatest shade
There we have it, for now…I'm sure I'll update it along the way. If you hear something on this list that seems really out of place or makes you wonder, "What does this have to do with a sunny day?" it probably is a song that triggers a memory for me. Any suggestions? Use the "Contact Me" link on the upper right of this page.