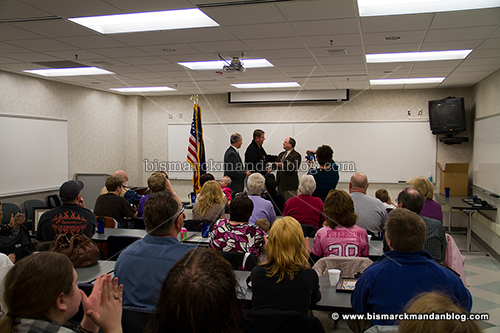 A few years ago my friend Lee and I were accepted into the Bismarck Police Department's "Citizens' Police Academy" for several weeks of education into what the Bismarck PD is all about. A couple dozen of us spent each Tuesday night from September through December learning about the various aspects of police work, the structure of the department, the special duties of various officers, and the standards of accountability and professionalism to which they hold themselves. It was a real eye-opener.
Some of the people in the class were interested in pursuing careers in the criminal justice field. Others, like me, are simply average citizens who support our local law enforcement personnel and jumped at the opportunity to learn more. I'd spent plenty of time in the Mandan Police Department growing up through the Explorers program, working in the control room and doing traffic control, color guard, etc. but I didn't know much about things here on the Bismarck side.
While most of the Academy consists of classroom time, it's not boring. It's an informal environment, the chief and/or deputy chief are usually on hand to help answer questions, and there are always some interesting tales to tell. While the class went until 9pm each night, it was not uncommon for that night's officer to stay until 10pm chatting about what we discussed in class.
Of course, there was a mandatory ride-along in a police car on a Friday or Saturday night. I think everybody had an eventful time, especially myself. I go on ride-alongs from time to time other than in Bismarck, and my rule is "what happens in the car stays in the car." I respect people's privacy as much as a value my own, and that sort of confidentiality is very important when dealing with people in the sort of situations that require a visit from a police officer. That wasn't the only thrilling part of the Academy, however: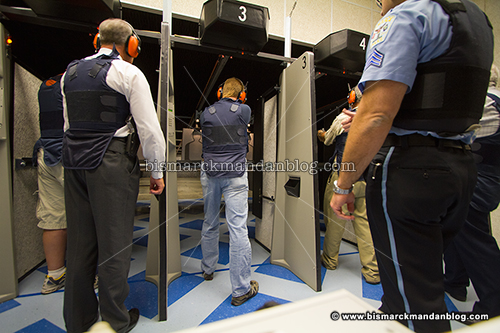 I think everybody was looking forward to the shooting portion of the class. One night a week we went through an evening discussing firearms and then going to the indoor range to fire some Simunition. We each were given the opportunity to fire eleven rounds from the same firearm carried by Bismarck police officers. It was performed under very close supervision after great attention to safety details.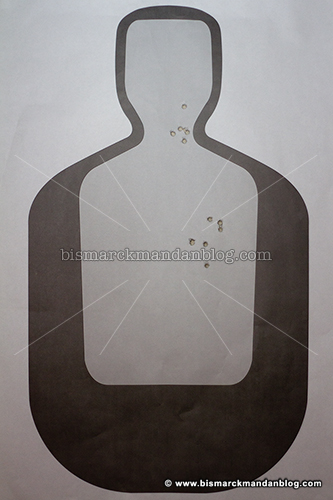 I had to chuckle at my target, which I got to keep: six shots to the heart, five to the chin. I didn't want to look like an idiot, so I intentionally aimed low for the head shots to avoid hitting the clamp holding my target. I think the groups would have been tighter if I'd had my own Glock, but Lee and I had the tightest performance out of the group. Something about videographers having a steady hand, I suppose. I got to keep my shell casings as a souvenir of the evening as well.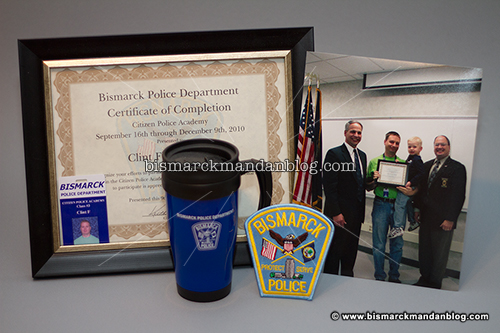 It was bittersweet to reach the completion night for a "graduation" celebration. We had pizza and got our pictures taken with the chief & deputy chief and were presented with some additional memoirs. As you can see we each received a framed certificate, Bismarck PD patch, and Citizens Police Academy mug. My little boy PJ had come with to see Daddy's graduation and insisted that he be in the photo with us. Later he talked 'em out of a CPA mug of his own, and he's still very proud of it.
It's a great opportunity and speaks volumes that our police department wants to reach out to the public like this. It's amazing how much misinformation is floating around out there about how police officers operate, and those of us who have received a little bit of education to dispel the rumors can act as ambassadors for the department. I gladly embrace such an opportunity, because I'm proud of our local law enforcement in Bismarck-Mandan. I'm fortunate to call several officers and deputies my friends and am grateful for their service to our community.
According to the City of Bismarck's website, they're still taking applications for the Citizens' Police Academy. You can download the application PDF here and get it in immediately if you'd like to try for a slot…I don't know how many they have filled.
There are some requirements for application, including a clear criminal record and passing a background check. If you are an adult resident of Bismarck and can meet these criteria, you're able to apply. I highly recommend availing yourself of the opportunity to do so!