Good photography can be by accident, but most often it's not.  In the case of this weekend's photo adventure, I actually did a pretty good deal of scouting.  I knew that I wanted to try for a sunset photo, but that foreground was very important.  I'd selected in my head a set of old bridge pilings that have been very good to me in the past.  What I needed was to scope 'em out a little bit.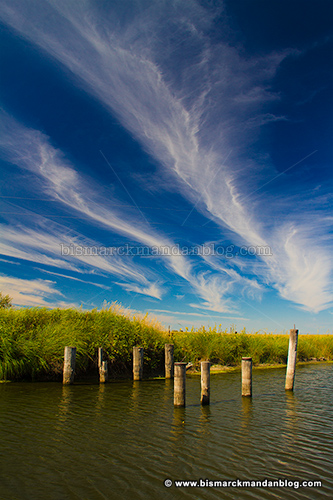 This is what I came up with in the morning.  I was so pleased with the high, wispy clouds that I actually took some time to start framing and snapping instead of just scouting.  I also took a little bit of time to check out the angles and see if it would work right: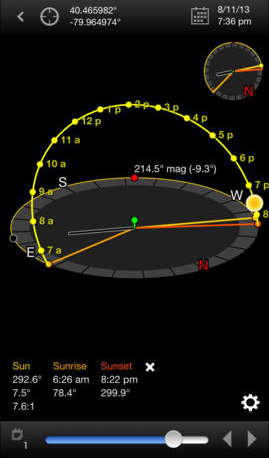 This is the Sun Surveyor App, available on iTunes.  It allows you to hold your iPhone in position where your camera would be, orient accordingly, and see where the sun will be at various hours of the day.  You can even scrub back and forth to see it move and track its path across the sky.  We used this on a couple of locations for the Tigirlily "North Dakota" music video recently.  It's very handy.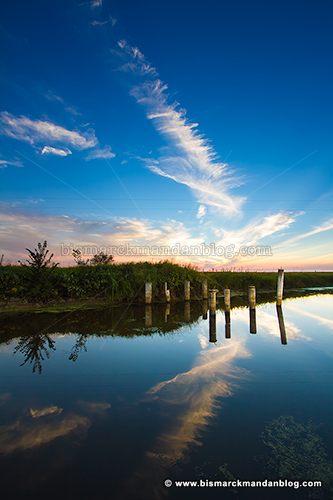 Then came the sunset.  Sadly, as this location was well out of town, I missed the light I was hoping for by a mere five minutes or so.  Despite that setback I was determined to come away with a shot I liked.  As it turned out, having the sun absent made it a little easier to expose details in the shadows as well as the sky, and the clouds suddenly aligned in a symmetry that played very nicely off the reflective surface of the pond.  I found myself okay with the fact that I'd missed the sun.
I would still like a crack at this with the golden orb on the horizon and clouds lit accordingly, but the fact of the matter is that I may never see such perfect clouds at this location again.  I put in the preparation, I got a cool shot, and that may just have to be enough.  If I hadn't come back out here in the morning to scout things I may not have been ready to get the shot I did before the clouds moved on and the sky got too dark. Therefore I'm certain that the preparation paid off.