I had the opportunity to go to the state capitol building today, and after accomplishing my errands I took a quick zip to the top observation floor and also down to the Memorial Hall.  Here are a couple of things I noted:
Among the depictions in the brass on the elevator doors is a depiction of a more hostile time.  It's interesting to look at the brass in the elevator areas as well as the revolving doors in the Memorial Hall and note some of the figures depicted thereon.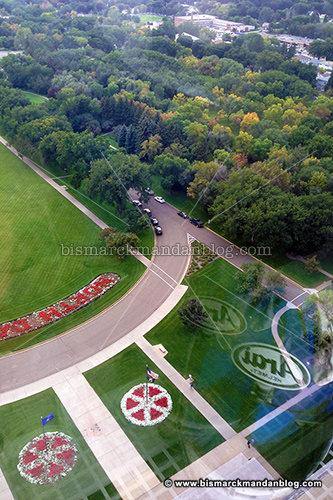 Uh-oh.  Notice that patch of yellow?  The leaves are changing, and they're going to do so quickly.  Get those cameras ready!

I used the iPhone's panoramic feature to do a quick pan of the Memorial Hall.  Click on this image for a larger version.  This is a great feature that came out with the iPhone 5 and iOS 6.  I'm not about to upgrade to iOS 7 unless I absolutely have to.
I used to run around the capitol with my little guys a lot, but it's been quite some time since we've been able to do so.  I enjoy it as much as they do, and I suspect that there are many who share the same fondness and memories about this historic building.  When's the last time you paid it a visit?