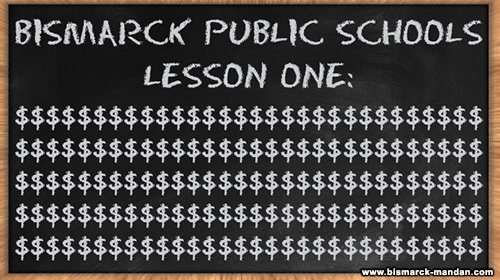 Remember those who said North Dakota property taxes are too high and there's little accountability for the entities who levy and raise them? We were told that eliminating the property tax would cede "local control" to state government. Well, get ready for "local control" here in Bismarck, where a mostly unnoticed meeting of a small group of people aims to increase your tax burden yet again. 
I didn't like the wording of Measure 2 a few years back, but I sure like the principle. Unfortunately, the state legislature stepped in to "buy down" local property taxes, thereby hanging the property tax issue around their necks like a lead weight. In the aftermath, local boards and commissions continue to raise tax rates and assess properties higher and higher to fill their coffers. Great plan.
Several years ago I lived near Richholt School. The school district decided to "close it" due to declining enrollment, we were told. Meanwhile, they managed to get a new eighty million dollar school project rammed through during a special election in which almost nobody but their activists participated.  They were serving cookies at the polling places, for crying out loud!  And the Richholt facility?  It's still there.  You my notice that the Hughes building, which was in such "bad shape" that we needed to build Horizon Middle School, is still in operation as well.
Now we not only have multiple pet projects in the works for the school district, but we also get to play catchup on funding the maintenance and staffing of those facilities…something that never seems to appear in the initial price tag when they propose these expenditures.
Once again, I'll state my positions on property taxes in ND:
Measure 2 was flawed, but I believe the property tax should be eliminated in the future.
It was an enormous and tragic mistake for the state legislature to implement an ill-conceived "shell game" to try to ease the burden of taxes they neither levy, assess, or collect… but for which they have now assumed a good share of the blame.
Local entities continue to use their authority to fund pet projects and advance their own agendas, and this "local control" they screech about has translated only to local abuse.
Quite frankly, if more people showed up to board and commission meetings and expressed their opposition to these constant tax increases, and held elected officials accountable, we wouldn't even need to have this discussion.
North Dakota needs to stop punishing individual citizens for owning property.  We have a sales tax (the only "fair" tax) and plenty of revenue from energy production in our state. My hope is that someone will find a proper way to eliminate it…with the right mechanism I think we could have a relatively smooth transition and quell the abuse of taxing authority.