Have you run into that annoying notification from the Bismarck Tribune or other affiliated newspapers' websites saying that you've viewed your quote of free articles for the month?  This is only the latest attempt by the publishers to monetize content that other sites give for free.  They do so by putting "cookies" on your computer to track your use without asking you for permission.  It's simple to deny them this intrusion.
Here are directions for doing so in the Firefox browser.  Yes, I know Mozilla supports homofascism, but what can ya do.  Boycott locally, I always say.  If one decides to boycott every national business who hasn't either caved in to or embraced the queer agenda, one will be hard pressed to purchase anything these days.  Anyway…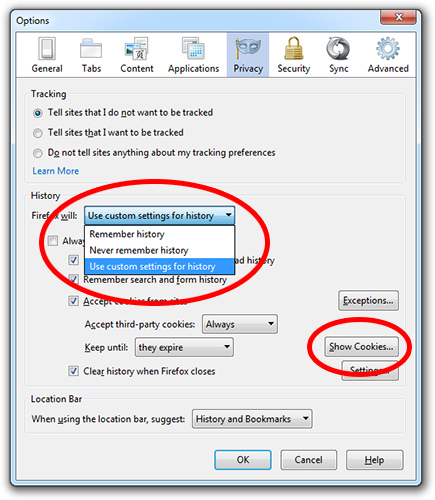 First, go to your Options (under the Tools menu) and select the Privacy tab as shown above.  You need to select "Use custom settings for history".  That will change what appears below it, giving you options as far as how cookies are treated by the browser.
Then you'll want to click on "Show Cookies…" to show which cookies the websites are storing on your computer without your permission.  After all, that's what this is all about.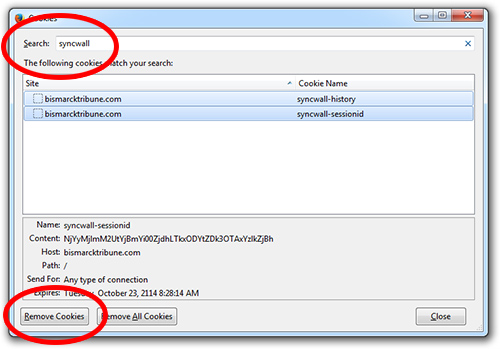 In the Search box at the top, type in "syncwall" to reveal the offending cookies.  Highlight the cookies in the list, then click "Remove Cookies" at the bottom.  Close this window.  Next, we'll prevent those unauthorized cookies from being stored on your computer in the future: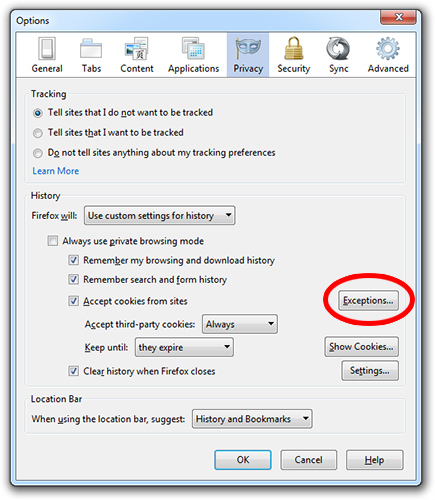 You should be back at Privacy Options after closing the last window.  This time you want to click on "Exceptions…" to set up a rule preventing future unauthorized cookies.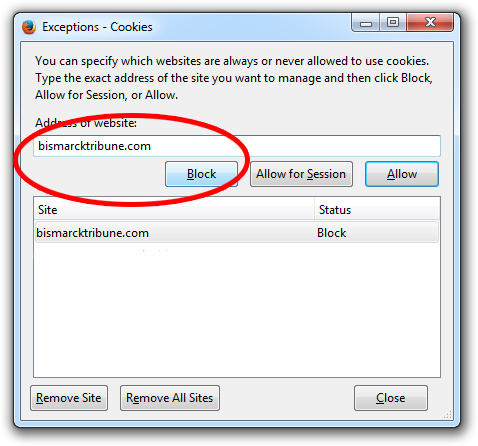 In the "Address or website:" box, type in "bismarcktribune.com" or whatever other site has been putting syncwall cookies on your machine, and click "Block".  As you can see above, I already have.  This will prevent future unauthorized tracking cookies from being placed on your computer without your permission.
That's it!  You have now prevented sites using Syncwall from putting unauthorized content on your machine.  That is, at least until they come up with another scheme.  I wonder how this will work out for them.  In the past they've played around with restricting content to paid subscribers, and it hasn't worked well for them.  There are multiple news sources on the web providing similar content for free, so I doubt that viewers are likely to want to pay for it from the newspapers.