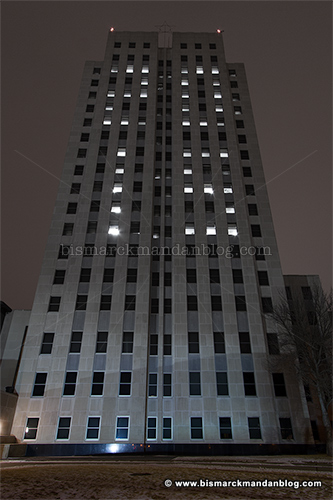 This morning I posted how I prefer to take photos of the capitol windows in the morning rather than at night.  Even so, I came out tonight to chase some more photos of the tower with 2015 in the windows.  January 2nd is a weekday, and the people working in the capitol don't get it off, so I think the numbers will be gone tomorrow.  Fortunately, the low cloud cover bounced and diffused the city light to give a similar effect.
Having tackled the lighting issue in the morning and at night, I thought I would point out something that will have make your capitol photos stand out from the typical:  the capitol's best side is not its front side.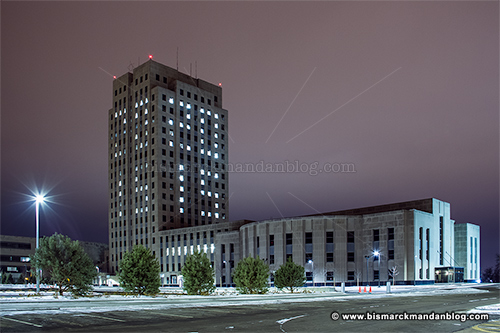 This is my favorite angle of all: from the northwest corner.  This has actually gotten simultaneously easier and harder with all the construction going on in the area.  When they put in the new parking lot in the northwest area a year or two ago, that provided a nice angle no longer obstructed by a row of trees.  The recent renovation and reconfiguration of the north parking lot has put a lot of really bright lights in the way.  Thankfully I was able to find an angle that avoided most of them and their glare, providing the only clean angle you can get of both the tower and the legislative wing.  I don't even mind that the front steps and Memorial Hall are absent from this photo.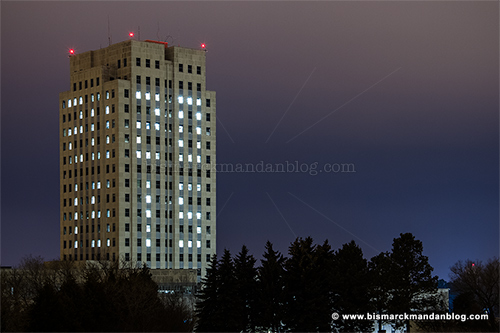 This one requires a short hike from Divide Avenue, but it's worth it.  You get two unobstructed sides of the tower with trees in the foreground.
These are two of my favorite views of the capitol.  The view from the bottom of the mall is so cliche' at this point, the view from the southeast is full of those pesky streetlights, and the view from the southwest makes getting the whole legislative wing nearly impossible.  It was fun working the angles and listening to a podcast tonight, watching all the people driving through the grounds and snapping quick cell phone photos.  It occurred to me that perhaps my favorite part of the capitol window displays isn't the displays themselves, but the enthusiasm so many North Dakotans have for them.