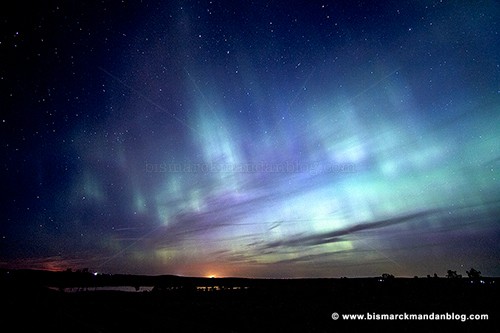 I watch solar data pretty closely.  Thanks to a couple of guys at NOAA, I've learned which numbers are the most important to us here in North Dakota.  The way the numbers were peaking on Monday, I was going absolutely nuts.  The sky was on fire, but unfortunately we were on the daylight side of the globe.  As darkness approached, I made plans to go out to see them.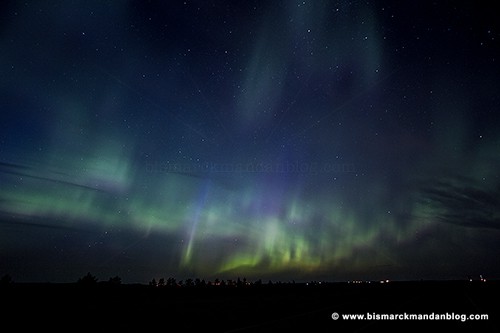 I had planned some dramatic foreground objects, but things didn't time out the way I'd planned.  I found myself along the side of a rural highway with some friends, however, which was cool in itself.  I started to swing the camera around to see what I could capture.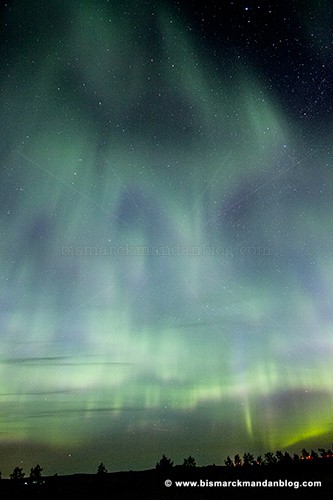 Again, I'm of the opinion that any sky photo is made 10x better by having an interesting or unique foreground.  That was driving me nuts as I didn't really have one, but the Lord put on a lightshow that was so astonishing that I began to just look upward and not focus so much on the camera.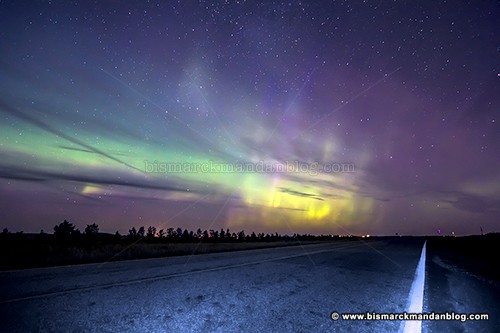 I keep little LED flashlights in my camera bag, and I grabbed a blue one to illuminate the roadway with blue light so vibrant I actually had to tone it down for this photo.  I played around a little bit until the clouds began to roll in, I began to get tired, and the lights began to wane.
There's a really good chance of more Northern Lights tonight – keep your eye on the skies!  I'm going to be on the road for a shoot all day and don't expect to get back until after dark…but I may have the opportunity to transition from work to play just in time to catch more Northern Lights.