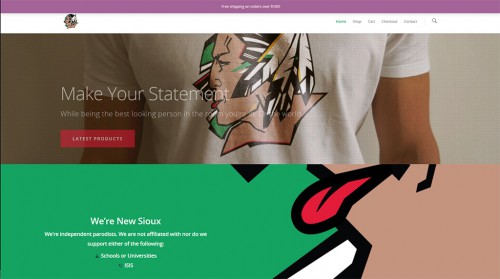 I saw in this Bismarck Tribune article that the University of North Dakota wants to send a "cease and desist" message to designer Karl Larson for his parody t-shirts depicting a Fighting Sioux logo sticking out its tongue.  Brilliant, by the way.  That's essentially what the NCAA did to us, after all. I may have to place my order.
Apparently UND spokesman Peter Johnson said, "there are legal protections that come into play, so we're looking to protect our image. That's why we want to have this conversation."
Now, hold on just a second there.  I'm no lawyer, but I've been threatened by one…so take this with a grain of salt.  Unless one actually uses a trademark they wish to protect, they cannot enforce it.
UND has been firm in their insistence that they must not use the logo or nickname anymore, because the NCAA has selectively declared them "hostile and abusive"™ and forbidden their use.  Never mind the Alcorn State University Braves, Catawba College Indians, Central Michigan Chippewas, Florida State Seminoles, Mississippi College Choctaws, University of Illinois Fighting Illini, or University of Utah Utes, as brilliantly pointed out in this Letter to the Editor by Alan O'Neil of Grand Forks.
While UND claims that former Bismarck Mayor Haakenson cannot block them from using any of the atrocious proposed replacement nicknames, saying "A nickname is not a trade name, unless the nickname serves as the identity of the individual or organization…This will not be the case for us. We do business under the 'University of North Dakota."
Right.
Well, then, why try to get someone to "cease and desist" in parodying a trademark that UND is unwilling to use, doesn't serve as the identity of the University, and at this point has nothing officially to do with the University of North Dakota?
You'd think a school that churns out so many lawyers would get this right…but then again, this whole Fighting Sioux nonsense has defied logic from the beginning.  It's just another case of pointy-headed liberals deciding what everyone else must do or say.