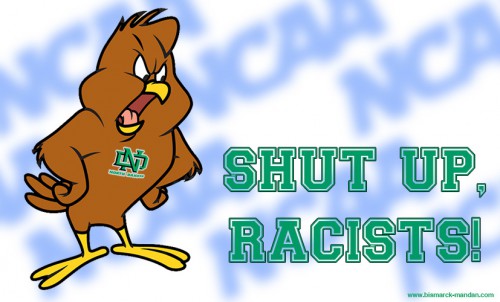 What the heck is a "fighting hawk" anyway?  I wasn't aware they had such a propensity for combat.  Besides, isn't "Fighting" anything 50% "Hostile and Abusive™" anyway?
So, Dickinson State has the Blue Hawks.  Fargo-Moorhead has the Redhawks.  Bismarck has the Skyhawks.  Now UND has the Fighting Hawks.  Ho Hum.  The two words together don't even roll off the tongue, much less inspire…anything.
The "Roughriders" wouldn't have been much better.  In addition to everything in the southwest corner of the state being named Roughrider something-or-other, it's also the nickname for a Grand Forks high school team.  That would be weird.
I have always planned on sticking with the Fighting Sioux anyway, but now I'm certain I'm making the correct decision.  Fighting Hawks…unbelievable.