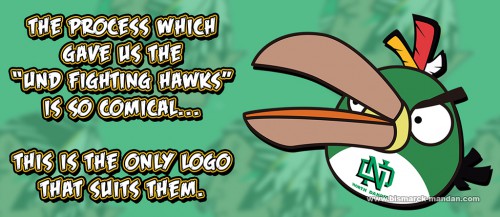 The choice is clear.  UND has bungled the UND logo and mascot issue so horribly, that only a cartoon character is appropriate to portray the laughable nickname of "The Fighting Hawks".  Thus I dive into Photoshop, my beloved playground.
From denying the Sioux people (yes, I said Sioux) a seat at the NCAA table in Indianapolis when the edict was given to stop using the nickname, to denying the people of Standing Rock to vote on the issue,  to the farcical "vote" taken to choose the replacement while omitting "North Dakota" (no nickname) from the ballot, the people involved in this process should be ashamed of themselves.
They'll always be the Fighting Sioux.  No matter what pointy-headed PC liberals want you to think.