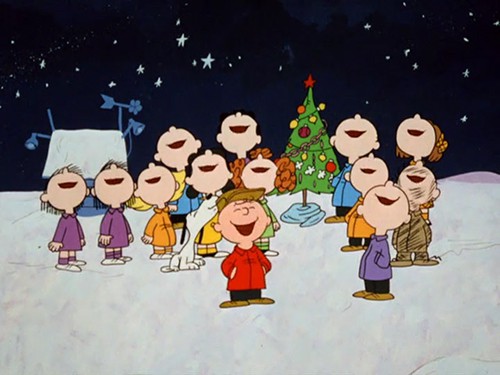 I know, Christmas is so yesterday.  Literally.  But I don't care, I'm going to continue the Christmas spirit for a while. One of the things I do is to pump Christmas music out on  102.5 FM using an extremely low-power FCC-legal transmitter, allowing me to turn on a radio anywhere on my property and listen to the music playing on my garage computer.  I love Christmas music, and it's great to be able to have it on in the background wherever I may be when I'm at home.
If you're into Christmas music, I invite you to peruse this meticulously prepared Christmas playlist.  Clocking in at nine hours and fifty minutes in duration, it's enough to play throughout the day with nary a repeat.  There are some real gems here, and I have no problem admitting that I'm a little proud of the collection I've curated this year.   They appear in no particular order; in fact, I went out of my way to randomize them.
Next year I will have to select a new frequency, as Dakota Media Access will be broadcasting on that frequency.  Now worries, a flip of a few DIP switches and I'll be happy as a clam on another vacant frequency.  My sincere hope is that some of you take the time to check out some of these songs on iTunes and enjoy them for yourselves in future Christmases.
Let It Snow! Let It Snow! Let It Snow! – Bing Crosby
The Most Wonderful Day Of The Year – Burl Ives
Gabriel's Message – Sting
Jingle Bells – Count Basie Orchestra
Yabba-Dabba Yuletide (extended) – The Brian Setzer Orchestra
Let It Snow! Let It Snow! Let It Snow! – Dean Martin
Deck the Halls – Mannheim Steamroller
Let It Snow, Let It Snow, Let It Snow – The Andrews Sisters
He Shall Reign Forevermore (Live) – Chris Tomlin
Christmas Candles – The Andrews Sisters
The Little Drummer Boy – Bing Crosby
The Little Drummer Boy – Johnny Cash
Winter Wonderland – The Andrews Sisters
I Wish You a Merry Christmas – Bing Crosby
Sleigh Bells – Gene Autry
All I Want For Christmas Is You – Mariah Carey
Mistletoe & Holly – Robert Davi
Song of the Sleighbells – June Hutton
Silent Night – Jingle Cats
Christmas (Baby Please Come Home) – U2
Peace On Earth / Little Drummer Boy (With Dialogue) – Bing Crosby & David Bowie
Silent Night (1947 Single) – Bing Crosby
Little Jack Frost Get Lost – Frankie Carle and His Orchestra
A Merry Christmas At Grandmother's (feat. Danny Kaye) – The Andrews Sisters
White Winter Hymnal – Pentatonix
It's the Most Wonderful Time of the Year (A Shrift Remix) – Andy Williams
Christmas in Killarney – Bing Crosby
Here Comes Santa Claus [feat. Bing Crosby] – The Andrews Sisters
Christmas Alphabet – The McGuire Sisters
The Little Drummer Boy – Harry Simeone Chorale
Christmas Dreaming – Seth MacFarlane
Look Out the Window – Gene Autry & Rosemary Clooney
Christmas Dinner Country Style – Bing Crosby
You're a Mean One, Mr. Grinch – Thurl Ravenscroft
Grandma Got Run over by a Reindeer – Dr. Elmo
Here We Come A-Caroling – The New Christy Minstrels
The Reindeer Boogie – Hank Snow
That's What Christmas Means to Me – Eddie Fisher
The Things We Did Last Summer – Dean Martin
What Child Is This – Vince Guaraldi Trio
We Need a Little Christmas – Percy Faith
Peppermint Winter – Owl City
Twelve Days of Christmas (feat. Bing Crosby) – The Andrews Sisters
The First Snowfall (feat. Bing Crosby) – The Andrews Sisters
Carol of the Bells – Mannheim Steamroller
Happy Holidays – Percy Faith & His Orchestra and Chorus
O Holy Night – Ray Conniff Singers
Mele Kalikimaka (Merry Christmas) – Bing Crosby & The Andrews Sisters
Santa Claus Meets the Purple People Eater – Sheb Wooley
What God Wants For Christmas – Darius Rucker
It Snowed – Meaghan Smith
When It's Christmas on the Range – Bob Wills
Santa Claus Is Coming to Town (feat. Bing Crosby) – The Andrews Sisters
Christmas / Sarajevo 12/24 (Instrumental) – Trans-Siberian Orchestra
Christmas on the Plains – Roy Rogers
A Marshmallow World – Dean Martin
Suzy Snowflake – Dale Evans
Come On! Let's Boogey to the Elf Dance! – Sufjan Stevens
Jingle Bells – Dean Martin
The Christmas Song – Vince Guaraldi Trio
Hark, The Herald Angels Sing – Vince Guaraldi Trio
Nuttin' for Christmas – Barry Gordon
The Walk – Dickon Hinchliffe
Silent Night – Dean Martin
Sleigh Ride – The Ventures
Away in a Manger – Jeannie C. Riley
I'll Be Home for Christmas (Single) – Bing Crosby
Star of Wonder – Sufjan Stevens
O Come, O Come – MercyMe
Winter Wonderland – Bing Crosby
It's Beginning To Look a Lot Like Christmas – Michael Bublé
Silver Bells – Dean Martin
Rockin' Around the Christmas Tree – Brenda Lee
O Fir Tree Dark (feat. Bing Crosby) – The Andrews Sisters
The Littlest Angel – Bing Crosby
Thirty Two Feet, Eight Little Tails – Dale Evans
Christmas the Whole Year Round – Sabrina Carpenter
We Are Santa's Elves – Burl Ives
Parade of the Wooden Soldiers – The Andrews Sisters
Sleigh Ride – The Andrews Sisters
The Christmas Song – Mel Tormé
Joy to the World – Percy Faith
O Tannenbaum – Naturally 7
Mele Kalikimaka (the Hawaiian Christmas Song) [feat. Bing Crosby] – The Andrews Sisters
Carol of the Bells / Jingle Bells – Barry Manilow
Christmas Island – The Andrews Sisters
Christmas Time Is Here (Instrumental) – Vince Guaraldi Trio
Run Rudolph Run – Bryan Adams
O Holy Night – Sufjan Stevens
Light of Christmas (feat. tobyMac) – Owl City
Christmas Carols by the Old Corral – Tex Ritter
If Santa Could Bring You Back to Me – Jimmy Wakely
Great Pumpkin Waltz – Vince Guaraldi Trio
Old Tex Kringle – Tex Ritter
Here Comes Santa Claus – Gene Autry
Frosty the Snowman – Jimmy Durante
Winter Wonderland – Dean Martin
The Winter Solstice – Sufjan Stevens
Hark! The Herald Angels Sing / It Came Upon a Midnight Clear – Bing Crosby
White Christmas (1947 Single) – Bing Crosby
Jingle Bells (Single) – Bing Crosby & The Andrews Sisters
The Christmas Song (Chestnut Song) – Love Tractor
Humbug – Greg Lake
Peace On Earth / Silent Night – Dean Martin
Winter Wonderland (Bonus Track) – Jason Mraz
Auld Lange Syne – The Lonesome Travelers
Silver And Gold – Burl Ives
Silver Bells – Margaret Whiting & Jimmy Wakely
Christmastime Again – MercyMe
Where Did My Snowman Go? – Gene Autry
Christmas Medley (Music from the Videocraft TV Musical Spectacular) – Burl Ives
Frosty the Snowman – Bing Crosby
What a Glorious Night – Sidewalk Prophets
Angels We Have Heard On High – Aretha Franklin
Christmas As I Knew It – Johnny Cash
Pat-A-Pan / While Shepherds Watched Their Flock – Bing Crosby
I Saw Three Ships – Sting
Für Elise – Vince Guaraldi Trio
White Christmas – Dean Martin
I'd Like to Hitch a Ride With Santa Claus – The Andrews Sisters
The Chipmunk Song (Christmas Don't Be Late) – David Seville & The Chipmunks
Jingle Bells – The Singing Dogs
The Twelve Days of Christmas – Mitch Miller & The Gang
I'll Be Home for Christmas – Dean Martin
Poppa Santa Claus (feat. Bing Crosby) – The Andrews Sisters
O Holy Night – John Williams & Chorus
Jing-a-Ling, Jing-a-Ling – The Andrews Sisters
Silent Night – Eddy Raven
December Prayer – Idina Menzel
Blue Christmas – Dean Martin
Skating – Vince Guaraldi Trio
Santa Claus Is Coming to Town (Single) – Bing Crosby & The Andrews Sisters
Faith of Our Fathers (Single) – Bing Crosby
Jingle Jingle Jingle – Burl Ives
Have Yourself a Merry Little Christmas – Bing Crosby
Only at Christmas Time – Sufjan Stevens
Blue Snowflakes – Ernest Tubb
The Closing Of The Year (Reprise) – Happy Workers ("Toys" Soundtrack)
Up On the Housetop – Gene Autry
Jangle Bells – Love Tractor
My Little Drum – Vince Guaraldi Trio
May the Good Lord Bless and Keep You (feat. Bing Crosby & Nat "King" Cole) – The Andrews Sisters
Joy to the World – Jeannie C. Riley
It's Beginning to Look a Lot Like Christmas – Bing Crosby
Rudolph the Red Nosed Reindeer – Gene Autry
Happy Holiday (Beef Wellington Remix) – Bing Crosby
What Child Is This? / The Holly and the Ivy – Bing Crosby
O Tannenbaum – Vince Guaraldi Trio
What Child Is This (Greensleeves) – Lorie Line & Robert Robinson
Do You Hear What I Hear? – Bing Crosby
Looks Like a Cold, Cold Winter (feat. Bing Crosby) – The Andrews Sisters
Little Donkey – Beverly Sisters
Winter Wonderland (feat. Perry Como) – The Andrews Sisters
All I Want for Christmas Is My Two Front Teeth (feat. Danny Kaye) – The Andrews Sisters
It's the Most Wonderful Time of the Year – Andy Williams
Snow Snow Snow – Band of Merrymakers
Santa's Beard – The Beach Boys
You're All I Want for Christmas (feat. Bing Crosby) – The Andrews Sisters
Christmas in Killarney (feat. Bing Crosby) – The Andrews Sisters
Silver Bells (Single) – Bing Crosby & Carole Richards
Jingle Bells (feat. Bing Crosby) – The Andrews Sisters
Thanksgiving Theme – Vince Guaraldi Trio
Snoopy's Christmas – Royal Guardsmen
Chiron Beta Prime – Jonathan Coulton
Sleigh Ride – The Ronettes
Jingle Bell Rock – Brenda Lee
Somewhere in My Memory (Chorus & Orchestra Version) – John Williams
White Christmas – The Drifters
O Holy Night – Lorie Line & Robert Robinson
Is Christmas Only a Tree (feat. Bing Crosby) – The Andrews Sisters
Christmas Is Coming – Vince Guaraldi Trio
Merry Christmas Polka – Tex Ritter
Very Merry Christmas – Dave Barnes
Overture and A Holly Jolly Christmas – Burl Ives
Track Meet – Vince Guaraldi Trio
Christmas Candles (feat. Curt Massey) – The Andrews Sisters
It's Christmas (Medley) [Live] – Chris Tomlin
Joy to the World – Mannheim Steamroller
Hallelujah (Remix) [Bonus Track] – Mannheim Steamroller
I Pray On Christmas – Harry Connick Jr.
Jingle Bells – Band of Merrymakers
Winter Wonderland (Christian Prommer Remix) – Shirley Horn
Blue Christmas – Ernest Tubb
Snow (From White Christmas) – Seth MacFarlane
Adeste Fideles (1942 Single) – Bing Crosby
Little Saint Nick (Single Version) – The Beach Boys
Greensleeves – Vince Guaraldi Trio
Wonderful Christmas Night – Roy Rogers & Dale Evans
God Rest Ye Merry Gentlemen (Single) – Bing Crosby
Christmas Candy – Margaret Whiting & Jimmy Wakely
O Holy Night – Bing Crosby
My Everything – Owl City
Angels We Have Heard on High – Sufjan Stevens
The Merry Christmas Polka – The Andrews Sisters
The Star Carol – Simon & Garfunkel
The Christmas Tree Angel – The Andrews Sisters
Be a Child at Christmas Time – Doris Day
Last Christmas (Studio Version) – Jimmy Eat World
Frosty the Snowman – Gene Autry
Happy Holiday (feat. Bing Crosby) – The Andrews Sisters