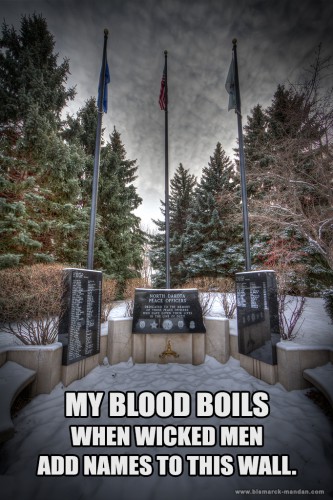 Fargo police officer Jason Moszer has passed away due to injuries inflicted by one of the citizens he's sworn to protect.  Domestic violence calls can be the most unpredictable and volatile situations, and this proved true on the night he was shot. This cowardly act on the part of the shooter was senseless and deprived a community and a family of their hero.  I drove to the capitol yesterday and stopped at the Peace Officer Memorial to ponder for a second.  The thought of another name being added to that wall is infuriating.
There's a donation campaign underway.  If you want to help out Officer Moszer's family, please consider going here and donating.  I've been on the receiving end of financial help from others when we were going through our family's avalanche of medical and other issues, and it's an enormous blessing.  Here's the link:
https://www.crowdrise.com/fargopoliceofficermoszersfamilybenefit/fundraiser/aaranjoneson
Pray for the family and comrades of Officer Jason Moszer.