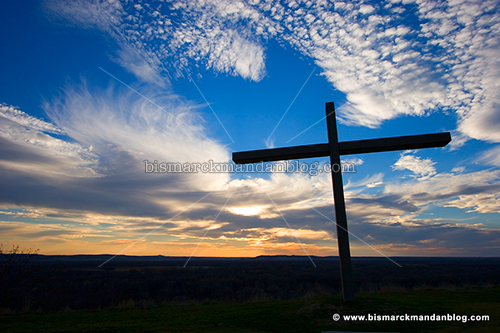 But God commendeth his love toward us, in that, while we were yet sinners, Christ died for us.
Much more then, being now justified by his blood, we shall be saved from wrath through him.
For if, when we were enemies, we were reconciled to God by the death of his Son, much more, being reconciled, we shall be saved by his life.
And not only so, but we also joy in God through our Lord Jesus Christ, by whom we have now received the atonement.
Wherefore, as by one man sin entered into the world, and death by sin; and so death passed upon all men, for that all have sinned:
(For until the law sin was in the world: but sin is not imputed when there is no law.
Nevertheless death reigned from Adam to Moses, even over them that had not sinned after the similitude of Adam's transgression, who is the figure of him that was to come.
But not as the offence, so also is the free gift. For if through the offence of one many be dead, much more the grace of God, and the gift by grace, which is by one man, Jesus Christ, hath abounded unto many.
And not as it was by one that sinned, so is the gift: for the judgment was by one to condemnation, but the free gift is of many offences unto justification.
For if by one man's offence death reigned by one; much more they which receive abundance of grace and of the gift of righteousness shall reign in life by one, Jesus Christ.)
Therefore as by the offence of one judgment came upon all men to condemnation; even so by the righteousness of one the free gift came upon all men unto justification of life.
For as by one man's disobedience many were made sinners, so by the obedience of one shall many be made righteous. (Romans 5:8-19)
While Christmas is such a special time, the coming of the Messiah who was to save us from our sins, Easter is where Jesus Christ's work was done. I think this holiday, when we commemorate the death, burial, and resurrection of our Savior, is seldom given the importance it merits. This one particular event reconciled God and sinners…what could be greater than that?
Prior to Christ's coming, the world was bound by God's law. The Bible says that if a person transgresses the law in one point, he's guilty of the whole law. Those are some pretty impossible commandments for a person to live by without breaking, aren't they? Well, that's kind of the point.
The people of Israel had to atone for their sins by giving blood sacrifices in the temple. They were told to sacrifice animals "without spot" or blemish by the law of Moses. That is, they had to sacrifice their best. The same thing applies to Jesus; we're all sinners, so only a perfect sacrifice could be made on our behalf. Since there is "none righteous, no, not one" (Romans 3:10) there was no one able to make that sacrifice…until God sent his only begotten Son to die on our behalf. As Peter wrote:
Forasmuch as ye know that ye were not redeemed with corruptible things, as silver and gold, from your vain conversation received by tradition from your fathers;
But with the precious blood of Christ, as of a lamb without blemish and without spot:
Who verily was foreordained before the foundation of the world, but was manifest in these last times for you,
Who by him do believe in God, that raised him up from the dead, and gave him glory; that your faith and hope might be in God. (I Peter 1:18-21)
Now you know why they refer to Jesus as "the Lamb of God."
This comes back to the sad mistake of people trying to work their way to heaven by doing good works or following sacraments, or hoping that their good works outweigh their bad and somehow tip some sort of spiritual balance to make them "mostly good" and earn them a place in heaven some day. Neither of those things are outlined in God's plan for salvation. Only the sacrifice made by Jesus on the cross could pay the penalty for our sins.
This one time offering on our behalf has made a way for God and each sinner to be reconciled:
By the which will we are sanctified through the offering of the body of Jesus Christ once for all.
And every priest standeth daily ministering and offering oftentimes the same sacrifices, which can never take away sins:
But this man, after he had offered one sacrifice for sins for ever, sat down on the right hand of God;
From henceforth expecting till his enemies be made his footstool.
For by one offering he hath perfected for ever them that are sanctified. (Hebrews 10:10-14)
Notice: doing any sort of ritualistic sacrifice can never take the place of what Jesus did, nor is there any need to perform that sacrifice again. The act performed on the cross stands not only as sufficient for all our sin, but as the only sacrifice capable of making atonement for us. No Saturday afternoon wafer required.
Things changed between God and man that day. Previously, people were not able to approach God in the temple; only a priest who had made atonement for his sins could do so. The holiest place in the temple was separated by a veil, so that not just anyone could approach God. When Jesus died, the veil of the temple was "rent in twain from the top to the bottom" (Matthew 27:51, Mark 15:38). There goes the priesthood, and the separation between God and men. An everlasting sacrifice was made by Jesus; no further sacrifice on the altar of the temple was necessary (or sufficient).
So now it's up to each person to approach God on his/her own, in prayer. Jesus told his disciples, God is a Spirit: and they that worship him must worship him in spirit and in truth. (John 4:24 Rather than perform a physical ritual through a priest, it is now up to each person to address God personally, spiritually, through prayer.
Look at the people who were saved in the New Testament after Jesus' resurrection and ascension. They simply believed in Him and in his death, burial, and resurrection. The very same things we commemorate this Easter weekend. They didn't need absolution from a man; they didn't need membership in a particular church; and they didn't need to do it every Saturday afternoon or Sunday morning. They simply acknowledged that they were sinners and put their faith in Jesus to save them. All that is required for eternal life in Heaven is that belief in the Lord Jesus Christ and acceptance that he died and rose again to save us sinners.
I could use a lot of keywords here as they appear in gospel tracts and literature, but I choose not to. Rather, I choose to just use my own words, because this message comes straight from my heart.
If you've never placed your trust in the sacrifice the Lord Jesus Christ made on your behalf, I urge you to do so today. It's not some fancy ritual; rather, it's the act of a sinner getting his heart right with God, talking to Him one-to-one in prayer as a child to a father. It's a beautiful thing, and you'll see Him someday in heaven.
If you live in Bismarck-Mandan, you are very statistically likely to attend church at least semi-regularly. Even if your attendance is spotty at best, today's likely one of the days you do attend. But how many people, churchgoing and otherwise, realize the importance of this day?
Just like anything you possess, your soul has an owner's manual: the Bible. If you haven't read the owner's manual, you don't know how to fulfill God's plan in you. And that plan was made ready on Easter.
I grew up Catholic, taught by wonderful parents to love and respect the Lord from the very beginning. In catechism we were taught that we had to rely on good deeds, performing sacraments and that sort of thing, yet could not know how to get to Heaven. But the theme of the entire Bible is that God gives us a way to return to him, repenting of our sins and confessing our belief in the sacrifice he made for us. That's not just a few verses plucked out here and there to suit the message Christians want to hear. It is everywhere, in the Old and New Testaments.
For by grace are ye saved through faith; and that not of yourselves: it is the gift of God:
Not of works, lest any man should boast. (Ephesians 2:8-9)
Who is he that condemneth? It is Christ that died, ye rather, that is risen again, who is even at the right hand of God, who also maketh intercession for us. (Romans 8:34)
For there is one God, and one mediator between God and men, the man Christ Jesus;
Who gave himself a ransom for all, to be testified in due time. (I Timothy 2:5-6)
Then opened he their understanding, that they might understand the scriptures,
And said unto them, Thus it is written, and thus it behoved Christ to suffer, and to rise from the dead the third day:
And that repentance and remission of sins should be preached in his name among all nations, beginning at Jerusalem. (Luke 24:45-47)
Moreover, brethren, I declare unto you the gospel which I preached unto you, which also ye have received, and wherein ye stand;
By which also ye are saved, if ye keep in memory what I preached unto you, unless ye have believed in vain.
For I delivered unto you first of all that which I also received, how that Christ died for our sins according to the scriptures;
And that he was buried, and that he rose again the third day according to the scriptures:
For since by man came death, by man came also the resurrection of the dead.
For as in Adam all die, even so in Christ shall all be made alive. (I Corinthians 15: 1-5,21-22)
People everywhere are trying to earn their way to heaven and work their way there. We are unable to do this. The Bible says that there are "none righteous, no, not one." We're all sinners. And there is one way to true life: repentance and faith in Jesus.
What did Paul, the apostle to the non-Jews, write to the church in Rome?
But what saith it? The word is nigh thee, even in thy mouth, and in thy heart: that is, the word of faith, which we preach;
That if thou shalt confess with thy mouth the Lord Jesus, and shalt believe in thine heart that God hath raised him from the dead, thou shalt be saved.
For with the heart man believeth unto righteousness; and with the mouth confession is made unto salvation.
For the scripture saith, Whosoever believeth on him shall not be ashamed.
For there is no difference between the Jew and the Greek: for the same Lord over all is rich unto all that call upon him.
For whosoever shall call upon the name of the Lord shall be saved. (Romans 10:8-13)
That's it. That's how you are redeemed and have a new heart, a new life, and eternal life that no one can take from you. If you're going to church and don't believe the above, you might as well not go at all. Because if you pick and choose the parts of Christianity you want to believe, then you might as well throw the whole thing out. That's not for you to choose.
So if you want the truth, pick up the King James Bible and read it. All of it. You'll be surprised at the continuity of it and the things that you never knew were in there (and the things that are NOT in there!). If you don't put your faith in the Bible, you have no reason to be part of a church that claims to profess Jesus, regardless of its denomination.
The Bible is very clear: to be a Christian means to believe by faith that you are a sinner and that Jesus Christ is the son of God, and that he died on the cross for your sins, and he rose again to fulfill the prophecies of the Bible. Ask God to apply that price that Jesus paid on your behalf. That's it! The Bible is about faith and personal trust in God from the beginning all the way to the end.
Do the research. Find out for yourself what God's word really means, don't just take it for granted by hearsay or tradition. And trust in Christ this Easter day, and it truly will be a resurrection morning!