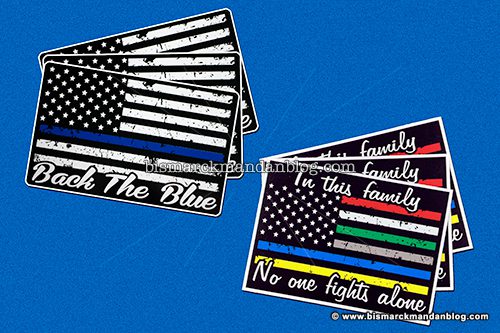 We North Dakotans, residents of Bismarck-Mandan in particular, love our law enforcement personnel.  The last eight months haven't just been trying on them, but on the community as a whole, and as a result I think the bond between citizens and LEOs has been forged even stronger.  You've probably noticed many cars sporting the above decals, which I believe are still available at Signs and Wonders along with other places.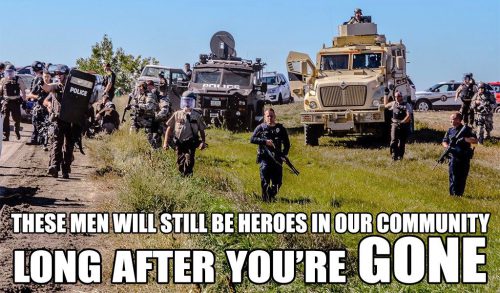 Understanding that relationship, I put together this quick meme early on in the conflict. It may seem prescient now, but I really just understand the fact that our community respects those who put it all on the line to keep our community safe and uphold the law.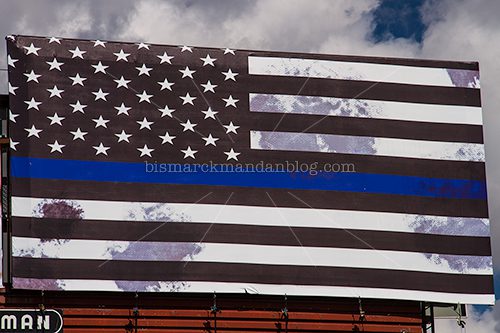 And we ain't done yet.  Back the Blue billboards have sprung up around town, events are in the works to celebrate the law enforcement community, and there's even legislation in the works to honor them.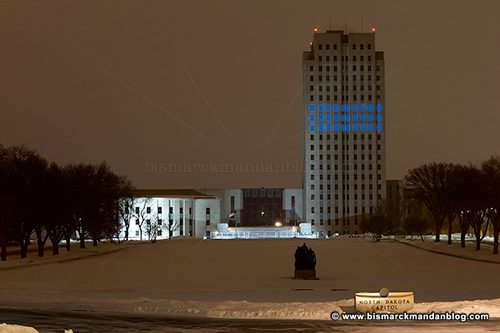 Yes, that's right.  Senate Concurrent Resolution 4015 (PDF) will not only designate a special day as Peace Officers Memorial Day to honor fallen law enforcement officers, but it also calls for a blue light display to adorn the capitol on an annual basis.  I made this hasty mock-up as an example of what I can envision the capitol looking like each May.  (Yeah, without the snow.  I discovered that I haven't actually taken any night time photos of the capitol unless the windows are all lit up with something, so I had to do some heavy-handed Photoshop on the easiest shot I had available.  Cut me some slack.)
The resolution has been in the House awaiting a floor vote since March 20th.  If you feel motivated, let your legislators know how important it is that SCR 4015 gets passed.
So yeah, we support our law enforcement.  I sure hope that their tough jobs are made a little easier by knowing that they've got the appreciation of North Dakotans that respect them, pray for them, and acknowledge that (while nobody's perfect) they protect our communities with dedication and professionalism.