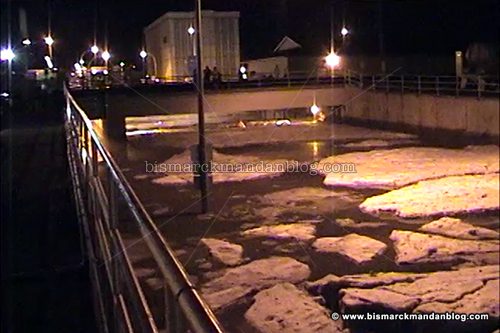 As the old poem goes, the fog comes on little cat feet.  The hail on June 9th, 2001, however…well, that came in its own indescribable fashion.  The most noteworthy memory of this is the two underpasses on 7th and 9th Streets filling up with ice and water.  I was at a friend's house that evening and remember walking to Thayer Avenue just east of St. Alexius to watch the city clearing chest-high piles of hail stones with a payloader and grader!
In the process of going through old motorcycle racing video tapes last week I found the footage of this event, footage I had presumed lost.  This was before I was into photography or videography, so even though I had a digital camcorder at the time I did not have a steady hand.  But shaky amateur footage is better than none, right?  Have a look:

Click on the YouTube logo to view in a larger window
it was over ninety degrees out that evening, so once all the hail fell it began to melt and give off steam.  That's why it seems so dark and foggy, it was a sauna outside.  My camera gave multiple high humidity warnings before actually shutting down to protect itself. 12th Street was half river, half avalanche for the duration of this storm. It was unbelievable. The hail piled up in a low spot at 12th Street and Thayer Avenue, forcing the city to bring in heavy equipment and dig/plow it out.  . The clouds were incredible.  And the underpasses needed to be dug out and cleared by that same sort of heavy machinery.
Do you remember this storm?