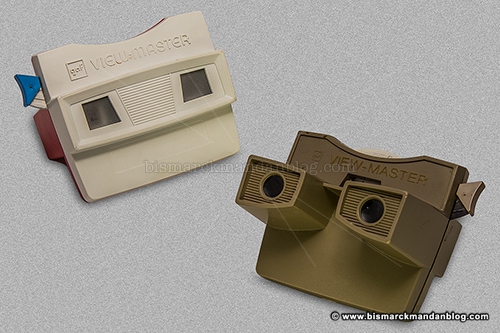 It all started when I started going through a box of old toys and things that my mom dropped off at the house.  Most of it was old stuff that was in disrepair or otherwise unusable (such as an old Commodore 64 that I can emulate on my PC), and ended up being discarded.  The two items above, however, caught my eye.  Both eyes, actually.
One of them had a disc in it (they were called "reels"), but I didn't find any other reels.  One of my favorites as a little kid was one about dinosaurs, and I'd sure love to find that one again for old time's sake.  But I started thinking about this vintage technology and couldn't help but wonder…are there any North Dakota-related View-Master reels?
It didn't take long on eBay before I discovered a set of reels from 1956, and of course I had to have them.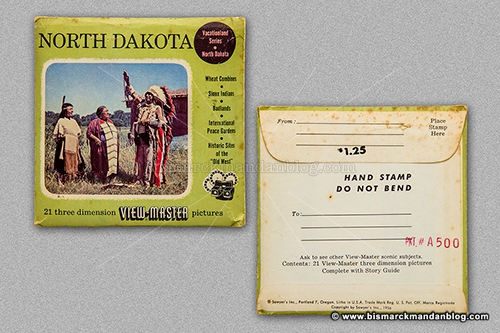 This arrived shortly after I fervently clicked Buy It Now – a new, unopened 1956 set of three View-Master slides portraying North Dakota tourist attractions!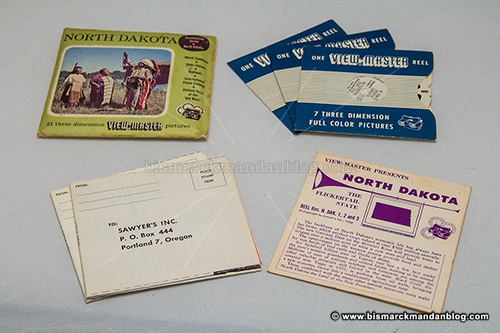 The pack contained three reels, an insert describing the the photos portrayed, and a couple of order forms for other Sawyer products.  Sawyer invented the View-Master, and is no longer in business.  The company's View-Master division has traded hands a few times.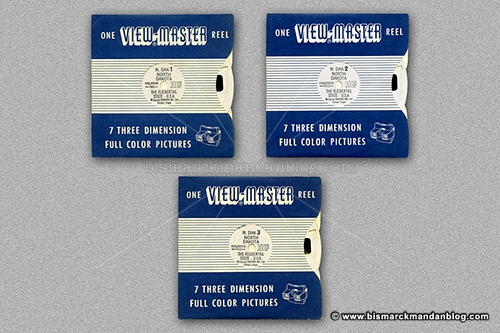 These are the three reels in their protective sleeves.  Even though the paper package has never been opened, the film slides in the reels have a slight bubbling to them.  I'm guessing they're some sort of acetate film medium that does this sort of thing after sixty years.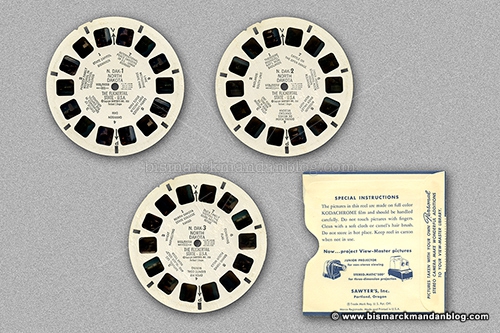 The reels are in pretty good shape, although they do have some dust and that sort of thing.  Parts of the reels are slightly bubbled as if they have pimples, and there was some powder in the sleeves, but otherwise they're totally fine.
Naturally we threw them into a film scanner, although it took some rigging.  Want to see some of my favorites?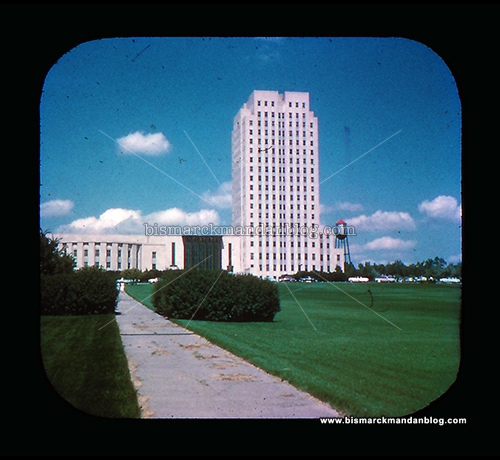 Here's the capitol building, long before the Judicial Wing was constructed (or probably even conceived).  I like the water tower on the east side.  Who knew there were trees on the mall, my favorite frisbee spot?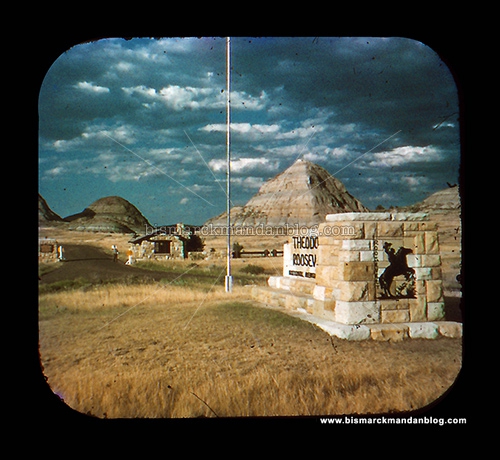 Here's an entrance to Theodore Roosevelt National Park.  I may try to find this monument and take a current photo.  A friend of mine recently did that with the tree at the nearby entrance to the campground west of Medora, a tree which appeared in a family photo from his childhood.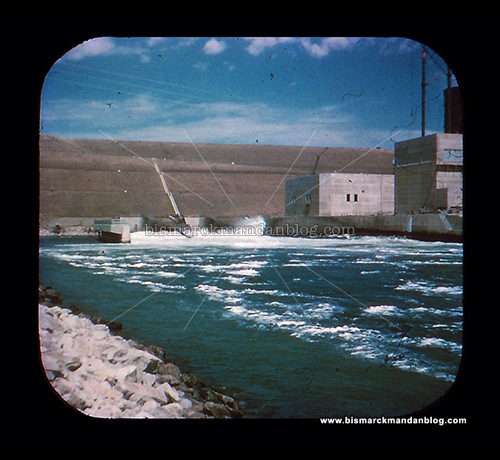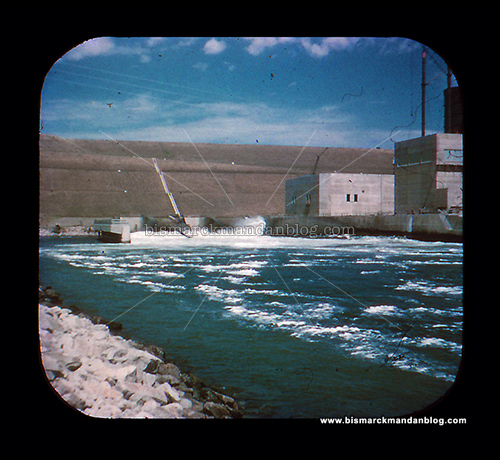 Here's a dam photo.  I was just up at the tail race with my kids a week or so ago, and the water was nowhere near this high.  I just looked at the photos from that day and I guess it was closer than I thought, but this is still a high level.  Remember, the dam was only officially completed in the early 1950s and didn't begin its work as a hydroelectric power plant until 1956 or even 1960, depending on which source you consult.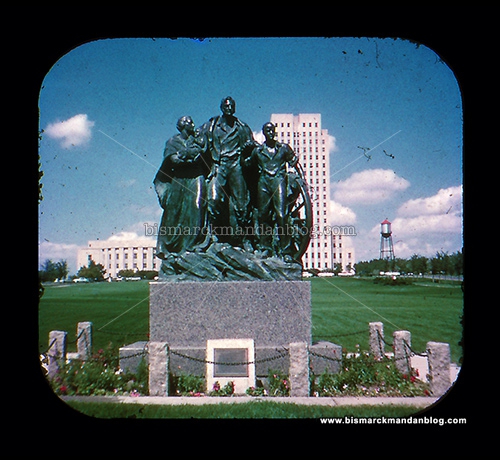 Back to the capitol.  The Pioneer Family monument no longer has the fence around it, and the marble posts are long gone.  I have a postcard of this somewhere as well.  Again, I love the water tower.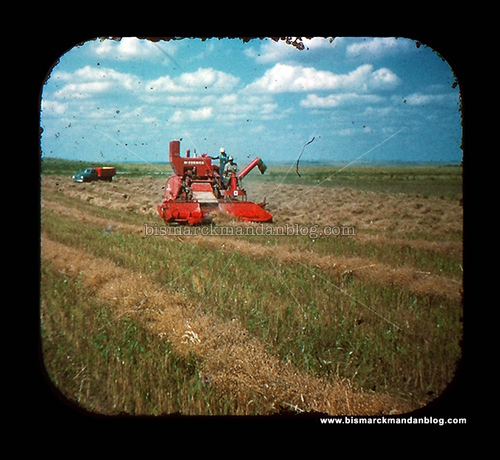 It wouldn't be North Dakota without a farming photo or two.  The harvesting equipment of today is significantly larger, and of course there's the GPS and air conditioning.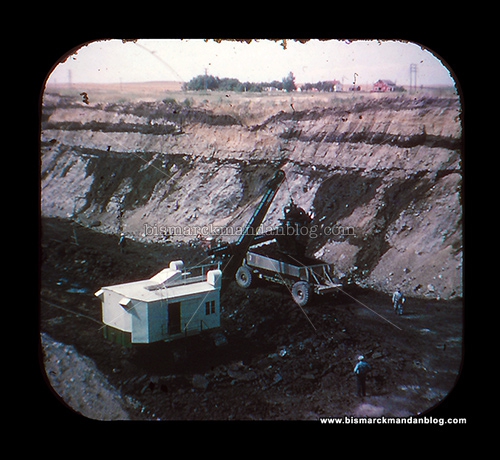 Here's another example of things being bigger now: lignite coal mining equipment.  The draglines I've done video and photo work on north of here weigh in at up to thirteen million pounds (13,000,000)!  The coal haulers have a 160 ton or greater capacity, too.

Here's the front of the insert.   Click on the photo for a full size (ie, legible) version.

And, of course, the back.  Click for the readable size image.

And, because I can't change who I am, I spotted a typo.  I think maybe someone had Fargo on the brain when they wrote the section about "Tiago".  Hey, at least they didn't call us South Dakota!
I may post some additional images from these reels down the road, we'll see.  We only scanned one of each image, it might be interesting to take a crack at scanning both.  What am I talking about?  Well, the View-Master is stereoscopic, meaning that the creators of these reels took photos with two cameras spaced slightly apart.  For each image you see, there's a left one and a right one.  So you get 3D depth perception as you do in real life.  It's wonderful.  But I currently lack the ambition to scan both perspectives of each of these images and don't really have a plan for how I'd combine them into a 3D-viewable digital image anyway.
Certainly some of you have enjoyed View-Master reels?  Feel nostalgic yet?