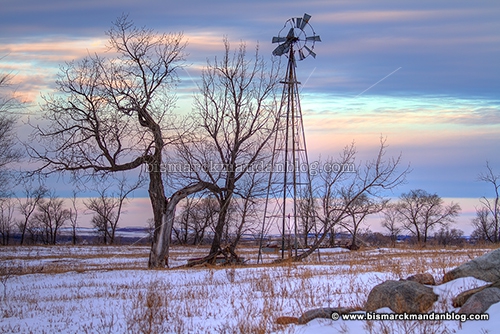 Well, actually this photo has more color than it should if I want it to convey my frustration with this continued wintery weather.  I should be riding motorcycles to work and doing all kinds of other fun Spring things, and I'm craving some green vegetation as well.  Now I hear there's a chance for another winter storm next weekend…well, that's just fantastic.
Well, you know what?  In that case, let's make it a MONSTER.  I'm talking Spring 1997.  If we have to put up with this kind of meteorological nonsense, then let's go all-in.  I want ten feet of snow, delivered sideways.  In fact, I dare Mother Nature (whom I don't believe in) to hit me with your best shot.  Yeah, that's right…a Pat Benatar reference.  Bring it.
(UPDATE): There will be no winter storm in the Bismarck-Mandan area.  How do I know?  Simple…I stretched the main belt in my snowblower last weekend, and had to spend a ridiculous amount to get new belts (one replacement, one spare) shipped here before the upcoming weekend and predicted storm.  As soon as I did that, the forecast models began nudging the area of heaviest snow southward.  If I just run out and by a sled we'll be totally in the clear.  Maybe I should set up a GoFundMe…?